Sharon Needles is an American drag performer and recording artist whose real name is Aaron Coady.
Sharon Needles became famous after participating in the fourth season of the reality competition show RuPaul's Drag Race in 2012. She would later release several EDM projects which featured indie pop, pop rock, and sadcore sounds and themes.
However, her career and fame are not sustained by her professionalism alone, as she is dogged by several scandals, which we will reveal in detail in the rest of this article. Her scandals have led to queries like what did Sharon Needles do to a fan?
In addition, her personal life has become interesting, especially involving her alleged partners such as Detox, Chad Michaels, Chad O'Connell, and Aquaria. Details about them will also be revealed in portions of this article. So, make sure you continue reading. To set the tone, we begin with ten quick facts you should know about her.
Top 10 facts about Sharon Needles
Sharon Needles turns 41 years old on her birthday in 2022.

Her real name is Aaron Coady, and despite preferring a 'she' pronoun for her onstage persona, she was assigned male at birth.

Needles is from Newton, Iowa, but has since relocated to Pittsburgh, Pennsylvania, and now calls it home.

Her parents' names are Liam and Patricia Coady, and in 2022, Needles revealed that her mom, Patricia, had cancer.

Sharon Needles made a name for herself after winning 

RuPaul's Drag Race 

Season 4 in 2012 and being crowned "America's Next Drag Superstar".

She was in a long-term relationship with figure and SPFX artist Chad O'Connell from 2013 to 2020, and they broke after being engaged for five years.

Before dating chad, Sharon Needles and Alaska (a fellow drag queen) were in a relationship for about one year and remained friends after breaking up.

Aquaria was Needles' drag daughter from 2014 but condemned her in 2020 during her harassment scandal.

In 2020, a superfan revealed that Sharon Needles had manipulated and harassed them when they were 15.

Sharon Needles has released four studio albums and one EP, and several of her music videos crossed the million mark on YouTube.
ALSO READ: Bobrisky Biography: Early life, transgender, discriminations, controversies, net worth & more.
Early life
Sharon Needles was born Aaron Coady on November 28, 1981. There is not much detail about Coady's parents and siblings, but we found that he grew up in Newton, Iowa. According to Married Biography, a blog on celebrities, his parents are Liam and Patricia Coady.
Queer rights and acceptance have not always been like they are in the 2020s, and young Coady faced anti-gay and anti-"outsider" harassment as a child. It seems he always knew that he was not like the other boys, even at such a young age, and eventually, he dropped out of high school because it was unbearable to continue.
It is unclear how his parents handled his situation because he rarely talked about them. However, when he turned 23, he moved to Pittsburgh, Pennsylvania. What was he doing between the time he dropped out of school ad the year he moved away from his hometown? Your guess is as good as ours.
Nevertheless, he adopted the name Sharon Needles and started working as a professional drag performer. Also, he was already using the pronoun 'she' at that time. The stage name was coined from the unhealthy practice of several substance abusers sharing one needle to inject themselves.
Sharon Needles Career
RuPaul's Drag Race 

(2012)
As Sharon Needles, Coady started performing in nightclubs and other avenues where her services might be needed. She was a member of the drag coalition the Haus of Haunt.
Her journey to fame started in 2011 after being selected among the competitors for RuPaul's Drag Race season 4. She instantly became a hit with fans after winning the first challenge, and her unconventional make-up and somewhat ghoul-like fashion earned her admiration.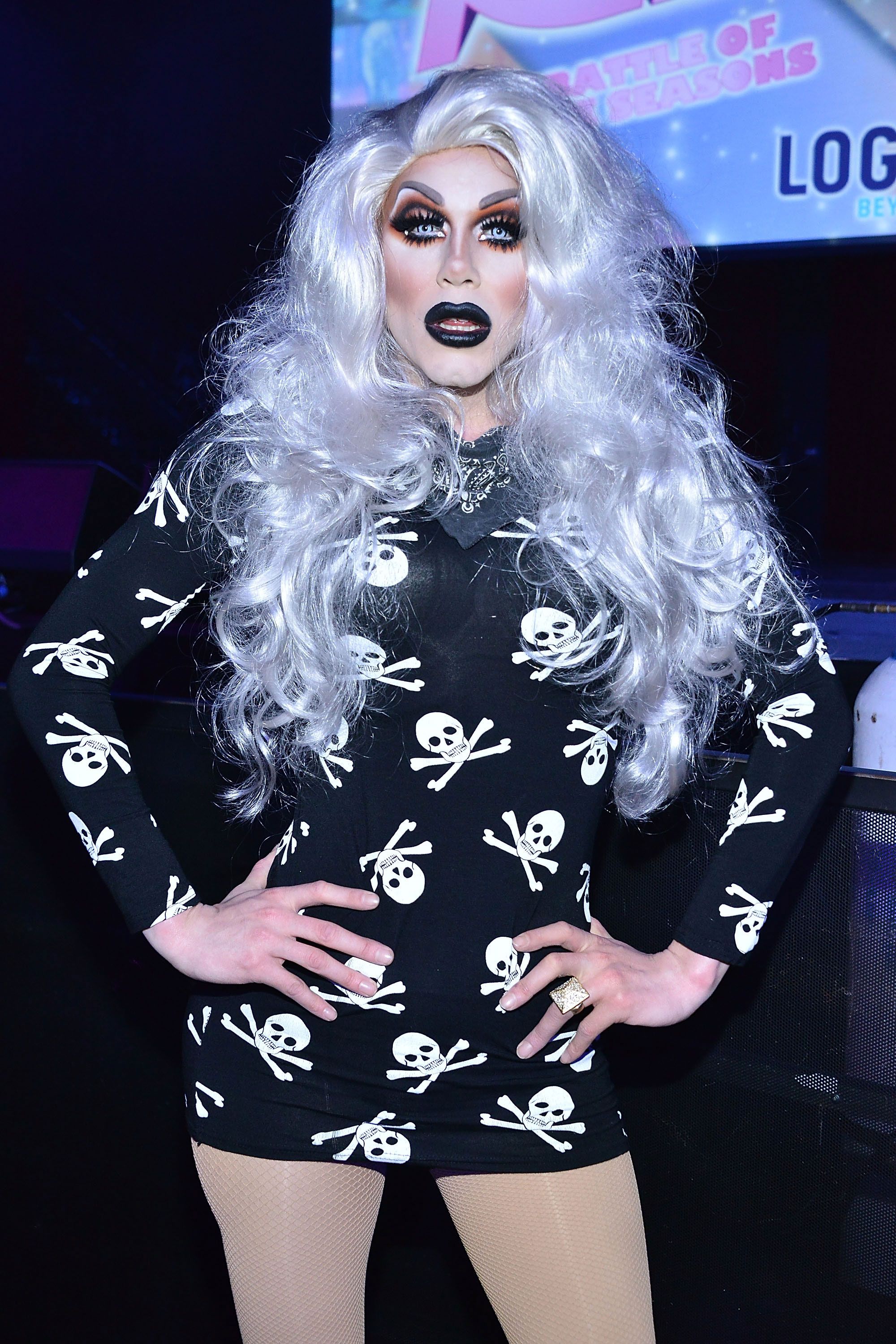 She was the show's highlight, right from the premiere to the end, and the media quickly caught on, heaping praise on her head. Judges also loved her, and viewers could not get enough of her. Singer Lady Gaga even hailed her style and teased that she wanted to rent some of Sharon Needles' outfits for her tour.
However, Baltimore Gay Life quoted the drag performer as saying she had not thought she could go far in the competition. "(B)eing a comedic, campy, shtick queen and seeing how far those types of queens made it in past seasons, I would have been shocked if I made it past the first day," she said.
The 2012 season of the competition was unlike others as the organizers decided to keep the suspense of who the winner was until the last minute and to do this, the announcement was not made beforehand. Instead, three finalists were announced in three different tapings, and fans got to choose who they wanted to win.
On April 30, 2012, Sharon Needles was crowned "America's Next Drag Superstar", a title reserved for RuPaul's Drag Race winner.
Surprisingly, after her win, she was chosen to participate in RuPaul's Drag Race: All Stars contest of October 2022, but she declined the offer. Instead, she announced that Pandora Boxx (whose real name is Michael Steck) would replace her.
Horror host for Logo TV's 

Fearce!
After winning the Drag Race contest, Needles got a job with the basic cable channel Logo TV (owned by Paramount Media Networks). Logo TV also airs and owns RuPaul's Drag Race franchise. She was a horror host for the company's horror and suspense films under the Fearce! Show, in October 2012.
Before this job, she had featured as the face of the People for the Ethical Treatment of Animals campaign for vegetarianism in the United States. In addition, the Pittsburgh City Council issued an official proclamation declaring Sharon Needles Day on June 12, 2012.
Music Career (2013)
Although she appeared in RuPaul's "Glamazon" music video of 2012, Sharon Needles officially began her music career with a debut studio album titled PG-13 on January 29, 2013. According to its Wikipedia page, the project is a dance-pop and punk collection that contains metal and electronica sounds. Fred Thomas of AllMusic praised it because it includes Needles' macabre personality, among other things.
PG-13 contained 12 tracks and debuted at number 186 on the US Billboard 200 chart, with about 3,000 copies sold in its first week. In April 2013, she was featured by fellow drag queen Willam Belli on their single "RuPaulogize".
Needles released her sophomore album on October 31, 2015, titled Taxidermy, and it was preceded by its lead single, "Dracula", which dropped in September 2015. She released "Hollywoodn't", one of the album's tracks, as a single the following year. Santiago Felipe shot its music video, and Needles played Elizabeth Short, a.k.a. the Black Dahlia, Sharon Tate, and Jayne Mansfield. All of whom were Hollywood stars who died horribly. The same year, Alaska featured her in the " Hieee " music video.
On October 6, 2017, Sharon Needles released her third studio album 
Battle Axe. 
It came with a single of the same name and a music video. The album's second single was titled "Andy Warhol Is Dead".
Needless to say, her third album was not as much of a hit as the first two. However, her music videos have done well on YouTube. She has 30 videos on her YouTube Channel, with her music video for "Dressed to Kill" having 2.7 million views as of September 2022. Meanwhile, others have just slightly over one million views, like "I Wish I Were Amanda Lepore".
She is still releasing songs after taking a break for about two years after her third project. Some of her popular new songs include "Absolute Zero" (2022) from the Absolute Zero album, "Flamin' Hot" (2022), "Boogie Man" (2022), and "Spoopy" (2019) from the Spoopy EP.
Film and TV shows
In 2012, she was featured on the RuPaul's Drag Race TV competition as well as its spin-offs RuPaul's Drag Race: Untucked and RuPaul's Drag U. The following year, she appeared on the ninth season of Watch What Happens: Live and season 2 of She's Living for This.
Her web series appearances are equally impressive, with her appearing in RuPaul Drives, Ring My Bell, Sharon Needles' Horroscope, Pure Camp, and Cooking with Needles, all in 2013.
Then, in 2014, she was featured as a guest on WOW Shopping Network, Alyssa's Secret, and Let the Music Play. In 2015, she appeared on Drag Queens React for the episode "Drag Queens Reading Mean Comments – Part 3".
She was in one episode of the eighth season of RuPaul's Drag Race in 2016 and performed in one episode of Good Behavior season 2 in 2017.
Sharon Needles was a guest in 2016 for the web series Bestie$ for Ca$h and in 2017 for COSMO Queens. In 2019, she featured as herself in the documentary The Queens, directed by Adrienne Gruben.
She wrote a mystery adventure book titled Sharon Needles and the Curse of the Devil's Deck, about a character (who is herself). Michael Thomas Ford is credited with writing some portions as well.
Personal life 
Sharon Needles partner
Sharon Needles has made a home for herself in Pittsburgh, Pennsylvania. She has been in several relationships with drag queens, including a fellow RuPaul's Drag Race alum Alaska (whose real name is Justin Honard) or Alaska Thunderf_ck 5000.
Sharon Needles and Alaska are no longer lovers after they broke up in 2013, but they remained friends and have worked together several times.
After splitting from Alaska, Needles entered a serious relationship with figure and SPFX artist Chad O'Connell in 2013. O'Connell is well known for his work with silicone in making portraits for personal commissions, film, and museums. They were engaged in 2015 and remained together until 2020 when they broke up.
Are Sharon Needles and Chad Michaels friends? This query is quite popular because the latter, Chad, had lost out to Needles in RuPaul's Drag Race Season 4 (although he did win the All-Star version). Expectedly, fans believed that the loss would cause some sort of rift between them. However, Chad Michaels has revealed several times that he is okay with the result of the competition and loves all the contestants.
There is no indication that Sharon Needles and Detox are still together or that they have dated. It appears that they were just in the same industry together.
Sharon Needles controversies
Sharon Needles controversies are two-pronged. One is how she has been accused of using racist and insensitive terms about minorities. The other is accusations that have to do with abuse of fans that were minors.
Racial slurs
The famous drag queen has faced accusations of being racist for using the word "n_gger" on multiple occasions. There are several reports of people hearing her say the term in public. In one instance, she was attacked for using it.
In 2018, she also faced backlash on social media after she made an insensitive joke about the 9/11 tragedy and fellow drag queen William Belli called her out over the matter.
DiDa Ritz, another drag queen who competed with Needles on RuPaul's Drag Race Season 4, revealed in a podcast that she used the "n" word on everyone, including colored people.
Abuse allegations – what did Sharon Needles do to a fan?
In June 2020, a former fan of RuPaul's Drag Race competition revealed that they had suffered abuse at the hands of Needles. According to a report by The Daily Beast, the fan was 15 years old at the time, and the drag queen manipulated them into taking controlled substances and alcohol and sending underaged erotic material.
The fan also claimed that Needles choked them during one encounter. And following this revelation, several other superfans of the drag queen came forward touting similar stories.
What happened with Aquaria and Sharon Needles?
Aquaria was recognized as the drag daughter of Sharon Needles. Typically, a drag daughter and a drag mother have a sort of mentor-apprentice relationship. Drag mothers give drag daughters their stage names.
They were very close until 2020, when Needles faced accusations of abusing minors, and Aquaria publicly dissociated from her, saying via a Tweet:
"i am begging yall– please STOP harassing me about sharon needles. i have never sent that man explicit photos of myself ever and would have never had a reason or desire to do so. i was not a victim, but im now a victim of being incessantly bothered and interrogated about him.
"i feel awful for anyone he has hurt. i have also said this a million times already, but i do not support that man and SERIOUSLY do not wish to continue speaking on my experiences beyond being supportive towards the victim. if i had a problem, yall know i wouldnt be shy to say so.
"i do not have the capacity to continue to deal with claims and accusations that i am not involved in. as emotionally draining as this experience must have been for the victim, i too am entirely exhausted defending myself from hypotheses, conspiracies, and theories. i am fine."
Social media
Sharon Needles Instagram account has 1 million followers and contains several media posts her. She is very active on the page, posting almost every three days. Meanwhile, on Twitter, she has 400 thousand followers and she also Tweets regularly.
 

View this post on Instagram

 
She maintains a Facebook page as well as a YouTube Channel (for her music).
Sharon Needles net worth
We found sources online quoting different figures for Sharon Needles net worth in 2022. One blog claims she is worth $4 million and makes her money from performing on stage, brand endorsement, and music. We found another website that claims that the drag queen is worth just $1.5 million.
Whatever the actual value of her net worth is, we can confirm that she is doing okay financially.
Latest news on Sharon Needles 2022
Following news of her harassment of superfans, Needles appeared to take a break from her music and showing up publicly. The break also coincided with the pandemic lockdown period. In an interview with Instinct Magazine in August 2022, she mentioned that there her things she wants to talk about, but she is legally unable to speak about them in public.
However, she said that the pandemic made it impossible to travel for performances and that the breakup with Chad O'Connell hurt her. Additionally, her mom got cancer during that period, and she lost her best friend.
"This all happened in three weeks. I was like Francine Fishpaw in Polyester when her whole life just starts collapsing all at once, tragedy after tragedy," she claimed.
Conclusion
Although she has tried to maintain positivity, Sharon Needles life has never been a bed of roses. She says that she has managed to deal with many of her issues by doing what gave her joy, which was why she poured more of herself into disco music than ever.
In one bold statement, she said she is like a dented car or a damaged good that hides behind 'visual vernacular of glamour,' which is quite true. However, Needles promised to continue entertaining the world, and we should expect more from her soon.
RECENT ARTICLES:
– Johnny Simmons Bio | 10 facts, movies and TV shows, relationship
– The 10 Most Educated Hollywood Movie Stars
– Robyn Lively Biography: 10 facts, movies and TV shows, relationship with Blake Lively
– Charlyne Yi Bio, 10 quick facts and relationship with Michael Cera
– Alana Hadid Bio | 10 facts about Bella and Gigi Hadid sister.