Peruzzi released his second studio album "Rum and Boogie" on Friday, 9 April 2021, featuring 20 tracks split in two. Per the tracklisting arrangement, 10 songs cater to the "Rum" aspect of the album while the others fall under the "Boogie" section.
It is still too early to give an in-depth review of the album and rushed reviews either end up not doing justice to a great project or give it undue praise. We avoid that trap and instead bring other details that are immediately available.
Which record label owns Peruzzi's album "Rum and Boogie"?
The album "Rum and Boogie" is distributed by The Plug Entertainment, a music publishing, licensing, and distribution company owned by Asa Asika and Bizzle Osikoya. The question about what record label owns the rights to the album is tricky and important given the singer's infamous spat with former employers, Golden Boy Entertainment.
See also: Davido and Peruzzi trend on Twitter over alleged record label fraud
A few days before Peruzzi launched his album, the controversy once again reared its head. The singer had gone on the Nancy Isime Show to taunt his former boss Patrick Anyaene. He accused him of arresting him recently after he returned to Lagos from a show in Abuja.
"You say you have an artist, right and that you have a contract and the artist breached the contract. That means if you go to court, you would win [the case] for sure right? So why don't you just go there?" Peruzzi said.
Anyaene reposted the video on his Twitter page and dished out his own retort, "OK I have kept quiet for a minute because ur lawyers begged I stopped social media until after the court case. I arrested u and you cried as usual, I have so much to leak but the contract is enough. you're Clown for real. [sic]"
While the matter did not go beyond these jibes, it reveals that the record label and contract breach issues between both parties are still in court. Thus, it is interesting that The Plug Entertainment is distributing "Rum and Boogie" and not Davido's DMW, whom Peruzzi has been hanging out with.
Rum and Boogie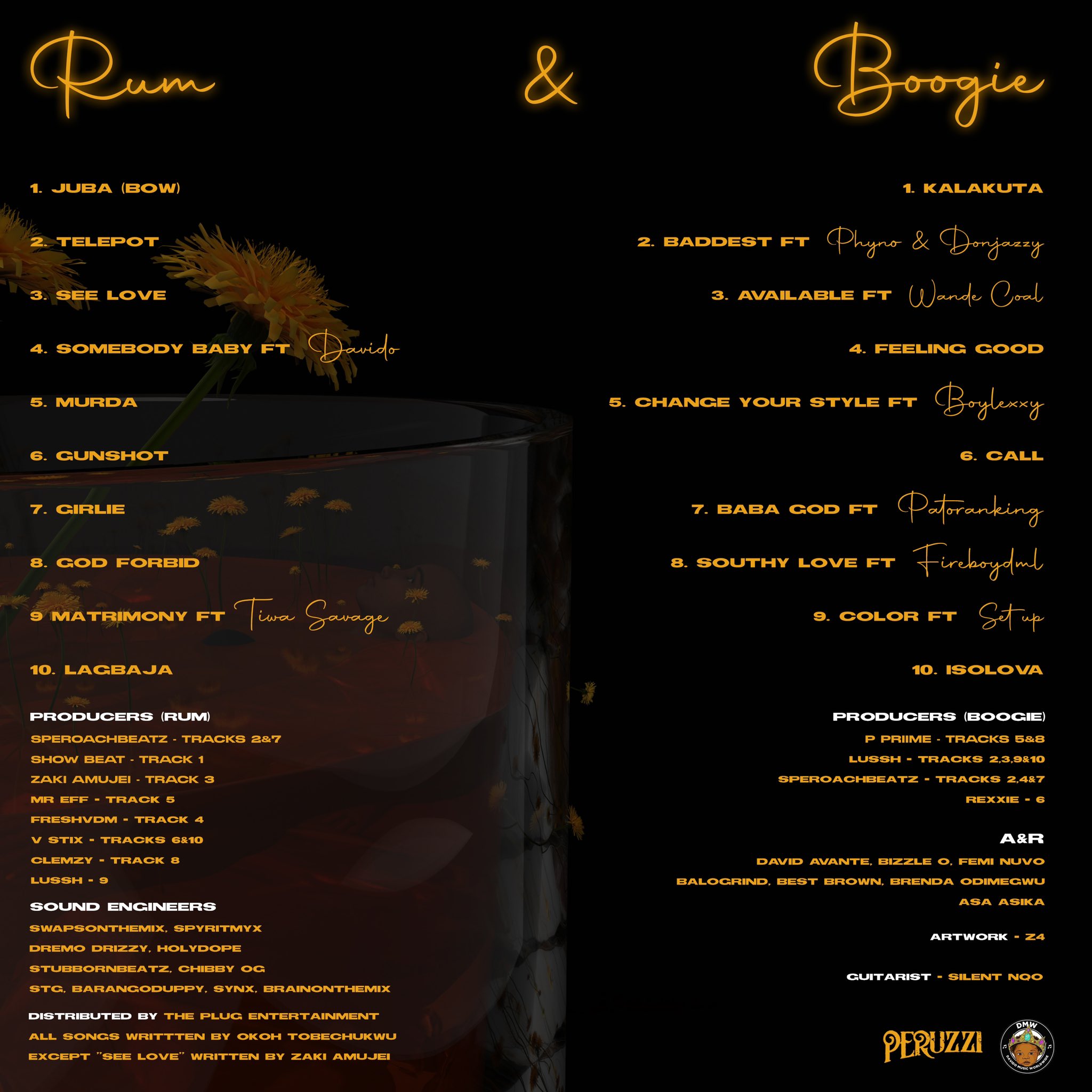 The album itself comes with 20 tracks, twice as much as his debut album "Huncho Vibes" had. It also has more features than his previous album had with Davido contributing to the pre-released "Somebody Baby" track that has been doing well on Nigerian music charts. The "Southy Love" single which features Fireboy DML also makes it on the album.
Also read: [Update] DMX to undergo brain function test, family to determine way forward
Peruzzi enlists the help of Tiwa Savage, Don Jazzy, Phyno, Wande Coal, Boylexxy, Patoranking and Set Up. Producers credited for the project include Speroachbeatz, Show Beat, Zaki Amujei, M Eff, Freshvdm, V Stix, Clemzy, Lussh, P Prime, and Rexxie.
See the complete "Rum and Boogie" tracklist below:
Juba (Bow)
Telepot
See Love
Somebody Baby ft. Davido
Murda
Gunshot
Girlie
God Forbid
Matrimony ft. Tiwa Savage
Lagbaja
Kalakuta
Baddest ft. Don Jazzy & Phyno
Available ft. Wande Coal
Feeling Good
Change Your Style ft. Boylexxy
Call
Baba God ft. Patoranking
Southy Love ft. Fireboy DML
Color ft. Set Up
Isolova
Wait for our review of "Rum and Boogie"!