Bokeem Woodbine was born on 13 April 1973. He is an American actor well known for playing the role of Joshua, Jason's troubled brother, in Jason's Lyric. He also acted as Daniel in season two of Underground, a WGN series. He was nominated for an award in Critics' choice TV award for his role as Mile Milligan in season two of Fargo.
Early life and education
Bokeem was born and raised by his parents in Harlem, New York. He went to Dalton School, after which he transferred to Fiorello H. LaGuardia High School of Music and Performing Arts. He is a lifelong martial arts practitioner, having studied Shaolin, Kung-fu, and Hapkido from an early age.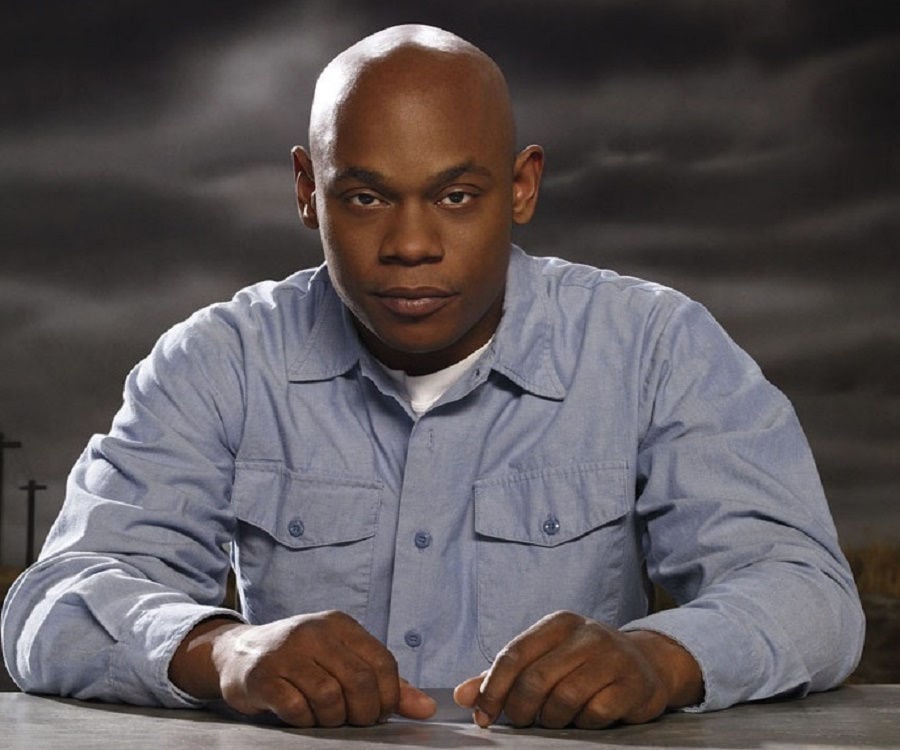 Top 10 facts about Bokeem Woodbine
The famous actor was born on 13 April 1973; he'll be celebrating his 49th birthday this year, 2022.

He started playing guitar when he was twelve.

His great-grandfather was Jamaican, which helped build the Panama Canal.

In 1991, Woodbine's mother stimulated him to apply for a role as a substitute for the film 

Juice, 

thereby starting his acting career.

Despite being a famous actor, He is a private person who does not appreciate his personal life on the media.

He is the founder of Woodbine Enterprises.

Woodbine featured in 

I Ain't Mad at Cha, 

Tupac's music video released shortly after the rapper's death.

Neither Bokeem nor his wife is available on social media, hence limited information about their family, work, etc.

Woodbine is the lead guitarist and singer for his rock band 13 Purple Dragons.

He was nominated for NAACP Image Award for his role in 

City of Angels.
Read Related Articles:
– Meet Bill Gates youngest daughter, Phoebe Adele Gates
–17 celebrities you probably didn't know where famous as kids
–Diego Tinoco Biography: Girlfriend, Net Worth and Career.
Career
Bokeem Woodbine's mother, an actress, encouraged him to enter show business when he was 19 as a stand-in and extra in Juice in 1992. In 1993, he made his first appearance in an episode of CBS Schoolbreak Special. He was shortlisted for movies like Dead Presidents and panther a few months later. Woodbine also featured in a Tupac music video in 1996, after which he appeared in films like The Big Hit, Almost Heroes, and Caught Up.
He featured in Shakur's music video for "I ain't mad at chain" 1996 and became friends with the rapper. Woodbine and Shakur later reunited in the debut for "Gridlock'd", which was released a few months after Shakur's death. Bokeem appeared regularly on the NBC midseason Sitcom Battery Park and acted as Dr. Damon Bradley, who later became a serial rapist. He also appeared in a CBS medical drama, City of Angels, which earned him recognition for the NAACP Actor in the drama series.
In 2009, he featured in Black Dynamite and followed it up in 2010 in Devil. He also acted as a Police Officer in Southland in 2012 and featured in the remake of Total Recall in 2012 and Riddick in 2013.
Bokeem Woodbine in Fargo
Bokeem played the role of Mike Milligan in ten episodes of Fargo. in the movie, Emmit Stussy, a self-made real estate mogul who was successful, earned the nickname "Parking Lot King of Minnesota," and he also had a perfect family.
On the other hand, his younger brother Ray was the opposite of him; he always lived in Emmit's shadow and was good at pushing blame on his brother Emmit. He met a parolee, Nikki, who offered to help him succeed in life by stealing back his good karma. The situation got out of hand, which led them to commit theft, which led to murder; meanwhile, Emmit got an unwelcome proposal from a loner V.M. whose bosses planned to partner with Emmit at all cost.
Bokeem Woodbine in Strapped
In the movie Strapped, Woodbine played the role of Diquan Mitchell. He was a former criminal during his teenage age who decided to leave his life and stay off the streets of Brooklyn. Along the line, his girlfriend, Latisha, gets caught by the cops for selling drugs to cater for their soon-to-be son. To help his girlfriend get out of trouble, he makes a deal with an undercover officer Matthew McRae and must risk his life as an informant to save Latisha from long-term punishment.
Bokeem Woodbine in Dead Presidents
Bokeem played the role of Sgt. Cleon in Dead Presidents. Soldier Anthony returned home after a nightmarish tour of duty in Vietnam, but the nightmares would not stop for both Anthony and his friends as they struggled to get a better job to cater for their families. 
In a desperate state, Anthony collaborated with Kirby, a former crook, and Skip, a drugs addict, to initiate a bank heist that would end their financial issues.  
Year
Title
Role
1994
Jason's Lyric

Crooklyn

Joshua Alexander

Richard

1995
Dead Presidents

Panther

Staff Sgt. Cleon

Tyrone

1996
The Elevator

Freeway

The Rock

Malcolm

Chopper

Gunnery Sergeant Crisp

1997
Gridlock'd
Mud
1998
The Big Hit

Wishmaster 2: Evil Never Dies

Caught Up

Almost Heroes

Crunch

Mr. Farralon

Daryl Allen

Jonah

1999
Life

It's the Rage

The Runner

Can't Get Right

Agee

477

 

2000
BlackMale
Jimmy Best
2001
3000 Miles to Graceland

The Breed

The Road to Graceland

 

BENJAMIN Franklin

FBI Agent Steve Grant

Franklin (voice)

 

2002
Sniper

Run for the Money

US Army Sniper Jake Cole

Rock

2003
Detonator
Jack Forrester
2004
Ray
Fathead Newman
2005
Blood of a Champion

Edmond

The Circle

Shadow

Prisoner

Cop

2006
The Champagne Gang

Confessions

18 Fingers of Death

Rock Star

Miles Adams

Billy Buff

2007
The Last Sentinel
Anchilles
2008
The Fifth Commandment

The Poker House

Miles Templeton

Duval

2009
Three Bullets

Black Dynamite

The Butcher

A Day in the Life

Bo

Black Hand Jack

Chinatown Pete

Bam Bam

2010
Across the Line: The Exodus of Charlie Wright

Devil

Miller

 

Guard

2011
License to Reproduce

Little Murder

DEA Agent Troy Peterson

Lipp

2012
Letting Go

Total Recall

Mark

Harry

2013
The Host

Caught on Tape

Riddick

They die by Dawn

1982

Five Thirteen

Nate

Tyrone

Moss

Bill Pickett

Scoop

Nestor

2014
Guardian Angel

Jarhead 2: Field of Fire

For Love or Money

Detective Jackson

Danny Kettner

Jacoby

2015
The Night Crew

AWOL 72

Crenshaw

Myron

2017
Spider-Man: Homecoming
Herman Schultz
2018
Overlord

Billionaire Boys Club

Sgt. Rensin

Tim Pitt

2019
Queen and Slim

In the Shadow of the Moon

Uncle Earl

Maddox

2020
Spenser Confidential
Driscoll
2021
Ghostbusters: Afterlife
Sheriff Sherman Domingo
His Personal Life
Parents
There is no information about his parents because he prefers his personal life to be hidden. Although, we have to thank Bokeem Woodbine mother someday for encouraging him to start acting.
Wife (Mahiely Woodbine)
Bokeem Woodbine hides information about his relationship life from the public. However, he has been married to Mahiely, and together, they have a daughter. Mahiely Woodbine, formerly known as Mahiely Roberts, was born on 9 April 1973 in New Hampshire, USA. Her mom was a housewife, while her dad was a football Coach. She went to New Hampshire High School, upon graduation, she acquired a degree in Psychology. She was a low-key person but rose to Stardom following her marriage to the famous American actor Bokeem. They met at the party of one of their mutual friends, and the rest, they say, is history.
Social media
He is available on social media platforms like Facebook and Twitter, but he is not active on either of the platforms; his wife is not available on social media either.
Latest news
Bokeem Woodbine, Fargo star, is the most recent person to join the cast of Marvel's Spider-man Homecoming. He will feature in a villainous role, alongside famous actors, Logan Marshall and Michael Keaton.
Net worth
Bokeem Woodbine has acquired quite a fortune from his hard work and dedication in the movie industry brand endorsements for multinational companies. He is the founder of Woodbine Enterprises Production agency and, a member of the rock band, a lead guitarist. He has an estimated net worth of $4 million, combining all these. His wife, Mahiely Woodbine, has a net worth of $3 million.
Conclusion
Bokeem Woodbine is a man who is dedicated to his career in the movie industry, which he started at age 19. He has featured in more than 70 movies, thereby impacting the entertainment industry. We look forward to watching more of his films. Most importantly, we look forward to his role as a movie producer.
Also, read our latest articles:
– Some of the Surprises Found When Playing Online Slots
– Taylor Dooley Bio: age, early life, career, relationship, and more
– Mahito facts: Jujutsu Kaisen series, domain expansion powers and age.