Mikey Lorna Tyson is popularly known as the daughter of boxing legend Mike Tyson. She is a woman who has eyes for beauty and fashion. Additionally, she shares food pictures on social media and spends a lot of her free time with her family.
Top 10 facts about Mikey Lorna Tyson
She was born on 31 July 1990. She will be celebrating her 32nd birthday this year. 

She is widely known and recognized as a famous legendary boxer, Mike Tyson's daughter.

As seen in her Instagram photos, Mikey Lorna Tyson is a die-hard food lover. 

She had rough childhood days, as her father was in prison, but she bonded with him anyways.

Her father, Mike Tyson, is active on social media and has 16million followers on Instagram.

She loves to have fun, as she is seen posting pictures and videos with friends and loved ones.

Even though her siblings have different mothers, she loves them all, and she expresses it on her social media handle with beautiful captions.

She struggled with excessive weight when she was a child and in her teenage years also, but she became intentional about losing weight, her efforts in the gym paid off.

Mike Tyson has an estimated net worth of $10 million, and while Lorna's net worth is not available online, she appears to be well off, as her social media snaps show.

She is on Instagram as

@_agirlnamedmichael and over 9K users for her account.
Related articles:
–Who Is Jacqie Campos Married to? Everything On Her Husband, Age, and Net Worth
–Who is Mike Lindell's ex-wife Dallas Yocum?
– Everything you need to Know about Nightbirde, the late singer-songwriter.
Early life and education
Mikey detests the spotlight, and as such, there is no information about her high school and the university she attended. Before she was born, her father Mike asked his girlfriend Kim to abort the pregnancy as he was not ready to father the child. She accepted but had a change of mind at the last moment and gave birth to the baby. Although he didn't want to admit he was the owner of the child, a few months later, he came to terms with the reality and accepted the child. 
During her childhood years, her father was in prison, and as such, she did not get to spend much time with him, although every week she and her mum Kimberly would visit him in prison, and each time Mikey had to leave, she is heartbroken. Her dad also sent her gifts occasionally. They built a father-daughter bond when he was in prison.
Mikey's legal name is Michael, and the name was given to her by her father. Although when her mother was pregnant for her, the legend Mike was not ready to father a child, so he asked his then-girlfriend Kimberly Scarborough to abort the pregnancy. She went to the clinic to carry on with the abortion but changed her mind at the last minute. She gave birth to the child, but her father did not sign the child's birth certificate as he refused to acknowledge the child as his own. Kimberly decided to file a lawsuit against him which she won. He then accepted the baby as his own and took responsibility. 
A few months later, he was sentenced to prison for raping Desiree Washington, a beauty contestant. However, despite being in prison, Kimberly mentioned that Mike often checked on his daughter and called her school to ensure that she was praying and doing her school assignments. His wife also mentioned that he chose the school because the school was very disciplined and strict. She also said that Mike became soft in the heart after serving the prison sentence.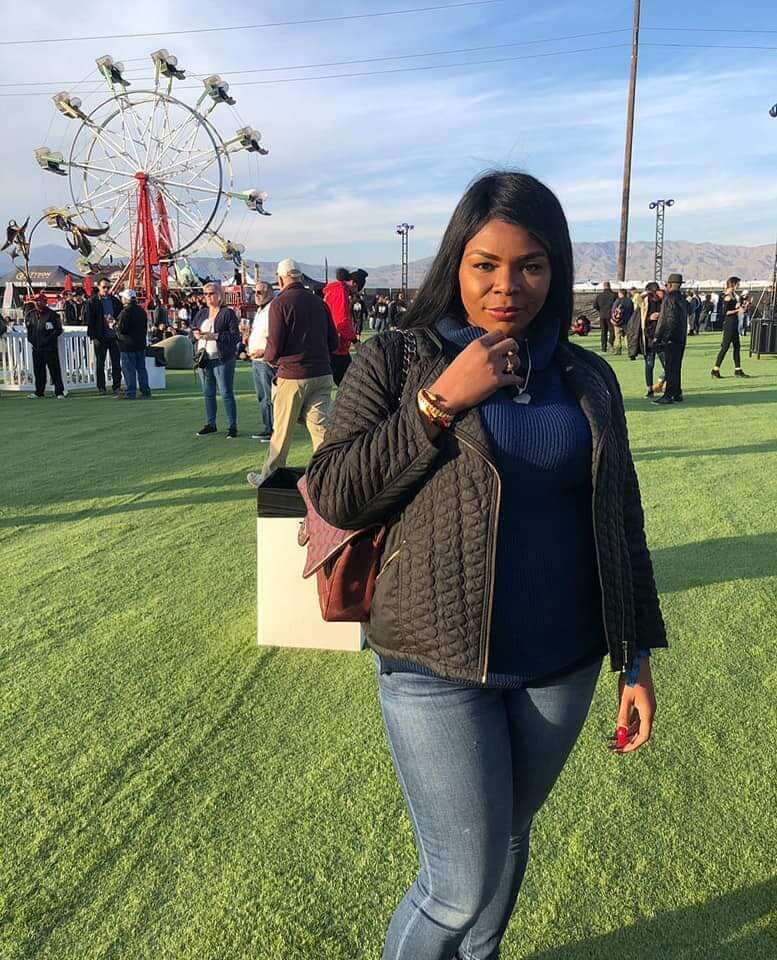 Career
From her teenage days, Mikey Tyson has been interested in the fashion industry. According to sources, she was seen in a photo at G Beauty School, where they teach make-up, nail fixing, and other beauty treatments. Her drive to be in the fashion industry took her to the beauty school.
Also, in 2016 she was featured in Queen Size Magazine as the cover photo for their edition, where she talked about her weight loss journey and her success in the fashion industry. In October 2016, she made a post and captioned it, "Thank you @Queen Size Magazine for having me on your November 2016 cover and sharing my story."
She seems to be designer Christian Siriano's bosom friend, as she has posted pictures of them discussing fashion at fashion shows. Despite her achievements and level of success in the fashion industry, she keeps her life private. But from pictures she posts on her social media handles, she loves to travel cause several times. She posts pictures of her and her friends on vacation.
Latest news on

Mikey Lorna Tyson
Mikey enjoys her life as she updates her fans and followers via her Instagram account.
Personal life
There was an article that brought Mikey to the limelight. In the article, several news outlets mentioned that her father promised $10 million to any man who would marry his daughter. One famous comedian, Michael Blackson, responded to the article and said he was willing to marry Mikey. He began saying stuff about their future children, although he said some nasty things. Her father, Mike Tyson, got upset and responded to the comedian. He hurled insults at him. He said the article was not genuine. He also mentioned that his daughter was in a relationship with a cute man and that she is happy and would not pick interest in a guy like Blackson. He also threatened the young man to stay away from his family. The comedian, Blackson, replied by apologizing to the legend. This argument and exchange entertained users on the internet; it proved that Tyson is protective of his daughter. 
Mikey Lorna Tyson siblings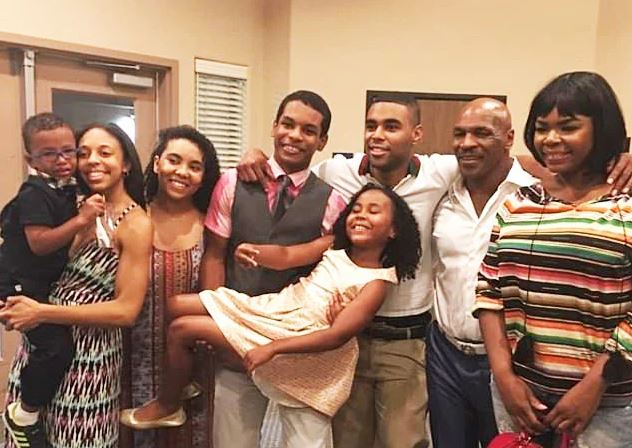 Mikey has six half-siblings. She is her mother's only child, and the other six children are from two different women. But Mikey loves them as her siblings, as seen from her posts and pictures on Instagram. From her photos and captions on Instagram, she shares a bond with them all. She also has an elder brother from her mother, Richard.
Here are the names of all Mike Tyson's seven kids with his three partners (including adopted Gena):
Gena Tyson (born in 1989) – adopted
Mikey Lorna Tyson (born in 1991) ­– with Kimberly Scarborough
Rayna Tyson (born in 1997) – with Monica Turner
Amir Tyson (born in 1999) – with Monica Turner
Miguel Leon Tyson (born in 2003) – with Sol Xochitl
Exodus Tyson (born in 2005, deceased) ­– with Sol Xochitl
Milan Tyson (born in 2009) – with Lakiha Spicer (Kiki Tyson)
Morocco Tyson (born in 2012) – with Lakiha Spicer (Kiki Tyson)
Mike Tyson (father)
Mike Tyson is a famous boxer. He has been in three marriages with three different women. He had six biological children, although one named Exodus died due to a fire accident in 2019, and her death was traumatic for the family. Mikey Tyson is his first child; Miguel and Exodus were children of his ex-girlfriend Sol Xochitl. Amir and Rayna are children of his ex-wife Monica. Turner, Morocco, and Milan are his present wife, Lakiha Spicer's children. 
Mikey has a fantastic relationship with her father. In March 2015, the legend posted a picture on Instagram with the caption, "Daddy-daughter date night at Mr. Chows. Love you, Rayna."
He is very active on social media. He makes posts on his Instagram account @miketyson, which has 16million followers. His Instagram page is loaded and attractive, with content around his boxing career. You can check out his website. 
Social Media
Mikey Tyson is a woman who loves to keep her personal life outside the media and does not appreciate media attention. Still, she is active on Instagram as @_agirlnamedmichael, where she posts updates about her life and activities. From her pictures on Instagram, Mikey looks stunning. She also flaunts pictures of her family and friends, alongside her cooking. 
Her weight
According to her mother, when Mikey was four, she weighed 50pounds, said her mother, Kim. Mike, her father, was worried a bit because he had a sister who was obese; she died of a heart attack when she was 14. He ensured that Kim took his daughter to the hospital now and then. When Mikey got to her teenage years, she decided to follow in her dad's footsteps by going to the gym to exercise. And within a few years, Mikey Lorna achieved her desirable weight. She posts pictures of herself in the gym on her Instagram account. On June 17, she made a post while in the gym with the caption, "Happiness isn't a size, it's a state of mind. 11 pounds down." Her videos in the gym are a source of inspiration to ladies who have excess weight and desire to keep fit.
She also posts pictures of healthy and balanced meals on her Instagram Newsfeed.
Mikey Lorna Tyson net worth
Her net worth is unknown. But then her father, Mike Tyson's net worth is estimated to be $10 million. He has an online shop, plus funds he generates from boxing. 
Conclusion
Mikey is a young woman who despite the hurdles and circumstances that surrounded her life from childhood, she rose to stardom by pursuing her dreams and aspirations.
You may also like to read our latest articles:
– Millie Bobby Brown at 18 | 5 facts you likely didn't know about the 'Stranger Things' star
– Emily Mariko salmon rice bowl recipe
– Roundup of the week- Davido's orphanage donation, Teen Wolf Movie, Kanye West's IG outbursts and more.