Kalecia Williams is the daughter of April Smith, she has a stepdad Ronney Savoy and was born in 2004. She was a 16-year-old girl who attended South Atlanta High School. She was a beautiful young girl who loved dancing a lot.
Kalecia Williams loved one thing, which was dancing, and she did that until the moment that someone gruesomely killed her. Kalecia Williams' parents felt she was indoors for too long due to the deadly Covid-19 virus, spreading around in 2020 and making many individuals and families isolate themselves at home. 
They urged her to go out and have fun with her friends, but they didn't know that her leaving the house that day would be the last time they saw their daughter alive. 
What Happened to Kalecia Williams?
Kalecia Williams' parents believed she was over at a hang-out with her friends and stayed on Airbnb, not knowing that the chaperone had taken her to a hotel alongside other kids. The chaperone took Kalecia and her friends to the Hyatt Regency Atlanta Hotel instead of Airbnb for reasons unknown to people.
People seem to believe there was an issue with booking the Airbnb, which is why the chaperone took Kalecia and her friends to the Hyatt Regency Atlanta Hotel.
Kalecia Williams at Hyatt Regency
The chaperone planned a party for the kids and decided to use the hotel to fulfill her words of throwing a party for them. Kalecia Williams attended the party and had a perfect time at the party. Kalecia went back to her room after having a good time.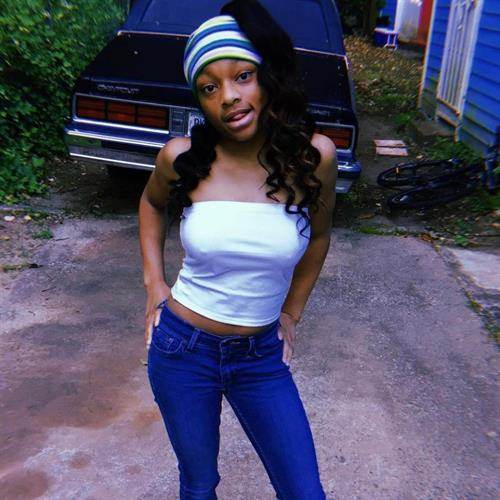 Kalecia Tiktok Video
After returning to her room, Kalecia decides to log into her TikTok account @Kaleciawilliams1 by 12midnight. Being a good dancer, she placed her phone in front of her and started recording herself dancing to the sound of music on her TikTok social media platform, and she was having fun doing it.
While Kalecia was dancing, someone entered her room, and people believed the person who entered her room was an acquaintance of hers. Immediately she spotted someone had entered her room and stopped recording.
Kalecia Williams Shot to Death
Later on, it seemed she and her acquaintance had an argument, and as a result, he shot her in her groin, and she started bleeding. People heard the gunshot, and two men came to her aide. The two men carried her and took her to the lobby while supporting her legs, and they called the police. 
When the police came, they figured out that she was not breathing and couldn't feel her pulse and immediately rushed her to the hospital. When the ambulance rushed her to the hospital, the doctors did everything possible to revive her, but their effort wasn't enough; Kalecia Williams died that day. 
Read Related Articles:
–Who is Haley Grace Philips, And Who Kidnapped Her?
–Raymond Weber's Video Went Viral Where He Allegedly Killed Two Ladies
–Facts about TikTok star Jinnkid who killed his wife
Who Killed Kalecia Williams?
According to the police, the boy who shot Kalecia Williams was her acquaintance. The cops arrested the boy at the crime scene, but the police didn't reveal his identity. The boy was taken into custody and interrogated at the police station. The law enforcement agency charged him with sexual assault, underage possession of a weapon, felony murder, and reckless conduct.
The cops have detained him in a remand home in the Metro Regional Youth Detention Center. The reason for the altercation between the boy and Kalecia Williams is still yet unknown. For the boy to have pulled out a gun and shot Kalecia Williams, he has no self-control. And if the law enforcement agents release him from detention, they should further send him to an organization that deals with and helps people learn how to control their anger. 
If he could control his anger that day, then there is every possibility that miss Kalecia Williams would still be alive and probably at home. She could have gotten the chance to experience and live life even more.
Kalecia Williams Parent's Reaction to Her Death
April Smith and Ronney Savoy had no idea that something terrible had occurred to their child until 8 hours after Kalecia Williams died. The chaperone, for reasons unknown, refused to answer Kalecia's parents' phone call. The parents were calling to inquire over their child to ensure she was safe and alright like every loving and caring parent would do were being ignored.
The chaperone called Kalecia William's parents to tell them what had happened to their daughter. The parents were furious and disappointed that the chaperone did not inform them immediately until 8 hours after their daughter died. The parents had no idea their child wasn't at Airbnb, where the chaperone had told them she would be. They probably would have constantly been in contact with their child and checked on her regularly to ensure she was safe.
The parents expressed anger towards the chaperone and felt the chaperone should be held accountable for what had happened. The father stated that although killings in Atlanta at that time were uprising, he never believed his daughter would be a victim. Before Kalecia's killing, about three people died in Atlanta. Kalecia William's parents felt the chaperone should have called them immediately after the incident because that's what every parent would have done if a child was under their care.
Kalecia's parents could only suffer pain and heartbreak over their lost child. Like every parent out there who may have lost their child or children one way or the other, Kalecia William's parents would wish there was something they could do to bring their child or children back to life and back to them. But medically and scientifically, it wouldn't have been possible for them to do it.
The Hyatt management group made it known to the public that they were hurt and saddened by what had happened in their hotel. They made it known that they were working alongside and cooperating with the police to help their investigation. The Hyatt management group made it known that they had issued a new policy whereby only guests 18 years old and above were allowed to book a room in their hotel. 
Kalecia's Funeral
Kalecia Williams viewing took place on Friday, 1 January 2021, from 11 am to 6 pm at the R.W. Andrews Mortuary. Her funeral followed the next day at the Life-Changing Work of Faith Church, Washington road.
Conclusion
Kalecia Williams parents were sad that their daughter was never coming back home again like every parent. April Smith, Kalecia's mother, has vowed to get justice for her daughter. Her parents are left with the memories and pictures of their daughter, but we can only hope it comforts them.
 Also, read our latest articles:
–Suzy Cortez Instagram, Brazil Miss Bumbum Reveals Gerard Piqué DMed Her On Instagram For Her Butt Size
–How Filmmaker Edgard Leroy, Who Won AMVCA's 'Best Indigenous Movie' Award, Died In Auto Crash
–Everything You Need To Know About Kerris Dorsey, Famous American Actress