Catherine Lisa Bell is a British-American actress, model, and movie producer who became famous in Hollywood for her role as Lieutenant Sarah Mackenzie in the television series "JAG," which aired from 1997 until 2005.
She was born in London on 14 August 1968 to Peter Bell, who was Scottish, and her Iranian mother, Mina Ezzati. Her parent's marriage, however, did not last very long as the pair separated when Bell was just two years old. She was raised by her single mother and her grandparents (maternal).
Bell soon started working as a model very early on and got acting parts in TV commercials. At 19, she had to drop out of school because of a modelling gig that required her to stay in Japan for an extended period.
Her trip to Japan proved monumental as she decided to go into acting full-time at The Beverly Hills Playhouse with American director and producer Milton Katselas.
Related: Facts about Ari Fletcher; relationships, businesses, and net worth
Top 10 facts about Catherine Bell
Catherine Bell will turn 53 on her birthday in 2021 and was born on 14 August 1968 to a Scottish dad and an Iranian mom.

She is a model, actress, and movie producer, and she began her career in 1991 at age 23.

Bell never completed her university education as she dropped out to finish a modelling gig in Japan before going into acting full-time.

She once starred as a nude double in the 1992 black comedy fantasy film "Death Becomes Her" for actress Isabella Rossellini, and this role is likely one of the reasons why people search for Catherine Bell topless photos.

Catherine Bell became famous after starring as Lieutenant Sarah Mackenzie in the legal drama television series "JAG," which aired from 1997 up until 2005

She was married to Adam Beason, and they had two children, Gemma Beason and Ronan Beason, before their divorce in 2011.

Catherine Bell is also Bisexual and has been in a relationship with US photographer Brooke Daniels, and they lived together since 201.

She was brought up in the Catholic and Muslim religion, but now she has chosen 

Scientology

 as her belief.

Catherine Bell loves sports, and her hobbies include motorcycling, skiing, snowboarding, and kickboxing, according to 

Orange Coast

 article on her.

She played the role of Cassandra "Cassie" Nightingale in "The Good Witch" and its subsequent six sequels.
Also read: Who is Dale Russell Gudegast? – See facts, husband, and pictures
Early life, family, and education
 

View this post on Instagram

 
Catherine Bell was born on 14 August 1968. Her parents, Peter Bell and Mina Ezzati were an interracial couple, and they had their only daughter together while in London.
Peter Bell is of Scottish descent, and he worked as a contract architect in an oil company in Iran, while Mina Ezzati studied nursing in London. Her parents got divorced while Catherine was only two.
She was brought up by her mother and her mother's parents (Catherine Bell's maternal grandparents). Catherine, her mum, and her grandparents soon moved to California after her parents' divorce.
She had quite an experience as her childhood days were filled with learning several cultures. Her maternal grandparents were Muslims, so she was taught the way of Islam.
Also, being of British-Persian descent herself and living in America, it was imperative that she would be accustomed to a couple of different cultures. Catherine is very fluent in Persian and English.
She attended a Catholic school in Los Angeles predominantly for girls (Our Lady of Corvallis High School in Los Angeles), exposing her to Catholicism as a result.
She wanted to become a medical practitioner at the time and went on to study Biology/pre-medicine at the University of California (UCLA). A couple of years later, the teenage sensation, fascinated by her immediate environment in California, set out to become a model, and she appeared in a couple of TV commercials.
Career
During her second year at UCLA, she got a modelling gig that required her to pack her bags and head to Japan, and she dropped out of school to fully pursue a career in modelling at the time.
Back then, advertisers in Japan were very appreciative of British models (Beauties) which made Catherine a hot commodity at the time. She eventually stayed in Japan for four months to keep at the modelling lifestyle, but she had to return to the United States to go study acting.
She enrolled at the Beverly Hills Playhouse with Milton Katselas while also holding a side hustle as a massage therapist at the Peninsula Hotel for eight years.
During her time there, Catherine met singer Peter Gabriel, one of her clients. And a short while later, in 1990, Bell got her first television acting role. It was on the short-lived sitcom titled "Sugar and Spice," and she only had to speak just one line to Gabriel in it. Yet, it sparked her interest in acting.
Also, Catherine served as Isabella Rossellini's nude body double for the 1992 film "Death Becomes Her", and in 1994, she starred in the Dolph Lundgren film "Men of War".
Bell bonded with her co-star Trevor Goddard while filming in Thailand as they both contracted amoebic dysentery. Goddard and Bell then found themselves in the same television series, "JAG", the following year in 1995. The pair were friends until Goddard kicked the bucket in June 2003 after he overdosed on drugs.
"JAG" aired on NBC TV and was mostly about the work of the United States Department of the Navy's Judge Advocate General office. The show, however, did not last very long as NBC cancelled it, but the CBS network picked it up and made some adjustments that involved incorporating a female Marine Corps lawyer character, Sarah MacKenzie.
Catherine Bell auditioned for that role and got it, and she was part of it until the series ended in 2005.
Bell also starred in the 2007 drama series "Army Wives," where she portrayed Denise Sherwood, wife to a US Army lieutenant colonel who endures domestic violence at the hands of her teenage son during the first season of the show.
The Good Witch movies
 

View this post on Instagram

 
In 2015, Catherine Bell started working in the series "The Good Witch". She played the gifted Cassandra Nightingale, who runs a bread and breakfast and the magical curio, "Bell, Book & Candle".
Catherine Bell also served as a co-producer of the series. The sixth season, which had ten episodes was aired from May to July 2020 and the seventh season premiered on 16 May 2021. Here is a list of "The Good Witch" movies in order:
The Good Witch Season 1 (2015): 28 February – 18 April (10 Episodes)
The Good Witch Season 2 (2016): 17 April – 19 June (10 Episodes)
The Good Witch Season 3 (2017): 30 April – 2 July (10 Episodes)
The Good Witch Season 4 (2018): 29 April – 1 July (10 Episodes)
The Good Witch Season 5 (2019): 9 June – 18 August (10 Episodes)
The Good Witch Season 6 (2020): 3 May – 5 July (10 Episodes)
The Good Witch Season 7 (2021): 16 May – TBA
In 2018, The Good Witch won ASCAP Award for Top Television Series at the ASCAP Film and Television Music Awards. Also, in 2019, it was nominated for the Saturn Award for Best Fantasy Television Series.
The Good Witch Casts (Selected)
Catherine Bell played Cassandra "Cassie" Nightingale the psychic. She owns a shop called Bell, Book and Candle.
Bailee Madison played Grace Russell.
James Denton played Dr. Sam Radford, Cassie's handsome neighbor and the town's new doctor.
Rhys Matthew Bond played Sam's troublesome son Nick Radford.
Sarah Power played Abigail Pershing, cousin to Cassie.
Catherine Disher played Martha Tinsdale, the mayor of Middleton.
Kylee Evans played Stephanie Borden, the owner of a local bistro and a close friend of Cassie.
Marc Bendavid played Donovan Davenport, the mayor of Blairsville and Abigail's love interest.
Scott Cavalheiro played the role of the hospital pastor Adam Hawkins.
Gianpaolo Venuta played Cassie's world-traveling and adventurous foster brother Vincent.
Asides from featuring in The Good witch series, Catherine Bell was also reported to be featuring in the 2015 movie "Love Finds Its Way". The movie later premiered on 9 July 2017 on the Hallmark Channel.
Catherine Bell also reprised her role on "JAG" as Sarah "Mac" MacKenzie on CBS tenth season of NCIS: Los Angeles.
Catherine Bell topless
Since her role as Isabella Rossellini's nude double in "Death Becomes Her", the actress has been in searches on the internet for nasty reasons. People want to see the beautiful Catherine Bell topless photos, but it doesn't seem like a reality right now.
The movie featured Catherine as the body double for Isabella Rossellini (Lisle von Rhuman), an enigmatic, ageless beauty who holds the mysterious potion that grants eternal life and has a tendency to dress in next to nothing.
There have been reports her phone was hacked once and her nudes distributed all over the internet, but the claim is not yet verified.
Personal life and family
Catherine bell is very athletic, and she loves all sports, particularly kick-boxing, skiing, and snowboarding.
FHM (For Him Magazine) listed her among the 100 Sexiest Women in the World in 2001 (where she was selected as No. 84), and in the year 2002 (No. 38), while in 2004, Catherine was listed in the top 20.
Catherine Bell came from a broken home as her parents didn't even wait until her third birthday before they parted ways. That did not come off as one of her challenging moments alone, as she was also diagnosed with thyroid cancer when she was 21 years old. At the time, one person Catherine regarded highly, her uncle, helped detect it early, and she was later operated on to remove the gland. She tagged that moment in time as a life-changing experience.
In 1992, while on the set of the movie "Death Becomes Her", Catherine met Adam Beason, who would later become her husband for the very first time. They fell in love, and two years after they met for the first time, on 8 May 1994, they got married.
Their union produced two children (a girl and a boy), Gemma Beason, born on 16 April 2003, and Ronan Beason was born seven years later on 21 August 2010.
According to Catherine's bio listed on IMDB, the actress also has a tattoo of both of her children's names. She says she got the tattoos because she believes being a mom is the only thing she ever truly committed to in her life. She tattooed her daughter's name, Gemma, on her left wrist in ancient Persian, while that of her son, Ronan, is on her right inner forearm in Ogham, an ancient Celtic script.
Catherine Bell and her children and Adam Beason lived in a nearly 5,700 square-foot faux Tuscan style mini-mansion home in Calabasas, California. The pair were married for over 17 years but separated amicably shortly after the birth of their second child, Ronan, in 2011.
Reports, however, suggest that they agreed to raise their children together. Catherine is now with fellow American Scientologist and photographer Brooke Daniels.
Who is Brooke Daniels?
Brooke Daniels is a Caucasian female born in the United States of America. Her parents are from North America, and she is currently romantically involved with Catherine Bell.
Brooke has had a passion for photography since an early age, and she took part in several competitions while in college. She also is a Scientologist, a type of religious belief.
Brooke Daniels has also appeared in a couple of music videos involving Scientology. She's also famous for her social work, however, her career isn't really documented online as she keeps a low profile.
Brooke is also a divorcee with two children, Dane and Chapel, from her previous relationship.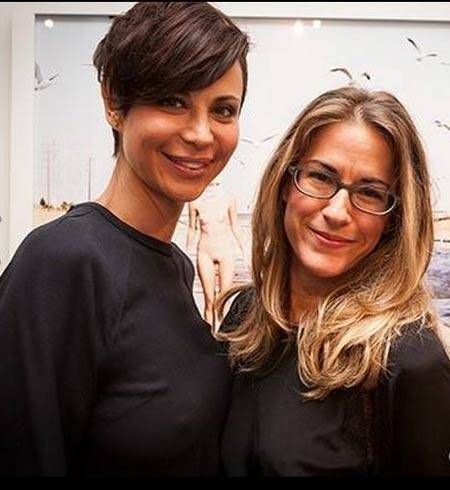 She and Catherine Bell first met while she was working at Psychiatry: An Industry of Death Museum, and they became friends. Later on, the pair got romantically involved, and Brooke came out as Bisexual in 2012 after bringing her secret relationship with Catherine into the public light.
The pair now lives together with their children in the suburbs of Los Angeles.
Catherine Bell today
Catherine Bell is a beautiful 52-year-old mother to two children in a romantic relationship with Brooke Daniels, and holds strongly to her belief in Scientology.
She's also still very much a part of the series, "The Good Witch" whose current season (season 7) is airing.
Net worth
The American actress is estimated to have recouped a net worth of over $15 million, with the larger portion of this coming from her acting career over the years as well as a few modelling gigs here and there.
She was reported to have bought a house in 2015 worth $2.05 million. Also, Catherine doubles as a producer, and a fairly large income is coming in from there.
Conclusion
The life of Catherine Bell has not been one without ups and downs. She grew up practically without a father since her parents got divorced while she was only a 2-year-old toddler forcing the parenting responsibilities on her mother and maternal grandparents.
She also fought cancer at age 21 and won the battle going on to marry Adam Beason, for whom she bore two children, Gemma Beason and Ronan Beason. She also split amicably with her husband and is now a bisexual woman dating Brooke Daniels.
One thing that stood out in all of this is that Catherine Bell is an accomplished woman, and she did it all by herself. You may also like one of our latest articles, Maggie Haberman of New York Times: see facts, Pulitzer Prize, Fox News criticism, and net worth.