Bridgette Wilson was born on 25 September 1973 in Gold Beach, Oregon, US. She is a model, singer, Miss Teen USA award winner, and former American actress. Her career as an actress started after she was crowned Miss Teen USA in 1990. She played the character of Lisa Fenimore on the Soap Opera Santa Barbara, for 51 episodes from April 1992 to January 1993.
Early life and education
Bridgette was born and brought up by her parents, Kathy and Dale Wilson, in the not-so-big coastal town of Gold Beach, Oregon, in the United States. She is an American by nationality and belongs to Swedish and English mixed ethnicity. Bridgette attended Gold Beach High School and graduated in 1991. While in high school, she played volleyball and participated in the schools' volleyball team competition. At age 17, in 1990, she was crowned Miss Teen USA in Biloxi, Mississippi, and she was the second contestant to win the crown.
Top 10 facts about Bridgette Wilson
She was crowned Miss Teen USA in Mississippi in 1990.

She is married to Pete Sampras, the former No.1 tennis player; he held the position for 263 weeks.

Her husband, Pete Sampras, is an exceptional tennis player who won several rounds at the US Open, defeating veterans.

Bridgette began her career in acting from a very young age.

Pete Sampras suffered from a blood disorder, a genetic trait that sometimes causes slight anemia.

As a singer, Bridgette released her album titled I Only Wanna Be With You with King Records label; after two years, she released her second album, Gimme a Kiss.

Pete Sampras and his family relocated to Palos, in California, where he began to play tennis regularly. He also met his tennis idol, Rod Laver, and got an opportunity to play with him.

Pete Sampras started playing tennis professionally in 1988 and moved his world ranking from No. 873 to No. 97. The following year he became No.81. 

He announced his retirement before the 2003 US Open, and in a special ceremony at the Open, he bid farewell to his fans and followers.

Bridgette has a net worth of $25 million, while her husband Pete Sampras has an estimated net worth of $150 million.
Also read:
– Bokeem Woodbine Bio: early life, education, wife, career and net worth
– Everything you need to know about Doreen Lioy, ex-wife of serial killer Richard Ramirez
– Who is famous actor, Kyle Chrisley in Chrisley Knows Best American TV Series?
Career
Bridgette became an actress after she reigned as Miss Teen USA. Bridgette started her acting with Hollywood courtesy of every 90s kid's favorite show, Saved by the Bell, where she featured in four episodes as a ditzier member of Bayside student and as Ginger. She has appeared in the movies: Santa Barbara, Last Action Hero as Whitney, Jack Slater's daughter, Billy Madison as Veronica Vaughn, Adam Slander's girlfriend/teacher; I Know What You Did Last Summer as Sarah Michelle Gellar's unfortunate sister, Sweet Evil as a psychopathic surrogate mother, House on the hunted hill as Melissa Mar, Extreme Ops as a world-champion skier, Mortal combat as Sonya Blade, Nixon; A cameo as a nightclub performer, The Wedding Planner, and many others. In an episode of CSI: Miami, she came into view as a woman whose husband was killed by a package delivered to their house. Before retiring from acting, her first film role was Phantom Punch, 2008.
Her Role in Mortal Kombat
Bridgette went all out for a role in Mortal Kombat, but after an arduous audition, she initially lost the part to Cameron Diaz.
Lauri Apelian, Mortal Kombat assistant producer, mentioned that as soon as they noticed that Bridgette was a star, they started training her immediately in martial arts. Still, before the shooting stage, she broke her wrist and could no longer do the martial stunts. By the time Bridgette was strong enough to continue with the filming, she was featured in a role in Billy Madison. However, it was the last day of filming, so she flew to Thailand to play the role of Sonya Blade in Mortal Kombat, thereby sustaining another injury trying to bring the fighting game to life.
Why Bridgette quit acting
Bridgette Wilson stopped acting in 2008 because she loved the idea of "family life" and also she wanted to have enough time to take care of her kids. In 1993, she once mentioned that she is a born homemaker, Pete Sampras also mentioned in an interview that her love for low-key family was one thing that attracted him to her. Her husband also retired from tennis playing to focus and have time for his wife and children.
Read Related Articles:
– Taylor Dooley Bio: age, early life, career, relationship, and more
– Mahito facts: Jujutsu Kaisen series, domain expansion powers and age
– What happened to the popular Golfer, Holly Sonders?
Personal Life
Her Parents
There is limited information about her family, but she was born to her parents, Dale Wilson and Kathy Wilson, in Oregon, US.
Pete Sampras (husband)
Pete Sampras, Bridgette's husband, was born on 12 August 1971 in Washington DC; He is a former No. 1 tennis player. His mother, Georgia, emigrated from Sparta, Greece, while his father, Sammy, was given birth in the US (though his father is Greece).
When he was three, he came across a tennis racket in his home, which ignited a passion for tennis; he'll spend hours hitting balls against the wall. His family moved to California in 1978; the warm climate in California allowed him to play tennis for a few years; when he was eleven, he connected and played with the legend Rod Laver who was his great idol. His family joined Jack Kramer Club, which made his talent ostensible. He trained with tennis coach Robert Lansdorp as a teenager. In 1988, Sampras became professional. 
A pediatrician and amateur coach, Peter Fischer saw him playing at the Jack Krama's Club and became his coach till 1989. Coach Peter made Pete play the single-handed backhand alternative to the double-handed backhand during the training. Pete reached the world No.1 ranking in 1993 held the position for 286 weeks from 1993 to1998 consecutively. In total, he won 64 singles.
He is a right-handed player with a single-handed backhand. His accurate and strong serve earned him the nickname Pistol Pete. He was admitted into the International Hall of Fame in 2007. In 1998 at the age of 16, he turned professional and ended the year ranked as world No. 97; meanwhile, he started as No. 893. He lost his first professional match to Sammy Giammalva Jr. at the February Ebel U.S Pro Indoor in Philadelphia. Subsequently, he defeated some players and lost to others.
At the US Open, Sampras set out as 17th. He had defeated Greg Rusedski in a lengthy five-set third-round match at the US Open. Greg said that Sampras was a step and a half slower, and he foretold that Pete would lose the next game. However, in the quarterfinals, Sampras defeated two young stars in the fourth round, Andy Roddick and Tommy Haas. After which, he defeated Sjeng Schalken in the semifinals for him to reach his third straight in the US Open final and eighth US Open final. He also faced a guy he met in his first Grand Slam final, 12 years earlier, named Agassi. And after a four-set hot battle between the two experts, Sampras then claimed a then-record of 14th Grand Slam titles and matched Jimmy Connors Open Era record of five US Open singles championships.
Pete Sampras did not compete in tour events for the next 12 months, although he did not formally announce his retirement until before the US Open in August 2003. He did not defend his title there, but his retirement announcement was timely; he got the opportunity to say farewell to his career at the US Open's special ceremony. He became the only man to win the final Grand Slam tournament. Many regarded him as the greatest player of all-time at the time of his retirement. 
His parents signed him up with Peter Fischer, an amateur tennis player, and pediatrician, to coach their son. Fischer developed a fantastic relationship with the family and successfully steered him to the top ranks of American players. When Pete was fourteen, his coach advised him to transition from his baseline style of play to a serve-and-volley game. He initially struggled with the new approach, but the change became a success.
Sampras entered the professional ranks in 1988 and made steady progress over the next two seasons. At the 1990 US Open, he marked his arrival as one of the top tennis players, defeating Andre Agassi, another talented young American who became Sampras main rival during his career, in the finals. 
He marked his arrival as one of the top tennis players at the 1990 US Open. He was inducted into the International Tennis Hall of Fame in 2007. At 19, he became the youngest men's singles champion, relying on an overpowering serve (clocked at more than 200km/hr [120 mph]), an unprecedented court coverage, a brutal forehand, in 1993, he got to the top position in the Association of Tennis Professionals rankings and stayed there until 1998. He won eleven major titles during that time and was among the US team that won the 1995 Davis cup. After his unexpected win at the 2002 US Open day, he did not play in other tournaments and 
The hilarious love story
Pete and Bridgette's love story is a hilarious one. The duo met after he spotted her at the Los Angeles movie theatre. Half-kidding, he said to his friend that he'd love to meet her. Then his friend helped him connect to her, and they dated for nine months. 7 June 2002 at his house in Los Angeles, he proposed to her with a platinum ring that had an oval-shaped diamond on it from Cartier brand. She said yes to his proposal, and then they got engaged on 29 May.
They tied the knot in a private ceremony, Elton John surprised them by showing up for the wedding with the performance Can you feel the love tonight? Pete foretold that he and Bridgette would be quitting their careers after a decade, with a romantic quote he gave to the magazine. Together, they have two children; Christian Charles Sampras and Ryan Nikolaos Sampras.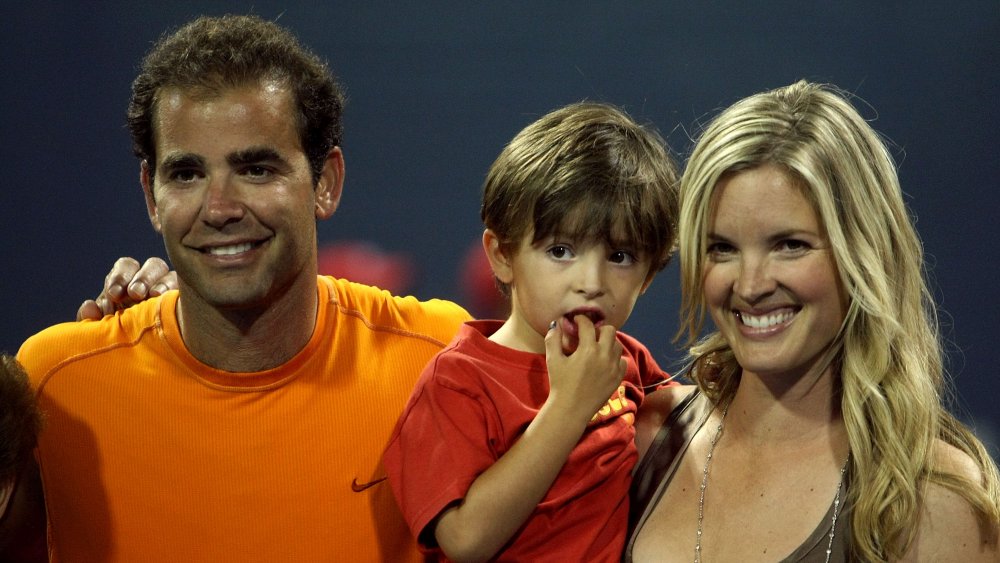 Children
Christian Charles Sampras is the first son of Bridgette and Pete Sampras. He was born on 21 November 2002 in Los Angeles, California, United States. He has a younger brother, Ryan Nikolaos Sampras. His horoscope is Scorpio.
He is of American nationality, White ethnicity. Information about Christian Charles Sampras has not been revealed. But being the son of Pete Sampras, the former No.1 tennis player alone has made him known.
Social media
On Instagram, she is @brigdettewilsonofficial, with 4,905 Followers. Her Instagram profile reveals she works with QP Sports. She's a brand enthusiast and also posts fashion designs children's e-books. On Twitter, a verified account @bridgettewest with 210K Followers. Her profile shows she is a mother of two, a gamer, and a YouTube vlogger with her best friend @Lyricoldrap. Her husband is @petesamprasofficial on Instagram with about 43.5K Followers.
Bridgette Wilson net worth
Bridgette has an estimated Net Worth of $25 million as of 2020, including her Assets, Money, and Income. Her primary source of income is her career as a Former Actress, Singer, Model. Through her various sources of income, Bridgette has been able to accumulate good fortune but prefers to lead a modest lifestyle. Her husband, Pete Sampras, has an estimated net worth of $150 million.
Conclusion
Bridgette Wilson and Pete Sampras are a fantastic couple who are making an impact in their different career and fields. Bridgette started a career in acting from a young age and from then till date she has appeared in more than 20 movies, making her famous in the entertainment industry, her husband, on the other hand, was a former exceptional tennis player, who won so many awards and left an indelible mark before his retirement. The duo is an inspiration to all and sundry.
Also, read our latest articles:
– Some of the Surprises Found When Playing Online Slots
– 7 Online Casinos Every Crypto Enthusiast Must Try in 2022
– How can I hire a PCO car in London?