Kyle Chrisley is an American Musician, singer, and Internet Champion. He is well-known as the son of an American businessman, TV personality, and real estate tycoon, Todd Chrisley. He battled with drug addiction, which resulted in domestic violence; read on to learn more about Kyle, his career, f amily, and more.
Early life and education
Kyle was born on 29 August 1991 in South Carolina and raised in North Carolina, United States. He was born into the family of Todd Chrisley and Teresa Terry before they divorced. He attended Saint Francis High School. There is limited information about his educational background.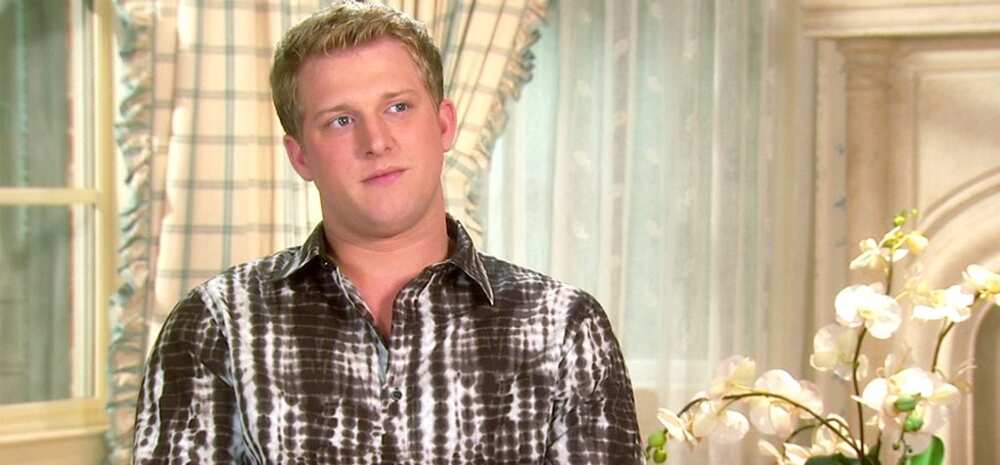 Top 10 facts about Kyle Chrisley
He was born 29 August 1991 in South Carolina, USA.

His father is Todd Chrisley, while his mother is Teresa Terry

He is an American Singer, Musician, and Internet Champion.

He was arrested and charged with "possession of substance" and threatened to kill his father and his wife while under the influence of drugs.

His Zodiac sign is Virgo.

He was once a character in the

Chrisley knows Best

 family series before he ceased contact with his father.

He has a sister, Lindsie Chrisley, and three half-siblings; Chase, Grayson, and Savannah Chrisley

He is married to Ashleigh Nelson, and they create music together.

His father, Todd, made his wealth from being a real estate investor.

He has a daughter, Chloe, with his ex, Angela Johnson.
Read Related Articles:
– Diego Tinoco Biography: Girlfriend, Net Worth and Career
– Angela Peralta Biography: facts, career, personal life, and death
– Drew Starkey Wiki, Biography, Outer Banks and more details.
Career
Kyle's father, Todd started a series Chrisley Knows Best is an American Reality TV series broadcasted on the USA Network. It centers on the lives of Todd Chrisley and his wealthy family. During the fourth season, the show once took place in Roswell and Alpharetta, near Atlanta, before changing location to Nashville, Tennessee. Growing up, Chrisley, an offshoot concentrating on siblings Chase Chrisley and Savannah Chrisley, premiered in 2019.
After almost 10seasons for the show, fans wanted to know if the show was scripted. But, Todd outrightly made them realize it wasn't, thereby crashing their expectations. Before any speculation that Chrisley Knows Best will be written as a script, Todd made it known that his exaggerated style in art, speech, expressions, and sense of humor resulted from his upbringing.  He said the general message and reason for the show is to show a "glance of a real family with genuine challenges that handle them with patience, love, and understanding. Different sources reveal that Chrisley Knows Best emerged number 1 among all entertainment series in Video on Demand. 
What happened to Kylie Chrisley?
Kyle was charged with the crime of ownership of methamphetamine in May 2019 after the police found a small bag of substance hidden in his car. The cops stopped him in Oklahoma for a broken taillight; however, an examination of his vehicle exposed the hidden drugs in a cup. The charges on the drugs were dropped because his charges in Georgia due to domestic violence were weightier.
There was an unsettled open warrant for Kyle in Dekalb after he made death threats against his wife, whom he had not been in contact with allegedly. During his drug arrest, he revealed that he had bipolar disorder to drug addiction. When Todd discovered his son was into drugs, in Season 1 of Chrisley Knows Best, he made it plain that he sent Kyle as a volunteer in Africa.
They had more issues when, in 2014, Kyle accused his father of kidnapping his daughter, Chole, from him. The frequent occurrence of his drug addiction made him and his father strangers; when he overcame the state of intoxication in 2019, he reconciled with his father after a suicide attempt that year. When he suffered from the influence of drugs, he had to cope with being accused of domestic violence, drug use, and multiple arrests.
Personal Life
Todd Chrisley (father)
Todd Chrisley was born in Georgia, United States. Todd is a real estate tycoon. But he was raised to fame as the star of USA networks Chrisley Knows Best. His family thinks of him as besteer, irritated without difficulty, and frequently unreasonable. He is a germophobe, which makes him avoid filth and animals.
He was married to his high school lover, Teresa Terry. Before their divorce, they had two children; Kyle Chrisley and Lindsie Chrisley. Before the final divorce in 1996, they had divorced several times in six years. Terry laid claims that her ex-husband, Todd, was abusive physically, and she even filed a domestic violence complaint in 1992, though she later dropped it. 
The same year he divorced his first wife, he married Julie. And she has three children for him; Savannah Chrisley, Chase Chrisley, and Grayson Chrisley. During an interview with Todd and Julie, he said, "I knew that I was in love with her the moment she walked into my friend's house: That's the first night that I met her, and the moment she walked in the room, it's the only time before and since that anything had ever taken my breath, other than when I walked past a mirror."
Todd Chrisley first wife
Teresa Terry, Todd Chrisley's first wife, is a homemaker who loves to live a quiet and low-key life, though her relationship with her ex-husband brought her to the limelight. She studied in a local school in South Carolina, after which she was admitted into one of the best universities in America to further her studies. 
She and Todd met in High School, fell in love, and started dating. At 19, she became pregnant for Todd, who was 21 years old; they decided to marry. She gave birth to their daughter, Lindsie Chrisley; after fifteen months, she took in and gave birth to their second child, Kyle Chrisley. Sadly, the marriage did not last. After an attempt to kill her with a knife, she decided to end the marriage in 1996.  
Chase Chrisley (brother)
Chase Chrisley was born in South Carolina, the US, currently based in Los Angeles. He is single, and a celebrated reality TV star of the Chrisley Knows Best series as Chase is people's most preferred character cause he is pretty troublesome. He frequently left his audience with the question of what trouble he would cause next. He is active on Instagram with 1.3M Followers, and On Twitter, he is @chasechrisley with 1.3M followers. On TikTok, he uses the username @chasemchrisley and has 885k followers.
Social Media
Kyle is active on Instagram @kylechrisley with 95.6k followers; he seems to be inactive on other social media platforms. His father is on Instagram @toddchrisley, with 2.3M followers; He's @toddchrisley on Twitter with 377k followers. On Facebook, he is @ToddChrisley with 2.2M Followers. 
Latest news
In 2022, the show Chrisley Knows Best is crossing its 10th season with new episodes going back to the network soon. Todd, Julie, his wife, Chase Chrisley, Savannah Chrisley, and Grayson Chrisley with his mother, Nanny Faye, and this season is even more amusing and entertaining.
Net worth
Todd Chrisley has a net worth of about $5M, while Teresa has not revealed anything about her net worth. She has an estimated net worth of $120,000. According to sources, kyle has an estimated net worth of $1 million, which is sure to skyrocket if he continues in the entertainment industry.
Conclusion
Chrisley Knows Best is an American TV series based on Kyle's true story; Todd and Kyle explained to the public their motive of sharing the series, which came from a place of healing, recovery, and not just drama. Beyond the laughs, fun, and lights of Chrisley Knows Best, the series summarized the true story of Kyle Chrisley's harrowing journey through drug addictions, to suicide attempts, to rehabilitation, and finally to redemption and reconciliation.
Also, read our latest articles:
– Some of the Surprises Found When Playing Online Slots
– 7 Online Casinos Every Crypto Enthusiast Must Try in 2022
– 10 Cryptocurrencies to invest in besides Bitcoin (2022 update).