Sadie Sink is an American actress famously known for her role as Stranger Things Max Mayfield; she has also worked with other superstars like Woody Harrelson, Taylor Swift, and more.
Stranger Things has made a star out of several of its characters, and while the eternally big Millie Bobby Brown will continue to be the show's greatest breakout star, she is not the only one. The Duffer brothers have also helped to launch the career of Sadie Sink, who plays Max Mayfield on the supernatural horror TV show.
Since her debut on the show, which came later than that of the other main characters, Sadie has somehow stolen the spotlight. In this article, we look at her fantastic success story and some details from her personal life. It's time to meet the real Max Mayfield.
Before we go deeper, let's see the top ten facts you should know about Sadie Sink.
Top 10 facts about Sadie Sink (Stranger Things Max)
The actress was born Sadie Elizabeth Sink on April 16, 2002, and she turned 20 in 2022.

She grew up in Brenham, Texas, with three older brothers and a younger sister.

Miss Sink is vegan, and she mentioned that American actor Woody Harrelson influenced her decision to go vegan after she worked with him on a film when she was 14.

Sadie Sink gained professional acting experience from playing roles at the Hobby Center for the Performing Arts in Houston during the 2011–2012 season.

Her early roles included musical productions of Irving Berlin's White Christmas and the starring role in Annie.
The actress made her official Broadway debut in the fifth grade as part of the original cast of the Annie revival, and later, she appeared in the Emmy-winning spy drama series The Americans as Lana.
After some minor roles on Broadway and other projects between 2015 and 2016, Sadie got the part of Max Mayfield in the Netflix series Stranger Things Season 2.
Max started her Stranger Things existence as a skateboarder from an abusive home and gradually became one of the main characters.
She has been in other horror productions like the Netflix film Eli and as Christine' Ziggy' Berman in The Fear Street Trilogy.
In 2018, she worked with Rooney Mara, Sia, Joaquin Phoenix, and Kat von D to narrate Chris Delforce's animal rights documentary Dominion.
ALSO READ: Stranger Things Vecna actor Jamie Campbell Bower Biography.
Early life of Sadie Sink (Stranger Things Max)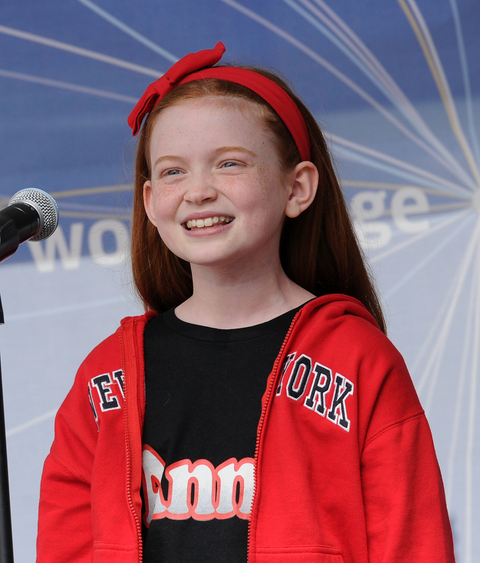 Sadie Elizabeth Sink was born on April 16, 2002, into a Texan family. She grew up with three older brothers, and a younger sister later came along. The actress attended Frederick Wilson Benteen Elementary School and graduated high school. However, there is no mention of her obtaining a college degree. Likely, she hasn't had the time to come around to it as she is chasing her acting career, or she was currently an undergraduate when this video was made.
Sadie Sink parents are very much alive. Her father is Casey Adam Sink, a Rugby Coach, and her mother's name is Lori Elizabeth Sink who is a Mathematics Teacher.
Career
Well, away from her educational background, it appears that acting has always been Sadie's dream. By age 9, she was already getting professional acting roles at Hobby Center for the Performing Arts in Houston during the 2011–2012 season. She got to play parts in the musical productions of Irving Berlin's White Christmas and a starring role in the Broadway musical Annie. By the time she was in the fifth grade, she had made her Broadway debut as a member of the original cast of the Annie revival. Sadie Sink was 11, and she memorably performed songs like "You're Never Fully Dressed Without a Smile" and "It's the Hard Knock Life," according to Teen Vogue. Also, at the same time, she got her small screen debut in the Emmy-winning series The Americans as Lana.
At 13, Sadie Sink co-starred with Helen Mirren in The Audience on Broadway as young Queen Elizabeth II. The following year, she played Kimberly, a small role in Chuck – an American biographical sports drama film. In 2017, she was cast in another minor role as young Lori Walls in the drama movie The Glass Castle, which was about the memoir of American author and journalist Jeannette Walls.
Stranger Things

 Max Mayfield
Her fortune got turned around in 2017 when Sadie started playing Max Mayfield's character, a skateboarder from an abusive household, in the Netflix series Stranger Things Season 2. The season was set in October 1984, and it takes place after Will Byers has been rescued from the upside-down, and he starts having a premonition of the fall of Hawkins caused by the mind flayer. Sadie's character becomes more and more critical to the show's plot, and even more in the third season after Billy, her brother, is possessed by the mind flayer.
By the fourth season, Max Mayfield becomes one of the few characters with their own arch, besides Eleven (played by Millie Bobby Brown) and Vecna or Henry (played by Jamie Bower). Her performance has been lauded by critics, especially in the fourth episode of Season Four, where she lives through the traumatic loss of her brother and her soul-eating guilt.
The Fear Street Trilogy

 Ziggy
No doubt, her Max role got her the part of Christine' Ziggy' Berman in the 2021 The Fear Street Trilogy. As critics described it, Ziggy was a reckless and moody teenager certain that no one could relate to her. It is just like her character from Stranger Things, and she got to play parts in the series' second and third installments, Fear Street Part Two: 1978 and Fear Street Part Three: 1666. Additionally, she played almost the same kind of character in Netflix's 2019 horror film Eli.
In the near future, Sadie Sink has already bagged roles in the upcoming American psychological drama film titled The Whale as Ellie and in Dear Zoe, a drama film based on Philip Beard's novel of the same name as Tess DeNunzio.
Sadie Sink's other works
In 2018, the young actress worked with Rooney Mara, Sia, Joaquin Phoenix, and Kat von D to narrate Chris Delforce's documentary Dominion on animal rights. The documentary mirrors her view on consuming animals or their products, which she has said came from when she worked with Woody Harrelson, who is also vegan.
She has also done more modeling stints for several brands. For example, in 2018, she became the youngest participant to take to the catwalk at Paris Fashion Week; the general age for participation was 16, and Sadie Sink was 15 at the time. Also, she has modeled for many brands, including Kate Spade, Vogue, L'Officiel Paris, Chanel, and Givenchy Beauty. In November 2021, she was featured in the lead role of Taylor Swift's short film All Too Well: The Short Film with former Teen Wolf star Dylan O'Brien.
Personal life and relationships of Sadie Sink
There are rumors that Sadie Sink is dating Patrick Alwyn, who happens to be the younger brother of Taylor Swift's partner, Joe Alwyn. The narrative stems from cozy photos of Sadie and Patrick, which made rounds in 2021, around the time the actress worked with Taylor Swift. However, it seems that Joe and Taylor's discretion concerning their relationship is rubbing off on Sadie and Patrick. They both chose to ignore the stories rather than confirm or deny them.
Some believe that Sadie Sink is a lesbian, and they have been spreading stories about her having a girlfriend. Well, who looked into these claims, and there is no truth to them. Although, she does have a close relationship with her Stranger Things co-star, Millie Bobby Brown.
While she and her on-screen boyfriend, Lucas Sinclair (played by Caleb McLaughlin), seem to have chemistry. It is only part of the act and does not translate to anything outside the show. Sources close to both of them have confirmed that they are not in a relationship in real life. Of course, there is still time for something to spark between them as it often does between TV show colleagues. It has not happened yet.
Net worth
Sadie Sink net worth 2022 is estimated to be $1 million, according to unverified online sources. We advise that readers take this statement with a pinch of salt because the figure may have just been guessed. For now, we have no confirmation from Forbes or Bloomberg on what the real net worth of the actress is in 2022.
Conclusion
Sadie Sink is still just 20, and she has her whole life ahead of her to create her own legacy. Hopefully, if the conditions satisfy her, she will keep sharing her talent with the world. It is not too early to start touting for major awards. In addition, we hope that she continues to enjoy her time off the screen as well because everyone deserves some time away from the glaring light of the camera.
RELATED ARTICLE:
– Dreka Gates, Kevin Gates' wife Bio – affair, split, net worth, tattoos, children
– Pros and Cons of Embroidery Customizing
– Night vision and Thermal imaging in zoology
– Stranger Things Vecna actor Jamie Campbell Bower Biography
– Johnny Depp Set To Feature In A New Film Project "Jeanne Du Barry."