Who is Natasha Perakov?
Natasha Perakov: A video and two photos have been circulating on the internet showing the faces of three different people. People are claiming that it is the picture of Ukraine's female pilot who died during the Ukraine/Russia war. A Twitter user also tweeted alongside the picture of a woman wearing camouflage.
The user wrote the caption, "Natasha Perakov, 29 years old, the first Ukrainian fighter pilot, died in combat during the Russian invasion of Ukraine" (here). Another Twitter user tweeted a video of two women and another picture. They also wore military khaki; he claimed that the video and photographs show Natasha Perakov died at 28 during the battle with Russia.
Social media users have also made the news go viral on Instagram and Facebook. But the Air Force Command in Ukraine debunked the news, mentioning that the claims were untrue and fictitious. He also debunked it on a Telegram platform. The Ukraine government mentioned that they do not know Natasha Perakov as their first female pilot.
However, they said their first female pilot in Ukraine was Nadiya Savchenko. Nadiya Savchenko, Ukraine's first female pilot, resisted the Russian army when the pro-Russian separatists captured her in 2014. Later on, they put her in a Russian prison. In May 2016, the Russians freed her in a prisoner exchange. On returning to Ukraine, Nadiya Savchenko became an unpredictable and fiery opposition figure in the Ukraine parliament. The photos and videos shared by some social media users do not show Savchenko's face.
Read Related Articles:
–16-year-old Kalecia Williams Shot Dead While Recording A TikTok Video
–Mr Bean is not dead! See other famous victims of death hoaxes
–Former NHL player Jimmy Hayes dead at 31, see 5 career moments

Olesya Vorobey
The first picture that went viral is a woman in a military garb smiling; that woman is Olesya Vorobey. As opposed to the claims by people that she is Natasha Perakov. Ukraine's Ministry of Defence posted Olesya Vorobey (senior soldier)'s picture in 2016 after she won the beauty pageant for women in military uniform.
The pictures went viral, and local media posted reports about the event. We do not have any record of the senior soldier woman, Olesya, killed in the war or even being a military pilot. Reuters have been unable to identify the woman in the viral photo, although the image has been traced to a website that sells military costumes.
Also, one of the videos that also went viral has been traced to an upload on YouTube in September 2021.
Who is Nadiya Savchenko?
Nadiya Viktorivna Savchenko was born in Ukraine on 11 May 1981, and she is a former army pilot in the Ukrainian Ground Forces, politician, and previous People's Deputy of Ukraine. Nadiya Savchenko was born to her dad, an engineer, and her mom, a cargo manager, and designer. She has a sister, Vira, who both attended Ukraine schools.
At age 16, Savchenko decided to train as a pilot, and she started working as a radio operator with the Ukrainian army. As of then, she was the only female soldier in the Ukrainian military, and from 2004-to 2008, she was in Iraq with the Ukrainian peacekeeping troops.
During a war in 2014, Nadiya Savchenko served as an instructor with the infantry unit, and in June 2014, the pro-Russian forces captured her in Eastern Ukraine. The Russian troops handed her over to the Russian armed forces, where they accused her of shooting at two Russian journalists.
After her release from prison, she began to battle nightmares and insomnia. When the news of her detention went viral, social media users started a campaign for her with the #SaveOurGirl hashtag, which generated 15,000tweets. The campaign went viral.
Russian Army Captures Savchenko
Russia also charged and convicted Nadiya Savchenko with illegally crossing the Russian border and murder. However, they abducted her from the Ukraine territory an hour before the two journalists died. Mark Feygin, one of Savchenko's lawyers, mentioned that she was a war prisoner. He reached out to the United Nations and the International Committee of the Red Cross to demand her release.
Some Union ministers in Europe mentioned that her detention was illegal and her trial did not regard the right to fair proceedings and human rights. While in prison in November 2014, during the parliamentary election, Ukrainians voted Savchenko into power, and she officially resigned from the military. Nadiya Savchenko became a delegate to the Parliamentary Assembly of the Council of Europe (PACE)in January 2015.
The delegation made her obtain parliamentary immunity on legal grounds in signatory states that included Russia. Despite the commission, the Russian Duma insisted that her appointment didn't entail her release from prison. The Russian delegation supported her release. President Poroshenko awarded Nadiya Savchenko the Hero of Ukraine on 2 March 2015.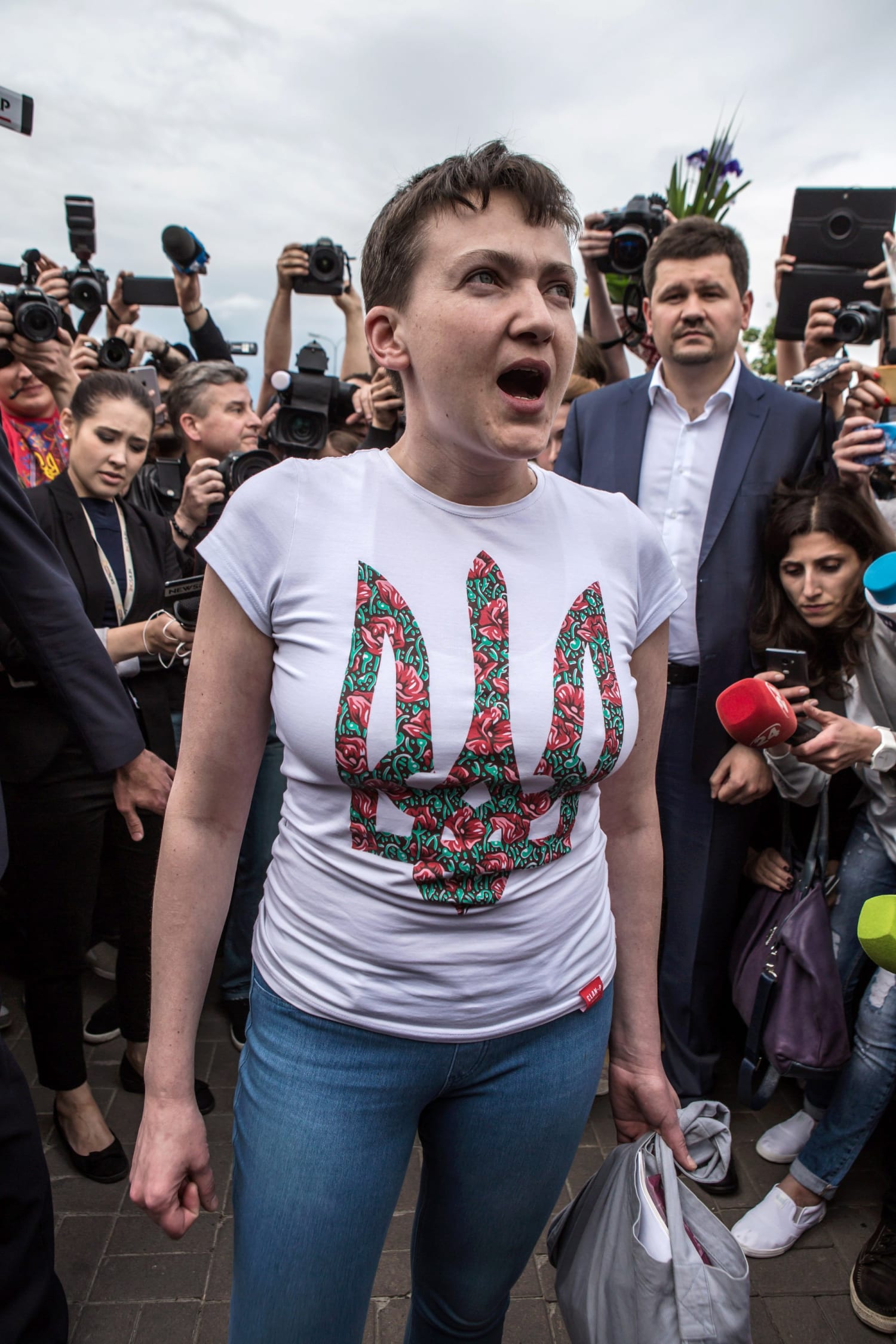 Savchenko's Appearance in Russian Court and her Release
US State spokesman Jen Psaki publicly expressed his concern over the deteriorating health and ill-treatment of Savchenko in February 2016. He called on Russia to release Ukrainian hostages and Savchenko. In March 2016, John Kerry, US Secretary, also protested against Savchenko's detention, being concerned about her solitary confinement, interrogations, and "psychiatric evaluation."
Savchenko was on a hunger strike on 10 March 2016; she appeared to the court and declared that she was not guilty and would not recognize the verdict or the court. She also mentioned that even if the court finds her guilty, she will not appeal. She added that the world needs to know that Russia is a country with a dictator and totalitarian regime that tramples on human rights and international law.
After two years, in 2016, the Russian government exchanged Savchenko in a prisoner swap for two Russian officers.After Savchenko returned to Ukraine, she publicly announced her intention to run for the presidential election in 2019. Unfortunately, the cops arrested her in March 2018 and charged her with collaborating with terrorists to overthrow the Ukraine government. The cops released her in April 2019.
Savchenko was Ukraine's first military pilot and the only female aviator to pilot the Mil Mi-24 helicopter and the Sukhoi Su-24. In mid-2016, Vladimir Nazarov sent an open letter to the Russian President, Putin, saying that not even in his worst nightmare would he have imagined that he had to ask Putin not to kill a woman. Alexei Navalny, one of Russia's opposition politicians, mentioned that Savchenko's trial would not benefit Russia.
In October 2021, some people reported to the Ukraine government that Savchenko and her sister, Vira, attempted to enter Ukraine by using counterfeit covid-19 certifications. They use the Boryspil International Airport to smuggle their way into Ukraine.
Her Family
The Ukraine Forces released a documentary about Savchenko's military career. The United Nations also featured her in a development program to foster equality in the Ukraine military. Edward Zahurskiy, her previous commanding officer, referred to her as unstable, indisciplined, problematic, and insubordinate.
In 2013, President Viktor Yanukovych ordered Savchenko's Aviation Army to Kyiv and, without seeking her commanding officer's permission, joined the protest. Although she was low-key during the rally, she also persuaded the protesters not to throw bombs at the police. The President of Ukraine fled Ukraine in February 2014, after which Savchenko returned to her former commanding officer.
Conclusion
Nadiya Savchenko is a brave woman who went against all odds to prove to the world that women can attempt what men do. She was the first female pilot in Ukraine to go to war. Even though there was a mix-up during the war between Ukraine and Russia, people mistakenly said Natasha Perakov was the first female pilot in Ukraine. We have been able to clear the air now.
Also, read our latest articles:
–16-year-old Kalecia Williams Shot Dead While Recording A TikTok Video
–Carmen Ejogo From Fantastic Beasts And Where To Find Them: Biography, Husband, Kids, Movies, And Net Worth
–Crypto sanctions on Russia over Ukraine Invasion