Carmen Ejogo was born Carmen Elizabeth Ejogo to a Nigerian father and a Scottish mother in Kensington, London, England. She was born on 22 October 1973. She is an actress and a singer whose acting career started as early as in the 90s when she first appeared as a host on a children's series called Saturday Disney.
Early Life and Education
Carmen Ejogo was born in London, England, to Charles Ejogo Snr and Elizabeth Ejogo to a family of four; she has a brother Charles Ejogo Jnr, an entrepreneur and the inventor of the Umbrolly umbrella vending machine.
She attended the Glendower preparatory school and Oratory Roman Catholic primary school. She was later educated at the performance at the Godolphin and Latymer School, which is an all-girls day school, after which she went entirely into acting and singing.  
Top 10 Facts About Carmen Ejogo
She was born Carmen Elizabeth Ejogo to a Scottish mother and Nigerian father. Her father died in a car crash when she was little.

She has one brother by the name of Charles Ejogo Jnr, who is a very successful entrepreneur.

As a child, she was recruited to appear in a music video and was subsequently discovered by a casting agent for a children's modeling agency.

She was a year ahead of Kate Beckinsale while they were attending the Godolphin and Latymer school.

Carmen started her TV career as the host of a 1990s kid show Saturday Disney.
By age 16, she already had her show, The Carmen Ejogo Video Show, on the satellite channel BSB.

After airing her very own show, she left school to focus on her acting career.

She met her husband, Jeffery Wright, who is also an actor when they co-starred in the Martin Luther King Jr Biopic Boycott (2011).

In 2015 she was nominated at the Independent Spirit Awards for the Best Supporting Female category.

Carmen Ejogo is a mother of two, Juno and Elijah.
Read related articles: 
–Who is Ginny & Georgia actress Antonia Gentry and where is she now?
–Biography of British model Nadine Caridi, ex-wife of Wolf of Wall Street Jordan Belfort
–Yellowstone and Teen Wolf actress Kelsey Chow's biography

Career
Carmen Ejogo's career began in 1986 when she made her debut in the film Absolute Beginners with a small role alongside big stars Patsy Kensit, James Fox, David Bowie, and others. In an interview, she said that a neighbor's friend had brought her along to the audition causally, and she got the part. Ejogo did not appear in any other project until she took on the job as a host of the Saturday Disney morning show from the year 1993 to the year 1996.
She moved on to starring in a movie with Eddie Murphy in 1997 called Metro and also starred in the British film The Avengers alongside Ralph Fiennes, Uma Thurman, and Sean Connery. Her other film credits include Love's Labor's Lost, which was in 2000, What's The Worst That Could Happen (2001), Away We Go (2009), and Sparkle(2012); she is also known for her role as Seraphina Picquery in the Harry Potter spinoff film series, Fantastic Beasts.
Ejogo also portrayed the role of Coretta Scott King in two films: Boycott (2001) and Selma (2014). In 2017 Carmen sat down for an exclusive interview about the movie Roman J. Israel, Esq (2017). It starred Carmen Ejojo, Denzel Washington, and Collin Farrell. She has also been involved in the music industry, having collaborated with several artists since the 1990s. Ejogo wrote and sang lead vocals on the song "Candles."
She appeared in the music video and is listed on the production credits as Carmen. Apart from "Candles," Carmen Ejogo also appears on four other songs of the Sparkle original soundtrack album from the movie. She sang the lead on "Yes I do" and also lead vocals with Jordan sparks on "Jump," "Hooked on your love," and "Something He can feel."
Personal Life
Carmen Ejogo had a brief marriage to Adrian Nicholas Matthews Thaws, better known as Tricky, a British record producer and rapper, in 1998. She later married Jeffery Wright; they met while making the HBO film Boycott and were married for fourteen years. They have a son and a daughter named Elijah and Juno.
Ejogo and Wright announced their separation in 2009 and got divorced officially in 2014. Many people always try to know more about her, like her physic and how she's built. Carmen is a 5 feet 5 inches woman with light brown eyes and dark brown hair.
She has won three acting awards, two Best supporting Actresses, one in television and the other in a Motion Picture (2006 and 2015, respectively), and the last one in Outstanding Supporting Actresses in a Motion Picture(2015).
In September 2020, Carmen Ejogo was photographed with comedian Chris Rock going to a restaurant in New York City's West Village. Although neither of them publicly commented on the pictures at that moment, the tabloids spread the rumor that they split a few months later.
 Social Media 
Carmen Elizabeth Ejogo has a verified Instagram account, @carmenrjogo, with about 70.6k Followers. On her Instagram page, she has over 400 posts, and she posts pictures of herself, her family, civic rights pictures, a lot of quotes, and a couple of historical facts. She is not so active on Twitter but has about 19.4k followers and has not tweeted since February 2022. She has not been active on Facebook since 2016, but she has 18k followers on Facebook.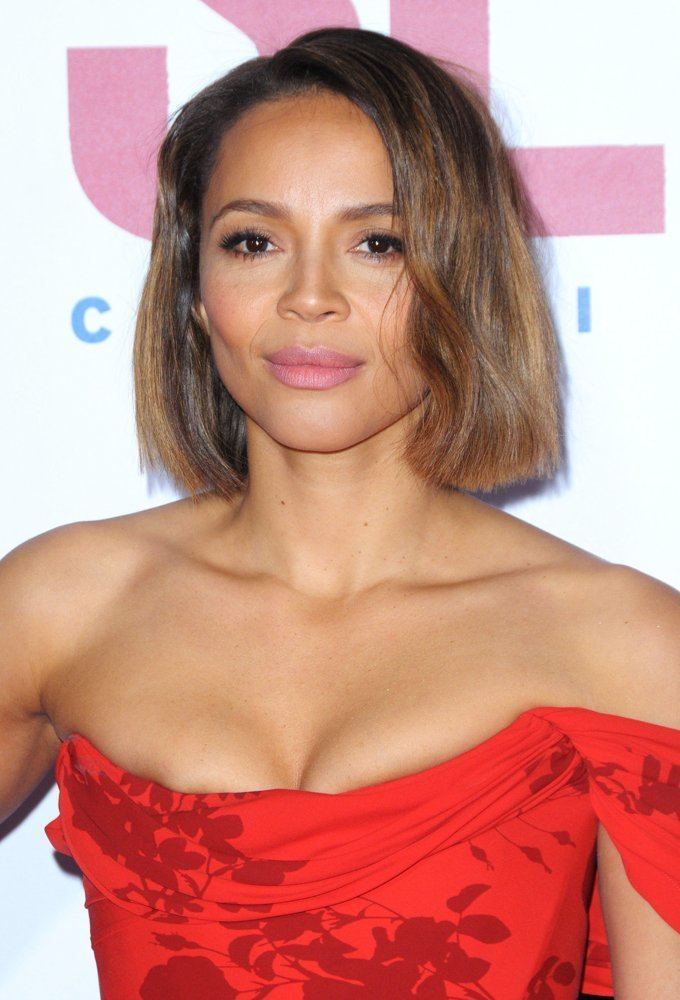 Latest News
Most recently, Carmen Ejogo has joined the cast of Secret Invasion, a Marvel TV series announced in December 2020 and will air on Disney plus. She will star opposite Samuel L. Jackson, Emilia Clarke, Cobie Smulders, and others. The last time she appeared on the big screen was in 2019 when she took on the lead role in the Netflix movie Rattlesnake, for which she was also an executive producer.
She also gave a voice-over as Regine in the 2020 fantasy drama film Dolittle alongside Robert Downey Jr., Emma Thompson, Rami Malek, and Michael Sheen, among others. She is not so active on social media, so she keeps her personal life private and shows the side of her the public needs to see.
Net Worth 
Have you ever thought about Carmen Elizabeth Ejogo's net worth? With an acting career stint of over 33 years, Carmen Ejogo so far records 40 acting credits and has appeared in many commercial-hit films; according to online sources, she has a net worth of $4 million as of April 2022. Meanwhile, her ex-husband, Jeffery Wright, an actor and producer, has a net worth of $8 million.
Conclusion
Carmen Ejogo is one of the few British actresses with her footprint in the Hollywood industry, considering her influence in recent years, her achievements, and the stars she has worked with. It is safe to say that Carmen Ejogo, through her series of appearances on the big screen, is quite famous.
Also, read our latest articles:
–Everything You Need To Know About Kerris Dorsey, Famous American Actress
–Is Zoe Robins Married To Her Lover, Actor Nico Greetham?
–Meet Katherine Webb, Wife Of NFL Quarterback A.J. McCarron