Katherine Elizabeth Webb McCarron was born on 24 April 1989 in Montgomery, Alabama, USA. She is a beauty goddess, an American model, and a TV personality. She contested in beauty pageants and held the Miss Alabama USA title in 2012, Webb's fans popularly know her for her performance at the 2013 BCS National Championship Game.
Early Life and Education
Katherine was born into the family of Alan and Weslie Webb in Montgomery, Alabama, with her three siblings: Laurie Webb, Matthew Webb, and David Webb. She had her middle school and high school in Columbus, Georgia, and in 2007 she graduated from Northside High School.
She then furthered her education at Auburn University, where she graduated with a bachelor's degree in Business Management and Administration in May 2011.
Top 10 Facts About Katherine Webb
Katherine's full name is Katherine Elizabeth Webb McCarron, born to Alan Webb and Leslie Webb, married to A. J. McCarron.

She has three siblings: Laurie Webb, Matthew Webb, and David, of which she is the eldest. And three children, Tripp McCarron, Cash McCarron, and Gunnar McCarron.

March 2014, Katherine and McCarron announced their engagement, and they tied the knots on 12 July 2014 in Orange Beach, Alabama. And they publicly declared the four months of pregnancy of their first son on 8 May 2016.

Katherine and McCarron's second son was born in December 2018, and their third son in March 2021.

Her hair color is Brunette, and her eye color is blue-green.

Katherine once posted a hot picture of herself in her bikini, which she uploaded. 

During the beauty pageant in the US in 2017, Webb came out among the top 15 for the position of Miss Georgia. In 2012, she became Miss Alabama, and in 2010, she was among the top 10 Miss USA in the 2012 competition.
There was an incident, the Musberger incident, which skyrocketed Katherine Webb's social media presence. Her Twitter followership moved from 2k to 175k within a few days. Her relationship became the most searched on Google the following day, with over a million searches.

In 2013, Donald Trump made Katherine Webb one of the Miss USA beauty pageant judges.

The Musberger clip also made Katherine Webb get a place in an ABC reality show. Although in the fifth week, she withdrew due to an injury to her back.
Read Related Articles:
–Taylor Dooley Bio: age, early life, career, relationship, and more
–Black women hold all 3 major US beauty pageant titles for first time in history
–Won by 20-year-old Romina Lozano, Miss Peru beauty pageant was like no other. Watch [Video]
Career
Katherine Webb built her career from her passion as a model, television presenter, and beauty queen. She was s part of the semi-finalist in the 2008 Miss Georgia USA pageant in the year 2011, and in 2011 she went ahead to round up in the Top 10 of the Miss USA 2012 competition. At the 2013 BCS National Championship Competition, she was already married to her husband, A.J McCarron, who was of Alabama Quarterback.
In fact, during the competition, she gained a whole of attention, being the wife of the famous McCarron. In the process of the BCS National Championship Game telecast, the camera was on Katherine. At the same time, she sat down and watched, and Brent Musburger, the announcer, referred to her as a lovely lady and very beautiful. He then told a one-time quarterback Kirk Herbstreit his fellow broadcaster, that the quarterbacks have all the beautiful women in their lives.
He even added exclamations to his compliment, "Wow!" and "Whoa!." Musburger even added that the youngsters in Alabama should cultivate the habit of practicing in the backyard to catch beautiful ladies. When the game ended, the comments Musburger made on Katherine went viral. The central focus of most of the media coverage was that Katherine graduated from  Auburn University due to the lasting  Auburn–Alabama sports rivalry then.
Many media people compared the comment Musburger made on Katherine and his previous remark on Jenn Sterger, who they didn't know at the 2005 Florida State–Miami game. Amid the crowd, he addressed Sterger, saying, "1,500 red-blooded Americans just decided to apply to the Florida States," which brought popularity to Sterger and brought him into a career in journalism.
As a result of what had happened, Katherine's Twitter followers skyrocketed from 2,000 to about 175,000. And among her recent followers then, NBA Star LeBron James was a part of them. Not just that, she also received messages from Darnell Dockett, NFL defensive end, and Aaron Murray, Georgia Bulldogs quarterbacks. Then the day following, Katherine started trending on Google as A. J. McCarron's girlfriend and it was the highest trending term having over 1 million searches.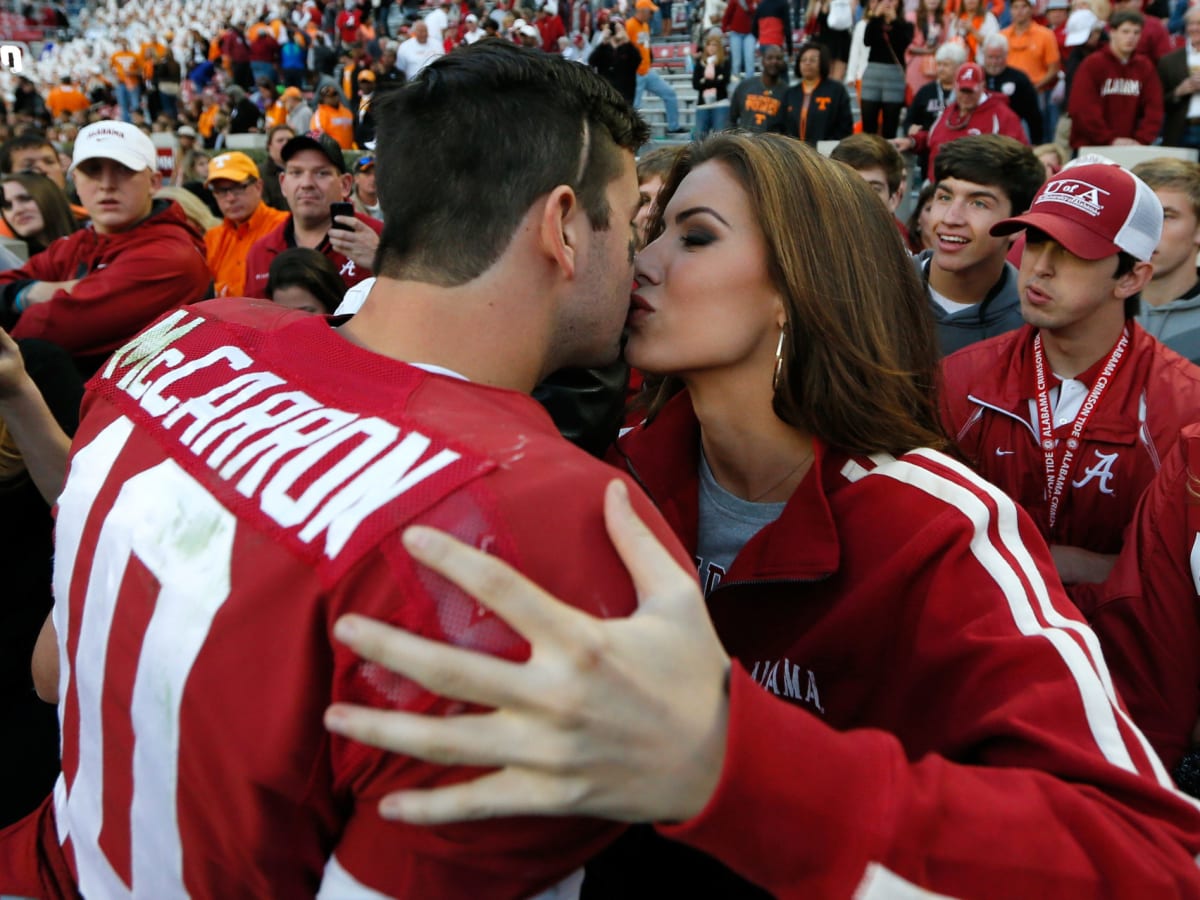 Also, her video in the show that a YouTuber uploaded on Youtube had over 3 million views. Even though some of the media coverages were critical of Musburger's comment on Katherine regarded as sexist, one of the ESPN spokespeople tendered an apology. Notwithstanding, Katherine told Matt Lauer that she did not take it personally and was not even angry, so there was no need to apologize.
She added that the media was quite unfair to Musburger when they said he called them sexy and used some derogatory words on them, after all, he just complimented them that they were gorgeous, which was a good comment that made them flattered. And also that which woman will not be flattered by such good words? In 2018, when the Buffalo bills traded AJ McCarron to Oakland Raiders, Musburger by himself still brought up the incident.
When he was about to call the team on the radio, he posted on Twitter that they were still waiting for the beautiful Mrs. AJ McCarron to join them. After Katherine's appearance in the BCS National Championship Game, she gained more popularity. She attracted many people's interest, including Donald Trump, the convener of the Miss USA pageant. He gave her a position as the judge of the Miss USA pageant.
Inside Edition also offered to cover Super Bowl XLVII, which she accepted. Katherine secured a spot on Splash, previously known as Celebrity Landing. She already had the highest mark ranking during week 3 of the competition, but she withdrew due to a back injury in the eighth week. However, in 2013, she came out as a model Sports Illustrated Swimsuit Issue.
Personal Life
Katherine Webb is happily married to A. J. McCarron after a friend connected the duo on Twitter. Then in December, McCarron attended the Miss Alabama USA 2013, where he brought Katherine's reign to an end. Katherine was his girlfriend for some time before they tied the knot.
They have three children Tripp McCarron, Cash McCarron, and Gunnar McCarron.AJ McCarron is a prominent NFL quarterback born on 13 September 1990 to Dee Dee Bonner and Tony McCarron in Mobile, Alabama. He is 6 feet 3 inches tall.
He had his college days in Alabama, where he turned out to be the only quarterback who won BCS National Championship Game consecutively with his success in 2011 and 2012. They then selected him in the 2014 NFL Draft fifth round by the Cincinnati Bengals, where he was a backup for four seasons.
He was also backup with the Buffalo Bills, Atlanta Falcons, Oakland Raiders, and Houston Texans. He sustained a severe injury in a jet-ski accident that almost claimed his life when he was five. During his days at St. Paul's school, many football programs in the Southeastern Conference, including Alabama, Auburn, Mississippi, and Tennessee, recruited him.
On 3 May 2008, he was committed to Crimson Tide, making him the only quarterback Alabama signed for their 2009 recruitment. He rounded off his football career at the 2009 US Army All-American Bowl.
 

View this post on Instagram

 
Social Media
Katherine Webb-McCarron has a verified Instagram account @katherinewebb with about 278K Followers. On her Instagram page, she posts pictures of herself and her sons. From one of her posts, she dressed with no plans of going out. She is @katherinewebb with 239k followers on Twitter.
On Facebook, she is a public figure with a verified account @Katherine Webb with over 504K Followers. Meanwhile, her husband has a verified fan page on Facebook, managed by him and his family, @AJ McCarron, with over 243K Followers.
Latest News
Katherine's last post on Instagram was on 8 March, where she showcased a particular jewelry brand.
Net Worth
As an American model, television personality, and beauty queen, Katherine has a net worth of $1M. Meanwhile, her husband, A. J. McCarron, has a net worth of over $5M.
Conclusion
In conclusion, Katherine is an evangelical Christian who is frequently involved in her church work. Meanwhile, her husband is a devoted catholic member. The duo is happily married, and even their posts speak of their happy state loudly.
Also, read our latest articles:
–See The Forbes 30 Under 30 List Released on Saturday June 4th
–Suzy Cortez Instagram, Brazil Miss Bumbum Reveals Gerard Piqué DMed Her On Instagram For Her Butt Size
–Raymond Weber Video Went Viral Where He Allegedly Killed Two Ladies