Kelsey Chow (also known as Kelsey Asbille) is an American actress known for her roles in several TV series including, "Pair of Kings", "One Tree Hill", "Teen Wolf", and "Yellowstone".
In 2018, the talented actress decided to drop her last name, Chow, believing that it would only keep her stuck in Chinese roles. She has been embroiled in some drama after she claimed to be descended from Cherokee Indians, and the tribe rejected her after making her claim.
This talented actress has made quite a mark in the entertainment industry and seems to be quite dedicated to acting as well as human rights. How dedicated? Well, continue reading to find out.
Top 10 facts about Kelsey Chow
Kelsey Chow was born on 9 September 1991 and will turn 30 years old on her birthday in 2021.

In 2017, she rebranded as Kelsey Asbille, dropping her last name Chow while blaming the stereotypical entertainment industry.

In the same year, she claimed that she is descended from the Eastern Band of Cherokee Indians, but the tribe issued a statement refuting her claims.

She landed her first television role in 2005 at the age of 13 in the TV series "One Tree Hill".

How tall is Kelsey Chow? Her height is listed as 170 cm or 5 feet 7 inches (5'7″).

Kelsey Chow net worth is roughly 3 million dollars ($3 million) in 2021.

Chow currently attends Columbia University, where she is a human rights major.

Kelsey Chow's father is Chinese, and she has said that she wanted to be more fluent in Mandarin Chinese because of it.

The actress did not receive formal training in acting.

Kelsey Chow has been in a relationship with British actor William Moseley since 2012.
Related article: Kelly Reilly biography, nude pictures, husband, and net worth.
Early life
Kelsey Chow was born Kelsey Asbille Chow on 9 September 1991 and is 29 years old in 2021. She is set to hit the big 30 in just a few months.
The actress was born to Dr James Chow and Jean Chow, and she has two younger siblings, a brother, Forrest, who is two years younger and a sister, Kiersten, who is eight years younger. In 2010, Chow revealed that her father is Chinese while her mother is American from Columbia, South Carolina.
Because her father is Chinese, she said, she had always wanted to be more fluent in Mandarin Chinese and read more traditional Chinese characters. Although she said her mother is American, her mother is also a descendant of the English and the Cherokee.
However, in 2017, when Chow was cast in Native American roles, she claimed to be a descendant of the Eastern Band of Cherokee Indians, but the group quickly denied her. They put out a statement saying that Kelsey's claim wasn't true, and that her name was not in their records. What could have happened to cause such a mix-up is anyone's guess.
Well, Kelsey Chow's younger years were much less adventurous. For high school, she attended Hammond School, which is based in Columbia, South Carolina. While she is committed to acting, she is also committed to learning more. She has joked that her younger sister will probably graduate from College before she does, but she doesn't mind.
Chow juggles her time between Los Angeles and New York so that she can attend Columbia University, New York City, where she is studying human rights with a focus on indigenous people's rights.
Chow's ultimate goal is to be like her 94-year-old grandmother, who worked with the World Health Organization in North Africa to eradicate tuberculosis.
See more: Where is Jennifer Tilly now? Facts and latest news about poker player and Bride of Chucky star.
Personal life
Kelsey Chow has had a mostly private personal life. Not much is known about her family, and she only shares tidbits from her current relationship with British actor William Moseley.
Fans of the show "The Chronicles of Narnia" will recognize William as Peter Pevensie. He also played Prince William in the E! TV show "The Royals". In fact, Chow and Moseley attended the season 2 premiere of "The Royals" together.
The couple likes to keep their dating life under wraps, but they have been dating since 2012. It is unclear how they met, although they did appear together in the 2013 thriller film "Run".
Chow confirmed their romance in 2018 while talking about her movie-watching habits. She said, "I love binge-watching TV. Recently I've binge-watched Stranger Things on Netflix. I also binge-watch E!'s The Royals. My boyfriend is on it. Oh, and I always go back to The Office in stressful times."
The couple don't discuss each other in interviews, and this interview appears to be a one-time thing.
Before she dated Moseley, she was romantically linked to actor Ethan Peck in 2011, but she split from him after a brief period. Also, before being linked with Peck, she was reportedly involved with actor Hutch Dano, who she worked with on the set of the film "Den Brother" in 2009.
Career
Kelsey Chow got her first major acting role in 2005 at the age of 13 in the successful TV series "One Tree Hill". She played Gigi Silveri in the series until 2009, and has spoken about the support that she received from her mother who drove her to set.
She said, "My mom has always been a yes person. She'd say, 'You know, you can open these doors for yourself.' So whatever opportunity came up, I'd be like, 'Yeah, I'll make it work.'"
But what inspired Chow's love for acting? The actress was a dancer when she was younger, and it led her to fall in love with performing. Even as a student in high school, she was part of the Hammond Select Ensemble, with whom she performed in Italy and the Republic of Czechoslovakia.
After high school, she joined a community theatre where she was part of productions such as "Ragtime", "The Will Rogers Follies", "You're a Good Man Charlie Brown", and many other plays.
Kelsey Chow has also performed at the Edinburgh Spring Festival in Scotland, where she was featured in a production of "Les Misrables".
After "One tree Hill", she started her upwards climb in the industry. In 2008, she was a guest star on "The Suite Life of Zack and Cody". The actress also co-starred in the Disney Channel original movie "Den Brother".
From 2010 to 2013, she starred on the Disney XD show "Pair of Kings" which brought her renown and made directors start to take her serious as an actress and a performer. 
In 2012, Chow appeared in "The Amazing Spider-Man", and was later cast in the feature film "Run". In 2014, she was cast in the Fox Drama "Hieroglyph", but the show was unfortunately cancelled before it even premiered. Between 2015 and 2016, Chow played Tracy Stewart in the fantasy series "Teen Wolf".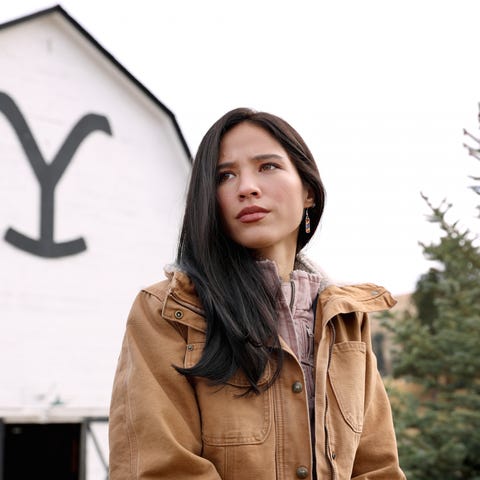 She has appeared in two music videos Hayley Kiyoko's "Girls Like This" and Bonnie McKee's "Sleepwalker", and she played small roles in "Wind River"and "Fargo", where she plays Native American women. The actress as been starring in "Yellowstone" as Monica Dutton since 2018.
Kelsey Chow movies & TV shows
Kelsey Chow has made appearances in several movies and TV shows. While she has appeared in several movies, she hasn't been in one since 2017 because TV shows are her main forte.
Below is a list of movies and TV shows that this film star has appeared in as well as the year they were released and the role she played.
Read also: The Witcher Yennefer actress Anya Chalotra Biography
Movies
"My Sweet Misery" (2009) – Girlfriend Past
"The Amazing Spider-Man" (2012) – Sally Avril
"The Wine of Summer" (2013) – Brit
"Run" (2013) – Emily Baltimore
"Found Footage" (2014) – Girl
"Full of Grace" (2015) – Zara
"Chicago Sanitation" (2015) – Sanitation Worker
"Wind River" (2017) – Natalie Hanson
TV series
"One Tree Hill" (2005-2009) – Gigi Silveri
"The Suite Life of Zack & Cody" (2008) – Dakota
"Den Brother" (2010) – Matisse Burrows
"Pair of Kings" (2010-2013) – Mikayla Makoola
"Disney's Friends for Change Games" (2011) – Herself
"Punk'd" (2012) – Herself
"Baby Daddy" (2014) – Stephanie
"Hieroglyph" (2014) – Lotus Tenry (Cancelled)
"Teen Wolf" (2015-2016) – Tracy Stewart
"Embeds" (2016) – Marissa
"Brimming with Love" (2017) – Allie Morgan
"Splitting Up Together" (2018) – Charlotte
"Yellowstone" (2018-present) – Monica Dutton
"Fargo" (2020) – Swanee Capps
Kelsey Chow net worth
The majority of Kelsey Chow net worth comes from her work in acting. She has appeared in many TV series and has presumably received good pay. For example, the show that she is currently starring in, "Yellowstone", is known as one that pays well. Actor, Kevin Costner, who is the lead star, reportedly earned $500,000 in season 1.
That amount has definitely risen over the seasons and while Chow will not be receiving the same pay, she can expect to earn well. According to The Express, Kelsey Chow net worth is 3 million dollars ($3 million) in 2021. As she continues to make appearances in more movies and TV shows, it is expected that this figure will rise.
Kelsey Chow Social media
Kelsey Chow is only available via one social media channel, Instagram, as she does not have a Twitter account. Over two months ago, she deleted all the content on her Instagram page and has not shared any new content since then.
However, her 163 thousand (163,000) followers are still waiting for her to share new content on her verified page @kelseyasbille. The reason for deleting all her content is unknown, but seeing as no tragic news has been reported about her, it is assumed that the actress is doing well.
Conclusion
Kelsey Chow is an actress who has had to morph into many forms to be able to keep up with the demands of the entertainment industry. In order not to be boxed into a corner and forced to play only Asian woman roles, she changed her last name from Chow to Asbille.
It seems to be working for her. She has a thriving career, a private but healthy relationship, and a healthy net worth. This young actress knows what she wants as she combines acting with school, and hopefully, she will be able to achieve every single one of her dreams.
You may also like to read our latest article, BBNaija Season 6 housemate Cross biography: real name, career, and net worth.