Born on 24 April 1939, Harvey Lee Yeary, famous as Lee Majors, is an American actor. He is well known for his role in the American series The Big Valley; he played the character of Heath Barkley. Majors also portrayed the character of Colonel Steve Austin in the American TV fiction action series The Six Million Dollar Man, which premiered from 1973-to 1978, and played the character of Colt Seavers in the TV series The Fall Guy.
Early Life and Education
Lee Majors was born and raised in Wyandotte, Michigan, U.S.A. His parents, Alice and Carl Yeary died in two different accidents when he was young, and because of that, his uncle and aunt, Mildred and Harvey Yeary, adopted him when he was two. 
He went to Middlesboro High School, where he took part in football. In 1957 he graduated and got a scholarship to Indiana University, where he competed in football. Lee moved to Eastern Kentucky University, Kentucky, in 1959.
In 1960, Majors played his first football game, although he fell while playing and had a severe back injury that paralyzed him for two weeks, tampering with his athletic career. After recovering from the injury, he shifted his focus from sports to acting.
In 1962, Majors graduated from the University, completing a degree in History and Physical Education. His plan to become a football coach heightened.
After graduating from College, St. Louis Cardinals Football gave him an offer to work with their organization which he refused. Instead, he moved to Los Angeles and started working at the Los Angeles Park and Recreation as North Hollywood Park's Recreation Director. While in Los Angeles, Lee met with many industry professionals and celebrity actors, including Duck Clayton, James Dean's agent. 
D--k suggested that Lee attend his acting school. After attending acting school for one year, Clayton allowed Lee to start a career in acting. When Lee began, he picked up the stage name Lee Majors as a tribute to his childhood hero Johnny Majors, a Coach, and player for the University of Tennessee. Lee Majors also went to Estelle Batman's acting school, an MGM, where he sharpened his acting skills.
Top 10 facts about Lee Majors
Lee Majors was born as Harvey Lee Yeary in Wyandotte, U.S. His father died on his job as a manual laborer even before Lee was born. His mother also died in an accident.

He got his stage name, Lee Majors, after his childhood football legend and idol, Johnny Majors.

The movie star had an intense passion for football from a young age. Lee joined his school team at Middlesboro High School, where he played for a while before earning a scholarship to Indiana University, where the star continued playing football.

Lee transferred to Eastern Kentucky University, where he suffered a severe back injury that brought an end to his football career.

He started a career in acting, where he received an offer to join St. Louis Cardinals; however, Lee moved to Los Angeles, where he worked as a Parks and Recreation Director.

Majors underwent a bypass heart surgery in 2003.

Lee sang the theme song for The fall Guy. It was released in 1982.

Middlesboro High School named their school's football field after Lee Majors.

His ex-wife Farrah Fawcett died in 1986 after battling cancer for a long time.

Lee Majors and his ex-wife, late Farrah Fawcett, inspired the song Midnight Train to Georgia.
Read Related Articles:
–Everything you need to know about Travis Barker son, Landon Asher Barker
–Renata Notni Biography: Wiki, Husband, El Dragon, and Net Worth
–Why did famous actress Bridgette Wilson quit acting? Find out!
Career
Lee Majors started a career in acting when he was 25. His first role was uncredited in Strait-Jacket, where he acted as Joan Crawford's cheating husband. In 1965, Lee appeared in an episode of Gunsmoke. Major's big break in the movie industry came when the ABC Western series selected him out of over 400 actors to co-star the role of Heath Barkley in the Big Valley, which starred Barbara Stanwyck. Linda Evans also played the role of Heath's younger sister, Audra. Peter Breck and Richard Long played Heath's brothers, Nick and Jarrod. 
One expression that Heath frequently used was "Boy howdy." Big Valley was a big hit. While the series was ongoing, Lee Majors co-starred in Will Penny in 1968, where he played the lead role in The Ballad of Andy Crocker, a film that ABC broadcast, one of the first films to handle the subject of Vietnam Veterans Coming Home. He started in Midnight Cowboy in the same year.
The Big Valley started another season, which made him decline the role, and when the movie was canceled in 1969, he signed a long-term contract with Universal Studios. Lee featured in The Liberation of L.B Jones and acted in The Virginian. He was referred to as "Blond Elvis Presley" because he resembled Elvis during his career. 
In 2010, Lee played the role of the crusty sailing instructor in the spin-off Beginner Pottery. In April 2010, the famous actor featured as the guardian of the series Christopher Chance. Lee voiced an animated Six Million Dollar Man in an advert for the Happy Honda Days sales event 2018.
The Six Million Dollar Man
Lee featured in The Six Million Dollar Man in 1973 alongside Britt Ekland. He starred in The Six Million Dollar Man as Colonel Steve Austin, an ex-astronaut with bionic implants. ABC broadcasted the movie in 1973; ABC decided to make it a weekly series that became an international success; it was screened in more than 70 countries, making Lee a recognizable icon. He made his first directorial appearance in 1975 in an episode of One of Our Running Backs Is Missing which featured football players like D--k Butkus and Larry Csonka.
The movie was still a hit series when Lee decided to negotiate his contract with Universal Television. The organization filed a lawsuit against him because his warranty was not expired yet. Sources said he wanted more money, but his manager denied it, stating that Lee was fighting to get his own production company. However, the producers canceled The Six Million Dollar Man movie as ratings reduced drastically.
The Fall Guy
Majors appeared in a long-term TV series in 1981 titled The Fall Guy. He played the role of Colt Seavers, a stuntman who moonlights as a bounty hunter. The famous actor produced and directed the show and sang the theme song, Unknown Stuntman; he also invited his longtime friends like Lindsay Wagner, Richard Anderson, Peter Breck, and Linda Evans to guest-star in different episodes. The movie had five seasons, after which the producers cancelled it in 1986.
In 1990, he starred in the film and had recurring roles in the short-lived 1992 series Raven. Lee Majors also had supporting roles in the movie Trojan War (1997), Out Cold (2001),  The Brothers Solomon (2007), and Big Fat Liar (2002). He featured in Keaton's Cop in 1990 and frequently appeared in Tour of Duty and the brief series Raven.
He played  Big Mitch Baker in Grand Theft Auto's video game Vice City. He played Jaret Reddick's disconnected father in Bowling For Soup's 2007 video When We Die. He played Grandpa Max in Ben 10: Race Against Time and voiced a character on the APTN animated children's program Wapos Bay: The Series named Steve from Austin. Majors also appeared in a brief role in Stephen King's The Mist.
He played the role of Coach Ross on the TV series The Game, which premiered on 1 October 2006 to 20 May 2009. Lee played the role of God in the 2007 episode of According to Jim. In 2009, he played a role in the season's finale; Heaven Opposed to Hell. Lee played the role of Majors and appeared in the role of God in Jim Almighty, a 2007 episode of According to Jim. Majors later returned to the position in that show's 2009 series finale, Heaven Opposed to Hell.
His Personal Life
Lee became co-owner of the LA Express of the United States Football League. Lee Majors had heart surgery in 2003.
His Relationships
The famous actor has had four failed marriages. In 1961, he married Kathy Robinson, and together they had a son, Lee Majors Jr., who later featured in Three Six Million Dollar Man and became a professional actor.
After the divorce, he started dating Farrah Fawcett in the late 1960s, and the duo tied the knot on 28 July 1973; Farrah Fawcett and Lee Majors inspired the song Midnight Train to Georgia, but due to irreconcilable differences, they went their separate ways in 1979 and eventually divorced in 1982. They had no children. Unfortunately, she died on 25 June 2009. Lee Major's song Unknown Stuntman refers to her. 
In 1988, Lee Majors married Karen Velez, who featured as a model in Playboy Playmate. Together, they had one daughter, Nikki, and two sons, Trey Kelley and Dane Luke, but unfortunately, they divorced in 1994. He got married to Faith Cross, who is a model and actress, on 1 November 2002.
Who is Farrah Fawcett?
Farrah Fawcett was a fashion model, visual artist, and American actress. Before starting a career in acting, she worked with Screen Gems, advertising products like Max Factor Cosmetics, Beautyrest mattresses, Noxzema skin cream, Mercury Cougar automobiles, Ultra Brite toothpaste, etc.
She then started a career in acting in the 1960s but rose to the limelight after she starred in the movie Charles Angels. She also featured in The Six Million Dollar Man with her then-husband, Lee. 
Fawcett refused to sign a release for her nude photographs to be used in magazines in the 1970s and 1980s, although she appeared topless in the movie Saturn 3. She posted a semi-nude photo of her in Playboy, which caused a significant issue. In 1997, in an interview with Late Show with David Letterman. Fawcett appeared distracted, which caused the host to give her a negative commentary. However, she explained that she was only joking around with the host and the guise of promoting her video and pictorial on Playboy.
In an interview with People magazine, Lee Major disclosed that his publicist introduced him to Farrah over a coffee drink. Their relationship started real quick and lasted for about twelve years. They were Hollywood power couples in the 1970s.
After their separation, she started dating a famous actor Ryan O'Neal. Together they had a baby boy, Redmond James, in 1985. Fawcett ended the relationship after she caught him cheating on her with actress Leslie Stefanson. She also mentioned that he abused her physically due to his hot temper. However, they got together in 2009.
After that, she started dating Canadian filmmaker James Orr. James also abused her physically, which brought an end to the relationship. Then she entered a relationship with the famous football star, Greg Lott, which lasted until she died.
After her divorce from Lee Majors, they went their separate ways and didn't keep in touch, but Lee called her on her birthday before she died. For the first time in 23 years, they spoke for about 40 minutes. They discussed her health and life in general. They got a bit emotional on the phone and cracked some jokes. We are very sure they had a good time talking.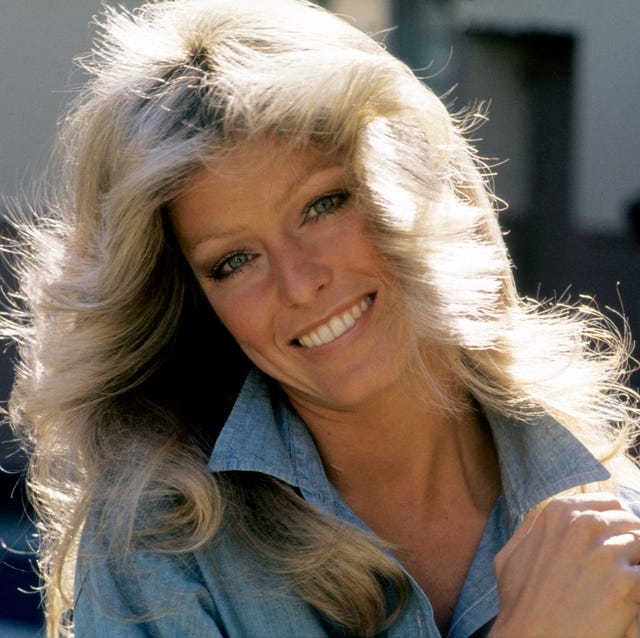 Fawcett Death
The doctors diagnosed Fawcett with a--l cancer in 2006. She started treatment which included chemotherapy and surgery, although, at some point, she was cancer-free. After a while, her health deteriorated, and the doctors diagnosed her with stage IV cancer which she battled until she died in 2006. She died with Alana Stewart and her ex-lover O'Neal by her side.
Social Media
He does not have official social media handles on popular social media platforms like Facebook, Instagram, Tiktok, and Twitter. Even though Lee is a public figure, he loves to keep his personal life private.
Latest News
There were rumors about Lee Majors being dead, although sources have confirmed that Lee is alive and in good health. He does not have any health-related issues. He is still involved in acting in movies.
His Net Worth
Lee Majors has had a great career in acting, and through his primary source of income, he has acquired quite a fortune, including money, assets, and revenue. His net worth is approximately $15 million. His famous wife, Farrah Fawcett, had a net worth of $20 million at her death. She acquired such a ridiculous amount through her career in acting, painting, and brand advertisement.
Conclusion
Lee Major is a man who has lived life to its fullest. He has had a fantastic career in the movie industry, outliving him. Although he has had three failed marriages, this did not deter him; instead, he keeps scaling up his acting career. Before Farrah died of a--l cancer, she lived a fulfilling life, living her dreams and bringing them to reality.
Also, read our latest articles:
–Was Super Bowl LVI the best event ever? – See highlights and music performances
–Things you probably didn't know about famous American journalist Kristen Welker, Find OUT!!
–Revealed!!! Find out why Adamari Lopez divorced her famous husband, Luis Fonsi