Born on 9 October 2003, Landon Asher Barker is an American rapper, singer, social media personality, and musician. From 2005 to 2006, he played a role in the reality TV show Meet the Barkers with his family, which brought him to the limelight and exposed him very young. He is well-known for being the son of the musician and drummer Travis Barker and his model mother, Shanna Moakler. Landon is famous for his Instagram and YouTube channels. He is an American nationality and practices Christianity. 
Early life and education
Landon was born and raised in an upper-middle-class family in Santa Monica, California, USA.
He had his early education in a local private school. Also, he attended  Fontana, California, and he's still in school. From his childhood, he has been interested in drama and acting. He has also participated in many societies and school drama programs, thereby resolving to choose the theater and singing profession. Even as a child, he followed his dad to tours and concerts and had once been on stage with the rock band Blink 182 as the drummer.
Top 10 facts about Landon Asher Barker
His celebrity parents are pioneers of the TV show

Meet the Barkers

, which brought him to the limelight.

He grew up around prominent celebrities and artists from childhood, but he admitted that he doesn't have a role model, although he desires to be successful like her father.

He is interested in drums and likes gangster rap; he is a part of his school band and enjoys playing the guitar and drums.

His father, Travis Barker, has a phobia for airplanes, and it's evident that Landon inherited the aversion as he doesn't fly in planes.

Travis Barker has been involved in a fatal airplane crash which he luckily survived, although he had significant burns which took months to heal.

Travis Barker loves to take his kids for performances and events, thereby spending time bonding with his children, and Landon refers to moments spent with his father as his favorite childhood memories.

Travis Barker and Shanna were in a relationship that crashed several times before they eventually divorced, although they stayed together to raise their children.

Landon is active on social media platforms like Instagram, Askfm, and Snapchat, where he interacts with fans and answers their questions.

He has a net worth of 0.5 million; his mom has a net worth of $15 while his dad has$50 million.

Landon is passionate about making a name in the entertainment industry.
Read Related Articles:
– Everything you need to know about the famous singer, Adele's son: Angelo Adkins
– Who is famous actor, Kyle Chrisley in Chrisley Knows Best American TV Series??
– Meet Bill Gates youngest daughter, Phoebe Adele Gates.
Career
Landon Asher Barker began a career at the age of two when he participated in the family's TV Reality Show Meet the Barkers. The reality show is based on the day-to-day lives and musical expeditions of the rock star Travis Barker, his wife Shanna Moakler, their children. The show has two seasons with a total of 16 episodes. Landon has been going for performances with his father from a very young age on his musical concerts and trips.
He has set up a musical group with his friends, named 'OTG.' He uploads his videos and self-composed songs on his YouTube channel. His songs, "Trust" and "Don't Need Her", are applauded by a large audience. Also, Landon has promoted several popular brands such as Rick Owens, Purple, Fashion Nova Men, and Famous Stars and Straps.
Personal life
Landon Asher Barker is hardworking and also dedicated to what he is doing, which so much focus on his career. Beyond being the son of a fulfilled musician, he has also been surrounded by celebrities and proficient artists right from when he was small. Some sources show that in 2016, he was in a relationship with Divinity Perkins.
Travis Barker (Father)
Travis Barker was born on 14 November 1975 in Fontana, California, the US. Travis is an American musician who functioned as the drummer of the rock band, Blink-182 (. When he was five years old, he started taking drum lessons with drummer Michael Mai who exposed the young boy to many playing styles and learned how to play the trumpet. In addition to his musical aspirations, Travis also had non-musical dreams of becoming a skateboarder and surfer.
Travis Barker, in 1999 began his clothing line named Famous Stars and Straps, which served the Skateboarding community. The thriving of the band brought a lot of changes to his life. One who could bit even feed himself was now able to buy art, work on old Cadillacs, buy a dog and live a comfortable life.
Travis Barker had so many accolades around that he was not just a fantastic drummer, but he was an outstanding studio drummer who is a skill that many drummers don't share necessarily. He was recognized as one who, with a click track without music, can sit down and create something for the band within five to ten minutes like he was a drum machine. 
He and Kourtney Kardashian made their relationship official in January 2021 after rumors of them dating circulated for a few months. In October of the same year, they got engaged. Read more here: Kourtney Kardashian and other celebrities who got engaged in 2021.
Shanna Barker (Mother)
Shanna was born 28 March 1975 in Providence, Rhode Island, US, and of German, Irish, and Portuguese descent. She is a model, a reality television celebrity, and an actress. She got married to Travis Barker and had two children for him. She featured in their family television series, Meet the Barkers when they were still together in 2005.
She went to Barrington High School, where she brags about being 'the biggest dork.' After High School, she went to pursue a modeling career in Miami. At 17, Shanna represented Rhode Island in the Miss Teen USA pageant in 1992. In 1995, she represented New York in the Miss USA pageant as Miss New York USA, where she emerged as the first runner-up.
She started at the age of 15 and appeared in different magazines about her modeling career. She has also appeared in some movies such as Poison Ivy: The New Seduction as Jaime, Telling You as Cheryl Tangeray, etc.
She married Travis Barker on 30 October 2004 and gave birth to two children; Landon Asher Barker, born on 9 October 2003, and his sister Alabama Luella Barker, was born on 24 December 2005. On 8 August 2006 Barker ordered a divorce from Moakler. In 2007, they both said they had settled, and in February 2008, Barker made it known that they had divorced some days ago. 
On 7 December 2014, Barker and Moakler had an intense verbal argument in the home they shared, the Police showed up and arrested them, without charges, though, because they made criminal threats to each other. In June 2016, reports showed that the two were peacefully co-parenting their children.
Social Media
His father put no restrictions on their internet usage, and so he has gained popularity on social media. He has a verified Instagram account @landonasherbarker with about 854K Followers. He is also active on Snapchat and ASKfm, where he interacts with his fans. His father, Travis, has a verified Instagram account @travisbarker with 6.6M Followers. Moakler has a verified Twitter account, @Travis Barker. On Instagram, she has a verified account @shannamoakler with about 378K Followers. 
Landon Asher Barker net worth
Landon has a net worth of about $0.5M. His father, Travis Barker, has accumulated wealth through his connections with several bands and artists. He has also played as Blink-182's drummer. He has an estimated net worth of $50 million. His mother, Shanna, is a model, reality TV personality, and actress with an accumulated net worth of $15 million.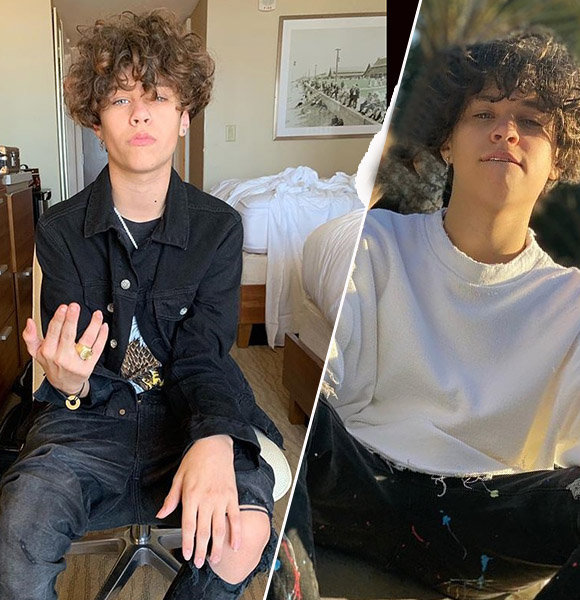 Girlfriend
He dated a girl named Alisha but told his fans that she did not like him, after which, he started dating another girl named Bella. According to recent posts on his Instagram, Landon Asher Barker is in a relationship with teenage singer Divinity Perkins.
Conclusion
Born into a wealthy home as a celebrity child, Landon is not relying on his parent's fortune. From a young age, he discovered his passion and is pursuing hard after it. We are optimistic that a few years from now, his influence will be massive.
Also, read our latest articles:
– 17 TV Shows to watch on Amazon Prime Video now
– 17 celebrities you probably didn't know were famous as kids
– Some of the Surprises Found When Playing Online Slots.