Angela Lee is a mixed martial artist with Singaporean, Chinese, and Korean heritage. On paper, she is a Canadian-American and has mastered various fighting styles such as Pankration, Taekwondo, Brazilian Jiu-Jitsu, Muay Thai, and Wrestling. Lee is a force to reckon with in the Women's Strawweight and Atomweight division that she has earned the nickname, 'Unstoppable'.
As of 2022, she was still competing in the One Championship, and she won the ONE Women's Atomweight Title in 2016, becoming the youngest person ever to win a world title in MMA. Fight Matrix, in charge of MMA rankings, ranks her as the number 18th female MMA Strawweight fighter in the world, in the 105.1 to 115 pounds weight division.
In addition to being a combat sports athlete, Angela Lee is a mother. There are interests in how she manages to balance her life as a mother and a competitor in one of the most brutal sports known to man. Well, let's look at the details in the post.
Before we go into the meat of this article , let us learn some quick facts about our celebrity!
Top 10 facts about Angela Lee
Angela Lee was born in Vancouver, Canada, to a Chinese-Singaporean father, Ken Lee, and a South Korean-born Canadian mother, Jewelz Lee, both of whom were martial artists as well.
At 7, Angela moved with her family to Hawaii, by which time she had already begun training as a martial artist under her parents.
Her younger brother Christian is also an MMA fighter, and her two other siblings, Victoria and Adrian, also train in martial arts. Both Christian and Victoria compete in the One Championship.
At 15, Angela won her division at the USA Amateur pankration national championships, and the following year, she claimed her division at the World Pankration Athlima Federation world championships in Greece.
She has a black belt in Brazilian Jiu-Jitsu and has mastered other fight techniques like Pankration, Taekwondo, Muay Thai, and Wrestling.
She made her amateur debut in 2014 and later signed with ONE Championship that same year.
Angela was studying business at a college in Hawaii and had to drop out, move to Singapore, and join Evolve MMA to further her career.
She remarkably beat her first five opponents by submission and was rewarded with an unusual shot at the inaugural ONE Championship Atomweight Women's Title against Japanese veteran Mei Yamaguchi. She would, of course, later beat Mei and become the youngest-ever MMA world champion.
By July 2022, Angela Lee has been in 13 professional fights, winning 11 and losing 2. One of the wins was after her return from a one-year leave due to pregnancy.
She is married to Bruno Pucci, a martial artist himself with a total of five podium finishes at the World Championships. They have a daughter together.
ALSO READ: Kindly Myers Age, Biography, Only Fans Cost, And Net Worth.
Now that you are getting familiar with our celebrity Martial Artist let's take a look at her lifestyle.
Early life
Born into a house of mixed martial arts parents, it was inevitable from the onset that Angela (and her siblings) would at least get a taste of the combat world. In an interview with Muscle and Fitness media, she said that her parents first introduced them to martial arts as a means of self-defense. Eventually, they started training her to become an athlete.
Lee adds that she shares a very close bond with her father, who she claims knows her inside out and has her best interest at heart. Her father, Ken Lee, a black belt himself, and third-degree black belt Mike Fowler, awarded Angela Lee her Brazilian Jiu-Jitsu black belt on February 9, 2018.
Part of her early mixed martial arts training had her competing against boys and later men because female students were a minority then. But she says that she didn't mind it because it made her not have any excuse for herself. If anything, it improved her as she taught herself to outsmart her opponents and improve her skills faster.
Angela Lee fighting style
Speaking about her fighting styles, Angela says that she has done her fair share of different matches, from grappling to kickboxing, boxing, judo, and then pankration. They all converge to make her what she is in the MMA world; an unstoppable fighter.
She uses pankration to prepare herself as fights could go in any direction, and then her judo and wrestling techniques are to take opponents down, while she employs grappling and jiu-jitsu when needed. No wonder 8 of her 11 wins have come via submission, and she has only had to knock out her opponent once, and the judges' unanimous decision decided the other two fights.
Angela Lee pregnancy and daughter Ava
At 19, Angela was already renowned for defeating Mei Yamaguchi, a Japanese mixed martial artist and kickboxer, who had, up to that time, only lost ten times and was on a winning streak. Of course, it has not been rosy for Angela Lee as well. She was defeated in March 2019 when she faced down reigning strawweight champion Jingnan Xiong, who beat her by a TKO. Then she suffered a consecutive loss at the hands of Michelle Nicolini. So, Angela Lee has two losses as of July 2022.
However, she bounced back, as champions do when they go down. She resumed her submission streak with a win against Jingnan Xiong, who had beaten her six months earlier.
After her pregnancy leave, Lee returned to defend her Atomweight title against ONE Women's Atomweight Grand Prix winner Stamp Fairtex at ONE Championship: X on March 26, 2022. Surviving an early scare in the first round after being hurt by a liver punch, she won the fight via submission in the second round.
On her return from her pregnancy leave, Angela Lee explained that it was not all smooth sailing. As a first-time mom, she didn't know what to expect and didn't know how her body would respond to childbirth.
She claimed that most of her issues were eventually mental and not physical. She had to work hard to regain her confidence and prove herself again. However, she said that she was patient and gave herself enough time. Even researching other fighters that were moms did not help much because the experience is different for every person.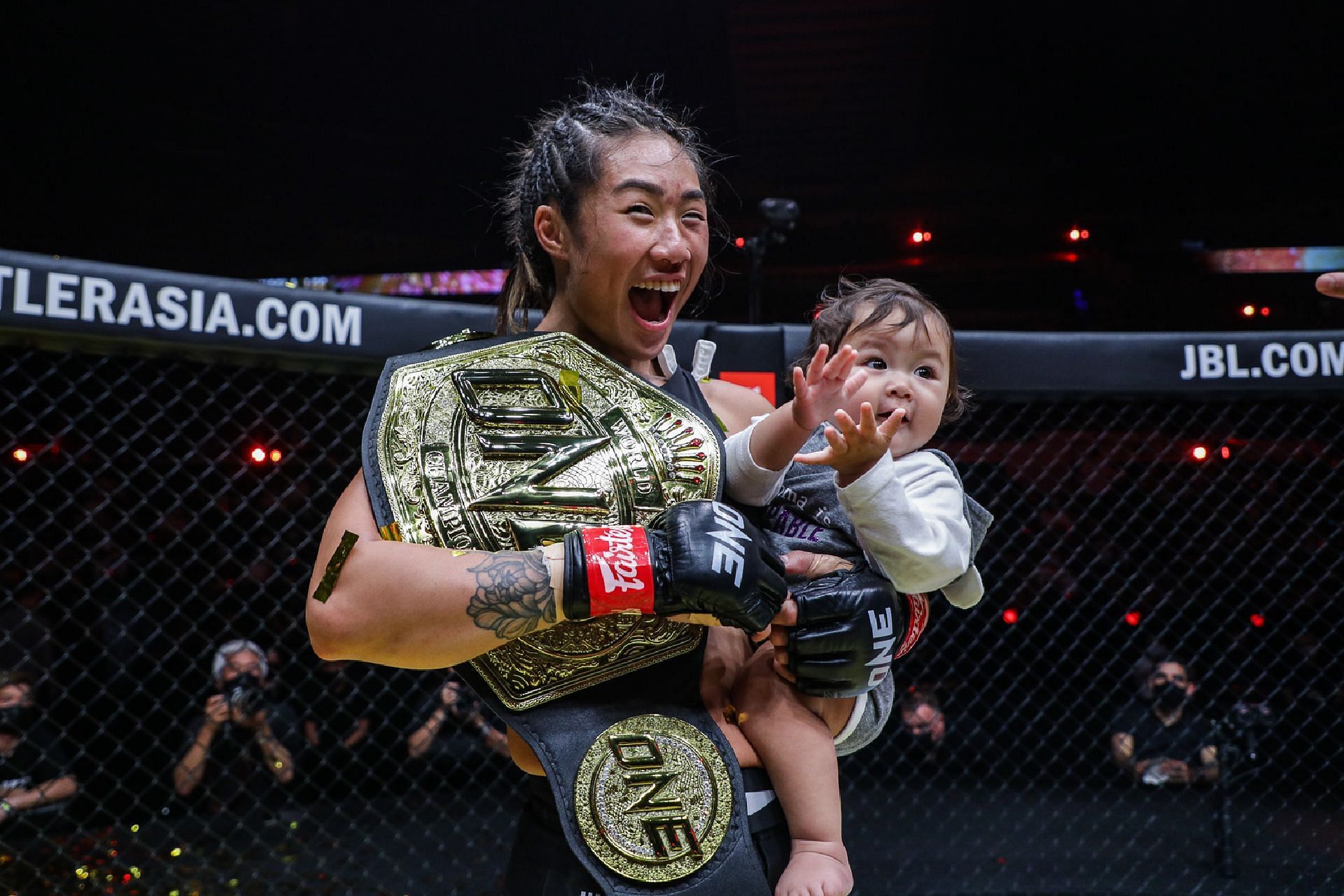 Most of her early workout routines were stretching and light training before resuming strength conditioning. Also, with a child, she has adjusted her routine. She says she trains in the morning, then takes a break and takes care of Ava, her daughter, all day. She also mentions that she enjoys the time they spend together and loves being a full-time mom and watching her bundle of joy grow up.
Angela Lee does not leave Ava at home when she goes to her matches. She said other fighters think she is crazy for bringing her child along with her to a fight week, but her daughter adapts well and adjusts to the traveling and sleeping routines. Although she confesses that things are very different now that she is a mom, she wouldn't trade it for anything else.
Angela Lee lifestyle and net worth
Per her lifestyle, it is clear that MMA pays quite well, and even with the disparity between what male and female athletes earn, it is pretty substantial. For example, her fight with Yamaguchi in 2016 earned her nearly 48 thousand dollars in bonus. Since then, she has been securing more and more money. She is estimated to have a net worth of 4 million dollars, and not to forget that she is married to a man who is a professional athlete as well.
In 2021, they started a United BJJ Hawaii gym, where they both serve as head coaches. Besides the money they make from fights and their fighting school, Angela is also a brand ambassador. Back in 2017, she was already collaborating with Under Armour, Asian Pacific Investments, Nutrition Depot, Venum Apparel, and HiFi Meals.
Also, she appeared in commercials for Milo in Asia. She has also promoted Downtown Project and sports clothing brands like One Shop, beverage company Body Armor, and electronics brand JBL.
She also sells her own merchandise to make additional income.
Lee lives in Hawaii with her family but spends most of her time working in Singapore. When not on the job, she and her family travel around the world, and they have been to Las Vegas, Santorini, San Francisco, Brazil, and other places. She appears to be enjoying life to the fullest as a mother, wife, and mixed martial artist.
Angela Lee MMA Social media
Lee is on Instagram as @angelaleemma and she has 239K followers. She mostly posts photos of her victories and brand promotions on the page. She is also on Twitter as @angelaleemma but she posts infrequently, as an average of three times a month and even less sometimes, over 15K accounts follow her there.
RELATED ARTICLE:
– Sadie Sink Biography | 10 facts about Max Stranger Things
– Dreka Gates, Kevin Gates wife Bio – affair, split, net worth, tattoos, children
– Pros and Cons of Embroidery Customizing
– How Important Is a College Degree for a Web Developer?
– Taylor Swift 'Secretly Engaged Joe Alwyn' And Planning A 'Simple And Elegant Wedding.