Nigerian Afrobeats stars Burna Boy and Wizkid both won their first Grammy Awards at the 63rd edition of the ceremony which also caused a Twitter fight between Cardi B and Candace Owens. Meanwhile, Zack Snyder's Justice League has enjoyed positive reactions since its release. The UEFA Champions League and UEFA Europa League Quarterfinals draws have been announced as well.
All these stories and more are included in our weekly news recap for today, 22 March 2021.
Lead stories of the week
Burna Boy and Wizkid win Grammy
Burna Boy, Nigeria's biggest Afrobeats singer has won the Best Global Music Album award for "Twice As Tall". He beat fellow nominees Antibalas, Bebel Gilberto, Anoushka Shankar and Tinariwen to the prize. After his big win, Burna Boy received congratulations from the likes of Ben Murray-Bruce, Femi Anikulapo-Kuti, several of his colleagues and even Twitter CEO Jack Dorsey.
Wizkid, another Nigerian superstar, also won a Grammy award for his contribution to Beyonce's "Brown Skin Girl" in the Best Music Video category; which was one of the four awards Beyonce went home with that night. You can learn more about the award winners here.
Cardi B and Candace Owens Twitter fight
The Grammys also brought some drama with it stemming from Cardi B and Megan Thee Stallion's "WAP" stage performance. The singers had performed a clean version of their raunchy single but many viewers had problems with their suggestive dances.
Candace Owens, an American conservative author, political commentator, and activist, was one of such critics. She went on FOX News to slam Cardi B and Megan Thee Stallion and was thereafter mocked by the "Bodak Yellow" crooner.
However, it quickly turned into a fight after Owens insisted that Cardi B was encouraging young women to strip themselves of dignity as well as ruining American culture and values. The rapper dragged former US First Lady, Melania Trump into the issue before also including Candace's husband and her brother. You can get a complete rundown of the fight in this video:
Emmanuella wins Nickelodeon Kids' Choice award
Nigerian entertainers were not done winning last week. After the Grammys announcements, child-comedienne Emmanuella Samuel emerged as the winner of the Favorite African Social Media Star category at the just concluded Nickelodeon Kids' Choice awards.
On winning the award, Emmanuella congratulated herself via an Instagram post and also thanked her fans. Other popular online figures that were vying for the award with her were; Nigerian counterparts Ikorodu Bois, Kenyan internet comedienne Elsa Majimbo, South African television presenter and online personality Bonang Matheba, Ugandan children dance group the Ghetto Kids, and South African-born online magician Wian Van Den Berg.
Kanye West $6.6 billion net worth story, how it happened
Kanye West, another entertainer who grabbed a gramophone at the Grammys, also made the news this week for something else. The rapper was said to be worth about $6.6 billion in March 2021 – growing his net worth by almost $5 billion within a year or less. The news came after UBS Group AG – a financial services company and multinational investment bank – released a report valuing Mr West's sneaker and apparel business Yeezy at between $3.2 billion and $4.7 billion.
However, while there were claims that the rapper had become the richest black person in America, Forbes released a statement debunking the new net worth claims. According to the magazine, Kanye West is still worth around $1.8 billion. The UBS report was based on projected future earnings, Forbes clarified.
Oscars award nominees
The Oscar nominations 2021 for the 93rd Academy Awards were announced on Monday, 15 March 2021. Streaming platform Netflix dominated the nominations list and its studio's production "Mank" got 10 nods. Amazon's "Sound of Metal" and A24's "Minari" earned 7 nominations each with "Nomadland", "Judas and the Black Messiah", "Promising Young Woman", and "The Trial of the Chicago 7" scoring six nominations.
Other entertainment stories
Michelle Obama gushes over Viola Davis
Prolific actress, Viola Davis was nominated in the Best Actress category for her role in "Ma Rainey's Black Bottom" at the upcoming Oscars as well. She had also recently gotten high praise from a former First Lady of the United States, Michelle Obama, who revealed that she is excited about the actress playing her character in the coming series "The First Lady".
Ray Fisher speaks on his role as Cyborg in Zack Snyder's Justice League
Zack Snyder's Justice League is one of the most talked-about film topics since its release on 18 March 2021 and Ray Fisher, the actor that played Cyborg in it, also made an interesting revelation.
In a tweet, he mentioned that the character having an absent father is a part of the story that touched him personally as a Black man. For Fisher, his biggest takeaways from the latest Justice League release is family and reconciliation.
Ray Fisher has always been vocal and since July 2020, he has criticised the executives who worked on the 2017 Justice League film. This includes director Joss Whedon, producers Jon Berg and Geoff Johns, DC Films chief Walter Hamada, and Warner Bros.' parent company WarnerMedia as well.
Jennifer Lopez and Alex Rodriguez break up rumour
Celebrity couple. Jennifer Lopez and Alex Rodriguez have debunked reports that they are breaking up over a 'cheating scandal', calling such reports 'inaccurate'. The couple released a joint statement that indicates that there may be issues but that they are still together.
"All the reports are inaccurate. We are working through some things," part of their statement reads. A source that is close to them also claimed that their issue had nothing to do with Madison LeCroy who was rumoured to have had an affair with Rodriguez.
Selena Gomez denies rumour of relationship with Aaron Dominguez
In the same vein of dispelling false reports, Selena Gomez has come out to address rumours that she is romantically involved with Aaron Dominguez, saying that they are just working together and that she is single at the moment.
Quavo and Saweetie confirm break up, Bentley gift taken back?
Saweetie announced her break up with Quavo citing "cheating, betrayal and hurt" as her reasons on her Twitter page. Meanwhile, Quavious Keyate Marshall, known professionally as Quavo, also shared his own side of the story. According to him, Saweetie was not the woman he thought she was. He claimed that he still loved her and wished her the best but was disappointed in her.
After their public break up, Quavo has allegedly taken back the Bentley gift he gave Saweetie last Christmas.
Demi Lovato opens up about sexual abuse
In a YouTube docuseries titled "Dancing With the Devil", American singer Demi Lovato has revealed that she was sexually assaulted by a drug dealer on the night she overdosed. Lovato's overdose story had made the news at the time and she had spent two weeks in the hospital after being rushed there battling for her life. She then checked into rehab and she has been working on her addiction since then. Demi Lovato is not the only female celebrity that opened up about sexual abuse this past week …
Iyabo Ojo recounts her five rape experiences
Popular Nigerian actress Iyabo Ojo also recounted her rape experiences in a recent video on her YouTube page Iyabo Ojo Vlog. Ojo said that she had suffered at the hands of rapists five different times with the first one happening when she was just 14 years old. The actress said that she was sharing her story to encourage more women to come out and tell theirs and also, to help those who suffer in silence to feel less alone.
Now, onto the world of sports …
Sports updates
Trending this week
UEFA Champions League and Europa League quarter-final draws
The draws for the last 8 in the UEFA Champions League and the Europa league was done on Friday 19 March 2020 with some particular match ups standing out.
Two teams that have played each other in the finals of the Champions League having a go at it again. 2020 finalists Bayern Munich and PSG would play each other over a double legged affair while Liverpool and Real Madrid who both played in the 2018 finals set to lock horns once again.
The Europa League has some pretty decent fixtures to look out for as Manchester United gets drawn against Granada while Arsenal entertains Slavia Prague.
Anthony Joshua, Tyson Fury signs deal for undisputed world heavyweight title
The two biggest British boxers, Anthony Joshua and Tyson Fury have finally put pen to paper for an undisputed world heavyweight title fight, according to Eddie Hearn.
The rivals, having been locked in lengthy negotiations in recent months, have now finalised terms for the blockbuster battle, with its date and venue to be confirmed.
Anthony Joshua will put his WBA, IBF, and WBO belts on the line against the unbeaten WBC champion Fury this year.
Brazil legend Pele openly confirms admirations for Cristiano Ronaldo
Brazilian football legend Pele has publicly praised the goal-scoring exploits of Cristiano Ronaldo on social media after the Juventus forward bagged a hat-trick in a 3-1 Serie A win over Cagliari on Sunday.
Ronaldo grabbed all three goals in the first 32 minutes of the match with a header, a right-footed penalty, and a left-foot shot as Juventus bounced back from their midweek Champions League exit.
Those three goals mean the 36-year-old five-time Ballon d'Or winner has now scored an incredible tally of 770. He acknowledged the feat on Instagram and praised Pele's impact on him growing up.
4. Tiger Woods is back home
Golf legend and superstar Tiger Woods is back home and recovering after undergoing surgery following the injuries he sustained from a ghastly car crash last month. He told fans that he is getting better via a Twitter post where he also thanked fans for their support and encouragement. Woods did not fail to appreciate the nurses and hospital staff that have aided him on his road to recovery.
"You have all taken such great care of me and I cannot thank you enough," he wrote.
Coronavirus updates in numbers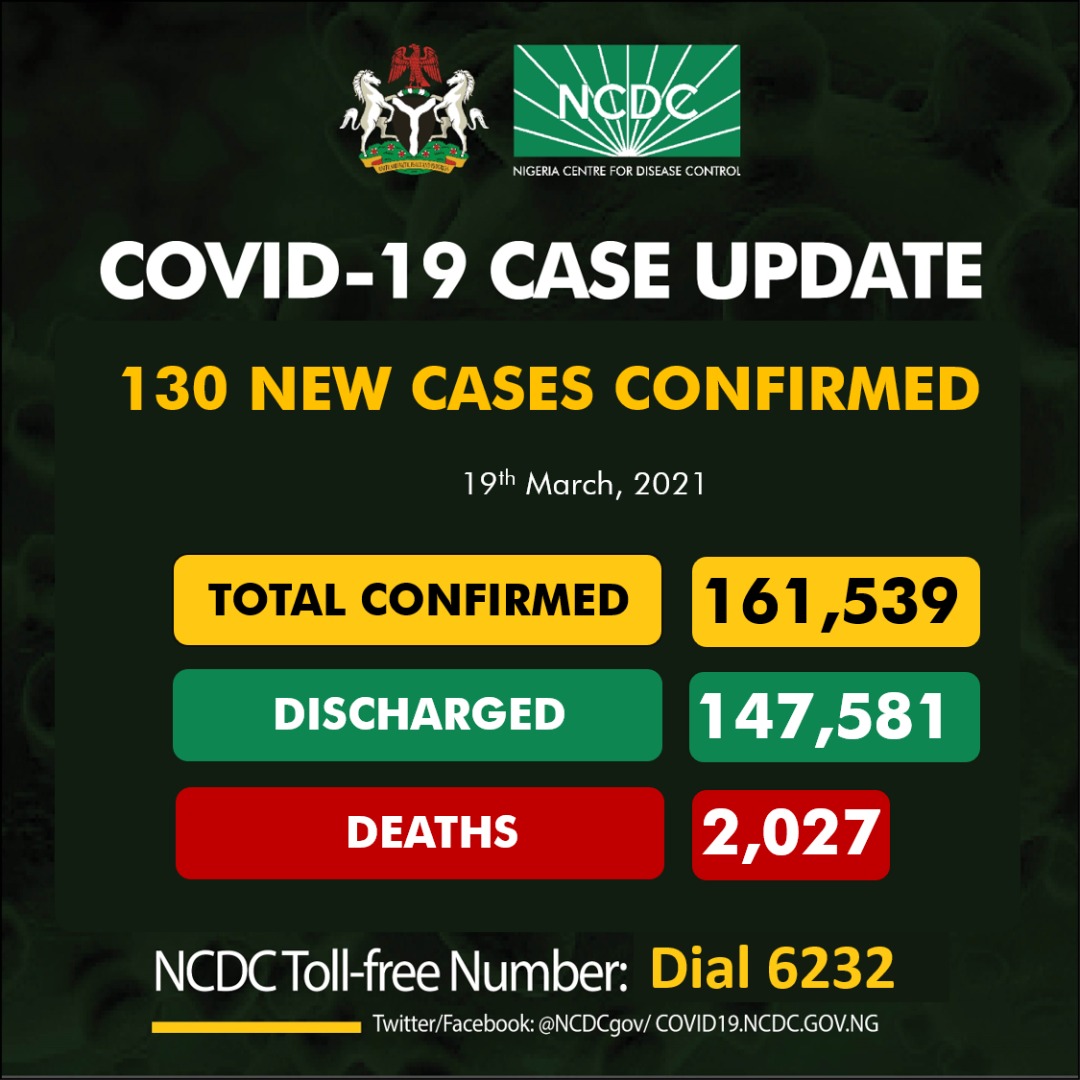 As of Friday, 19 March 2021, the total number of confirmed coronavirus infections in Nigeria was 161,539. 2,027 deaths have been reported while 147,581 patients have recovered and been discharged from isolation facilities across the country. This means that the number of active cases was 11,931.