Robert Noah is a chef and entrepreneur, popular for being the father of South African comedian and television host Trevor Noah. Robert's case is another one of popularity by association, and interest in him has increased over time.
Although there has not been that much information about Robert Noah in the media, we have spent loads of time digging around to compile as much data as possible on him. Interested in meeting Trevor Noah father? Here is the best resource on him you will find anywhere online..
To begin let's get started with ten of the most important facts about him in the next section.
10 facts about Robert Noah
Robert Noah is known as South African comedian Trevor Noah's biological father.

Although his last is not Noah, it is used because that is Trevor's last name.

Robert was a chef, and he started a couple of restaurants, including the first integrated one in apartheid South Africa.

At the time that Robert and Patricia Noah began their relationship, it was illegal for a White person to have intimate relations with someone of another color.

Robert Noah and Patricia Noah were never married because their relationship was illegal, and Trevor was an illegitimate child.

Despite the illegality of their relationship, Robert spent time with Trevor during his early years.

Trevor Noah lost contact with his father when he was 13 because his stepfather, Abel, stopped Patricia and Robert's correspondence.

Trevor reconnected with his father when he was 24 years old after trying multiple avenues to reach him.

Robert Noah is a native of Switzerland, but he also has some German ancestry in him.

According to his son, Trevor, Robert led a clean life, which likely means that he didn't abuse substances or drink excessively.
ALSO READ: Jacob Elordi Biography | Euphoria, Kissing Booth | Relationships.
Early life of Robert Noah
Robert Noah was allegedly born somewhere between 1935 and 1938, and he would be about 84 to 87 years old in 2022. He and his famous son, Trevor Noah, are not really close, so we don't know if he is alive today. It is likely that his last name was not 'Noah' because that's Trevor's maternal last name.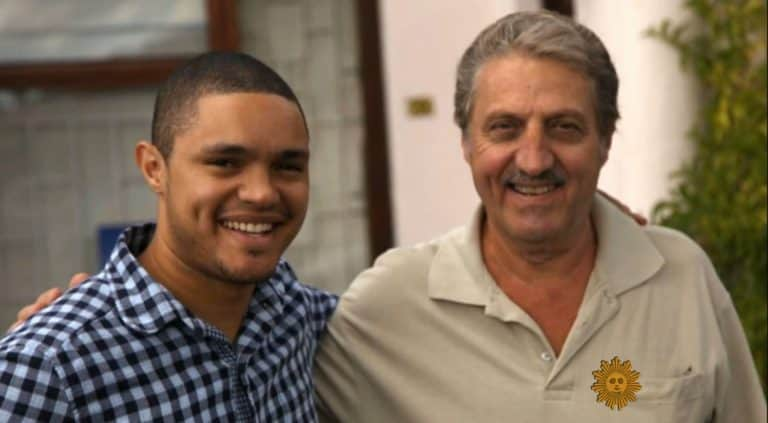 The comedian has only revealed snippets of what he knows about his father to the media. He has never gotten down to give one entire picture. In one NPR transcribed interview, he revealed that his biological father has Swiss-German ancestry.
Thus, it is likely that Robert Noah was born in either Switzerland or Germany; it is really hard to tell.
Career
A blog article claims that Robert started pursuing a career in hospitality during his adolescent years. In Europe, he started running his restaurant after working for some time as a chef.
Then, he moved to New York and continued his business. He was also briefly in Canada. His exploits eventually took him to South Africa, where he allegedly built the first integrated restaurant in Johannesburg.
Back in apartheid South Africa, Black and White people did not socialize or even go to the same establishments. So, an integrated one was a place where everyone could go, although it did not make it legal.
It was during this time that he met Trevor Noah's mother, and they began an illegal interracial relationship. In the next section, we will explore some of the details of this relationship.
Personal life
As hinted in the previous paragraph, Robert Noah moved to South Africa during the height of apartheid legislation. He met Patricia Nombuyiselo Noah, and they began an illegal relationship that lasted for some time.
Patricia took in, but she and Robert could not legalize their union, although it was not clear if they ever had the intention to do so. Also, as the title of Trevor Noah's autobiography says, he was born a crime.
However, a year after Trevor Noah was born, the Immorality Act was changed in 1985. The original law, introduced in 1957, prohibited extramarital intercourse between a white person and a non-white person in South Africa. The amendment removed the prohibition on marriage and intimate relationships between white people and people of other races.
While the official account of the comedian's early life points out that he was raised solely by his mother and his grandmother, Nomalizo Frances Noah, there are hints that his biological father may have contributed a bit to his upbringing.
A Short Form article claims that it was not until he turned 13 that Trevor Noah lost all connection to his father, Robert. The source blames the disconnection on the regular rebellion anyone would expect from a child whose parents were not living together. Also, it mentioned that it was hard for Robert to stay around because Patricia married someone else, and the new husband was uncomfortable with her staying in contact with an ex.
So, from the age of 13, Trevor Noah had not been able to get to his father for the next 11 years. How did he turn out?
Trevor Noah wiki bio
A lot of fans know almost all there is to know about Trevor Noah's career. He got his first taste of fame in 2002 when he was about 18 years old. Noah had played a small part in one episode of the South African soap opera Isidingo, which features mostly the isiXhosa language.
The comedian had schooled in a Roman Catholic school in Johannesburg and started to get more entertainment jobs after high school. Initially, he hosted a radio show known as Noah's Ark on Gauteng's leading youth radio station, YFM. He chose to go into comedy full-time instead, and it appears to have paid off.
To date (at least as of August 2022), Trevor Noah has hosted two Grammy Awards, in 2021 and 2022. He has also won an MTV Africa Music Award and a Primetime Emmy Award from eleven nominations. Many magazines, like Time and The Hollywood Reporter, have listed him as one of the most powerful and influential people in the world.
In addition to his impressive resume, he has been the Senior International Correspondent for The Daily Show since 2015.
Does Trevor Noah have a relationship with his father?
After he turned 24, Trevor Noah was already enjoying some level of professional success. Yet, he had not spoken to his biological father for 11 years, but his mother urged him to try and reach him again.
The comedian kept trying and meeting disappointments. If you are interested in knowing what attempts Trevor Noah made to find his father when he was 24 years old, read on.
Initially, he tried reconnecting by tracing old acquaintances of him and old friends. These methods failed to yield results. So, he tried through the Swiss embassy in South Africa. Finally, he wrote to him and re-introduced himself as his biological son.
Robert eventually replied to the letter and shared his home address, inviting Trevor to visit. They met and have been staying in touch ever since then.
Who was Trevor Noah's stepfather?
Trevor Noah's stepfather was a man named Abel who almost ruined his mom's life after breaking up his connection with his biological father. According to the comedian's complex family story, Abel was abusive and drank too much.
At one point, Abel, Trevor, and his mother, Patricia, had to share a tiny bed. Being uncomfortable with them, the young Trevor had to resort to sleeping in cars. In addition to the deplorable living conditions, Abel also beat him frequently.
Latest news on Trevor Noah father, Robert
Robert Noah, or simply Robert, appears to be a man that prefers the quiet sort of life. It has been established that Trevor Noah's father is White, which is why he is classified as Coloured instead of Black.
Since the comedian has not said otherwise, we have to believe that his father is still alive. When his grandmother passed away, he shared the news, so it is likely that he would not be hiding such details. However, if his father had another family, it may make sense for him not to share the news as he would feel it was not his place to do so.
In May 2022, Trevor Noah visited his father's home country, Switzerland. Although he shared details of his trip, he did mention meeting his father there. Instead, he had played in a charity tennis match named Match for Africa. He teamed up with Rafael Nadal and they lost the match to Roger Federer and Microsoft co-founder Bill Gates.
Conclusion
Robert has maintained a certain lifestyle that Trevor Noah once described as clean. While we don't know much about him, it says a lot about his character that he risked jail time during Trevor's early life by taking him to public parks and spending time with him. Although, they had the understanding that the young Trevor was not to call him dad outside.
Wherever he is, we hope he is doing okay and what won't we give to see him and his son in public now that such relationships are no longer illegal.
RELATED ARTICLES:
– Is Scarlett Johansson the most beautiful actress alive?
– Taylor Swift height: how tall is Taylor Swift?
– Rema, Ladipoe or Ayra Starr | RANKED: Biggest Mavin Records artists in 2022?
– Meet Black Sails Eleanor Guthrie actress, Hannah New | 10 facts on relationship, lesbian partner, net worth
– Meet the major cast of the Game of Thrones prequel, House of the Dragon.