Jacob Elordi is famous for his roles Noah Flynn in The Kissing Booth and Nate Jacobs in Euphoria, as well as his relationships. See details about him here.
You may not be a fan of romance movies or teenage drama, but one thing is certain, Jacob Elordi is very famous and even you may have come across his face or a film he starred in. Considering that he has been credited in just two major productions, and he is still 25, you may be wondering why he is so well known. Well, teenagers love him. His role as Noah Flynn in The Kissing Booth franchise and Nate Jacobs in the Euphoria series has earned him some cult worship.
Also, it has raised interest in his personal life, relationships, lifestyle, and more. It is not a bad thing to be curious. And in this article, you will learn several details about Mr. Elordi than you did some minutes ago.
Top 10 facts about Jacob Elordi
Jacob Elordi turned 25 on his birthday in 2022, and he was born in Brisbane, Queensland, Australia.
His father has Spanish heritage, emigrating from Basque Country at eight.
Jacob grew up with his three sisters and was schooled in Australia while pursuing an acting career.
His first acting part came when he was picked to play Cat in the Hat in a production of Seussical.
He was an uncredited extra in Pirates of the Caribbean: Dead Men Tell No Tales in 2017, but his professional was as Rooster in the comedy-drama film Swinging Safari.
He played the co-lead role of Noah Flynn in all three installments of The Kissing Booth film franchise.
In 2019, Jacob started playing the role of Nate Jacobs in the HBO teen drama television series Euphoria. The series is the second most watched show in HBO history, behind Game of Thrones.
He allegedly dated his two co-stars, Joey king from The Kissing Booth and Zendaya from Euphoria, briefly.
In addition to being involved with his co-stars, Jacob Elordi was also linked to model Kaia Gerber all through 2021 and was rumored to be dating social media influencer and YouTuber Olivia Jade Giannulli in 2022.
He is estimated to be worth three million dollars and has modeled for brands like Calvin Klein and Boss.
ALSO READ: Color of Night and The Lover actress, Jane March Biography.
Early life of Jacob Elordi
Born on June 26, 1997, Jacob Elordi turned 25 on his birthday in 2022. He is an Australian by birth and spent his early childhood in Brisbane, Queensland. He has some Spanish heritage, thanks to his father, John Elordi, who emigrated from the Basque Country at eight with his family. Not much is known about his mother, Melissa.
Jacob was a student of the Catholic secondary schools of St. Kevin's College, Melbourne, before he enrolled at St Joseph's College, Nudgee in Brisbane, to further his education. He grew up with three older sisters, which likely explains how he learned to clean up so well.
Sources close to him claim that he took an interest in acting very early in life and is a fan of old-school actors. For example, he posts about James Dean, the 1950s star of Rebel Without a Cause, East of Eden, and Giant. He also loves American legend Marlon Brando of the 1953's Julius Caesar and 1972's The Godfather.
Career
Ultimately, his love for acting led him to play performances, and one of his first parts was playing Cat in the Hat in a production of Seussical. After that, he started to get his foot in the door of the film industry and eventually landed an uncredited part as an extra in Johnny Depp's Pirates of the Caribbean: Dead Men Tell No Tales in 2017.
Then, in 2018, Jacob Elordi got a role as Rooster in the comedy-drama film Swinging Safari. He got to act alongside other Australian stars like Guy Pearce, Kylie Minogue, Radha Mitchell, Julian McMahon, Asher Keddie, and Jeremy Sims.
The Kissing Booth (Noah Flynn)
Following this, he was picked to play the co-lead in the first installment of The Kissing Booth movie. Jacob played the character of a high school senior and bad boy Noah Flynn. The movie was a success because of its viewing audience on Netflix, and the rest of the trilogy was greenlit.
Jacob Elordi got to reprise his role in the subsequent releases, further cementing his position as a teenage boy crush actor. The sequel, The Kissing Booth 2, was filmed in mid-2019 in Cape Town and was released on July 20, while its third film, The Kissing Booth 3, was released on Netflix on August 11, 2021.
Amidst shooting the romance movie franchises, Jacob got another role in 2019, where he played Jake in the American anthology horror film, The Mortuary Collection. The film also starred Clancy Brown, Caitlin Custer, Christine Kilmer, Barak Hardley, Sarah Hay, and Mike C. Nelson.
Euphoria (Nate Jacobs)
Still, in 2019, the actor started playing the role of Nate Jacobs in the HBO teen drama television series Euphoria. His character in the series is a high school athlete whose anger issues mask his intimacy insecurities. Jacob Elordi is one of the series' main characters, and the series is the second most watched show in HBO history, behind Game of Thrones. Its success has further pushed the actors, including Jacob, into the limelight.
In addition to the roles mentioned earlier, the actor was Lucas Jackson in the unsuccessful TV show The Bend, and he also played Chris in the 2020 romantic drama film 2 Hearts. In 2020, he was cast as Chase Hogan in the Australian comedy film The Very Excellent Mr. Dundee, and in 2022, he played Charlie De Lisle in the psychological thriller film Deep Water, alongside Ben Affleck and Ana de Armas.
As much as his career is fascinating, his personal life is also quite interesting. Let's begin with his relationships.
Personal life (who is Jacob Elordi dating in 2022?)
Jacob Elordi with Joey King
While filming The Kissing Booth in 2017, Joey King and Jacob Elordi fell for each other. So, while they were 'acting' on screen, they were the real deal in private as well. However, their relationship did not last the duration of the film's franchise. Their split was amicable as it seemed like they were not really that much into it.
Jacob Elordi with Zendaya
While fans were still nursing the heartache that their split caused, it was rumored that he was dating Zendaya in 2019. They had met while filming the Euphoria series. However, they never confirmed their relationship because Jacob is super careful of what he says about his colleagues of the opposite sex. Also, Zendaya never comments on rumors. Reports claim they broke up later in 2020, with Zendaya and her Spider-Man film series co-star Tom Holland starting something serious.
Jacob Elordi with Kaia Gerber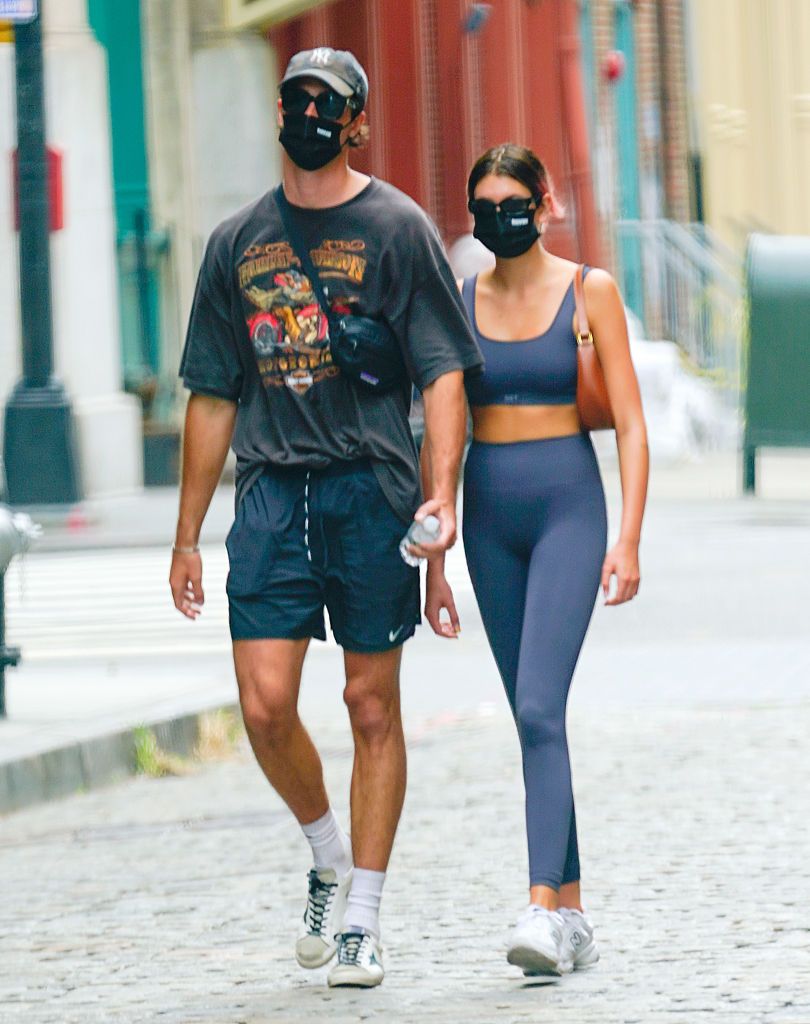 After his reported relationship with Zendaya ended, Jacob Elordi was said to be involved with model Kaia Gerber, daughter of modeling legends Cindy Crawford and Rande Gerber. While they didn't confirm their relationship, they were spotted in New York City sharing intimate moments in public. At the time, Jacob and Kaia were working with Calvin Klein. Sources close to them said their relationship looked preordained, and they had so much in common.
Jacob Elordi with Olivia Jade Giannulli
In May 2022, several media sources confirmed that Elordi had broken up with his model girlfriend. They had allegedly dated until the end of 2021 before he moved on to social media influencer and YouTuber Olivia Jade Giannulli. Their friends claim that they were both taking things slow because they just recently got out of relationships.
While we await updates on his relationship life, let's look at other aspects of his personal life.
Social media
Jacob Elordi is a big deal online, although he rarely posts on his social media account. On Instagram, he has more than 13 million followers, and he doesn't use TikTok and Twitter, at least not under any name we could find.
Jacob Elordi net worth
Regarding how much he is worth, there are rumors that he has made a whopping three million dollars in the four years he has been in the acting business. Also, you have to note that he earns from other ventures such as modeling, which he has done for brands like Calvin Klein and Boss. He has also appeared on the cover of magazines like GQ Australia, Man About Town UK, VMan, Wonderland, GQ (The Hype Issue), and Esquire.
Jacob has managed to set up a life for himself in America with his earnings. Although, he frequents his home country, Australia, as well. Hopefully, we will see more of him in the coming months.
Conclusion
Jacob Elordi still has a long way to go but we hope that he successfully outgrows the high school bad boy persona that he has come to be known for. He has the looks and talent to go far in the industry and it is just a matter of time before he starts to appear in more productions.
RELATED ARTICLES:
– 15 Celebrities who own private islands
– Color of Night and The Lover actress, Jane March Biography
– Top 13 best dressed female musicians of 2022
– 17 most beautiful female footballers of 2022
– Top 10 Celebrity Power Couples 2022 | The Carters, The Obamas, And Others.