Jane March rose to fame in the 90s as a romance and erotic actress with her famous films including The Lover and Color of Night.
Jane March is an English actress and former model who began her career in the entertainment industry back in the early 90s. Those who know her likely do so for her lead roles in intimate, romantic movies. Although she has not appeared in many movies recently, there is still significant interest these days in her.
It is not every day that an actress stars in a movie that is considered to contain the best intimate scene in film history. So, it is understandable that every now and then, her fame resurfaces. Let's take a deep dive into her life.
10 quick facts about Jane March
Jane March was born in London in 1973, making her about 49 years old in 2022.
She grew up with her parents and a brother in London, and none of them had anything to do with the entertainment industry.
March herself got into the show business through the traditional method as a model.
Her cover shoot for Just Seventeen on her 17th birthday caught the attention of French director Jean-Jacques Annaud's wife, and she likely introduced the young actress to him.
Jean-Jacques Annaud chose her to play the female lead in the 1992 film The Lover.
In 1994, she got her biggest role when she played Rose in the 1994 erotic thriller Color of Night with Bruce Willis.
She has also starred as Jane Porter in Tarzan and the Lost City, as Sook-Hee in the film Provocateur, and others.
Jane played Suzanne in an episode of Relic Hunter and Lidia in the 2000 TV film Dark Prince: The True Story of Dracula.
Her first marriage was to co-producer of Color of Night, Carmine Zozzora, and he cost her some acting jobs by demanding to produce any movie she starred in. They divorced in 2001 after being married for eight years.
The actress later married Steven Waddington and welcomed a child with him.
ALSO READ: Dreka Gates, Kevin Gates wife Bio – affair, split, net worth, tattoos, children.
Early life
She grew up in London with her parents, but unlike many who enter the entertainment industry early in life, March's parents have nothing to do with the field. Her father, Bernard Horwood, was a design and technology secondary school teacher of English and Spanish ancestry. Her mother, Jean, a newsagent, is Vietnamese and Chinese.
The actress also has a brother who makes a living as a landscape designer. These background details further prove that she merely dropped into show biz. Here is how:
At age 14, whilst still attending Nower Hill High School in Pinner, north London, March won a local "Become a Model" contest. She signed with Storm Model Management and began working as a print model using her middle name March, which was also her birth month.
What ethnicity is Jane March?
Although she is a British national, Jane March has Vietnamese and Chinese heritage from her mother side, which makes her partly Asian. It is no wonder that half of her career has seen her play an Asian character several times.
Jane March Career
Modeling
Shortly after taking the General Certificate of Secondary Education exams, Jane March moved to an apartment in Wimbledon with friends and continued to model before a call to audition in Paris on her 17th birthday following a cover shoot of Just Seventeen, which had attracted the attention of French director Jean-Jacques Annaud's wife.
Acting (What movies has Jane March been in?)
Then, she got her first major movie part in the 1992 romantic drama film The Lover, directed by Jean-Jacques Annaud. Based on the semi-autobiographical 1984 novel of the same name by Marguerite Duras, the film details the illicit affair between a teenage French girl and a wealthy Chinese man in 1929 French Indochina. The protagonist is portrayed by actress Jane March, and her lover is portrayed by actor Tony Leung Ka-Fai. The film also features Jeanne Moreau as a narrator. It was a box office success in France and received generally positive reviews in Europe, while reviews from American critics were more mixed. The film was nominated for seven César Awards in France, winning the Award for Best Original Music.
How old was Jane March in The Lover? Jane March was 19 years old in The Lover. 
Following her outing in the 1992 movie, Jane March got another job. This time, she co-starred with Bruce Willis in the 1994 erotic thriller Color of Night, directed by Richard Rush. The cast also features Ruben Blades, Lesley Ann Warren, Brad Dourif, Lance Henriksen, Kevin J. O'Connor, and Scott Bakula.
Color of Night flopped at the box office and won a Golden Raspberry Award as the worst film of 1994. The film opened at number 4 at the US box office, grossing $6,610,488 on its opening weekend, playing at a total of 1,740 theaters. The film grossed only $19,750,470 in the United States and Canada but grossed $27 million internationally for a worldwide total of $46.7 million compared to its $40 million production budget.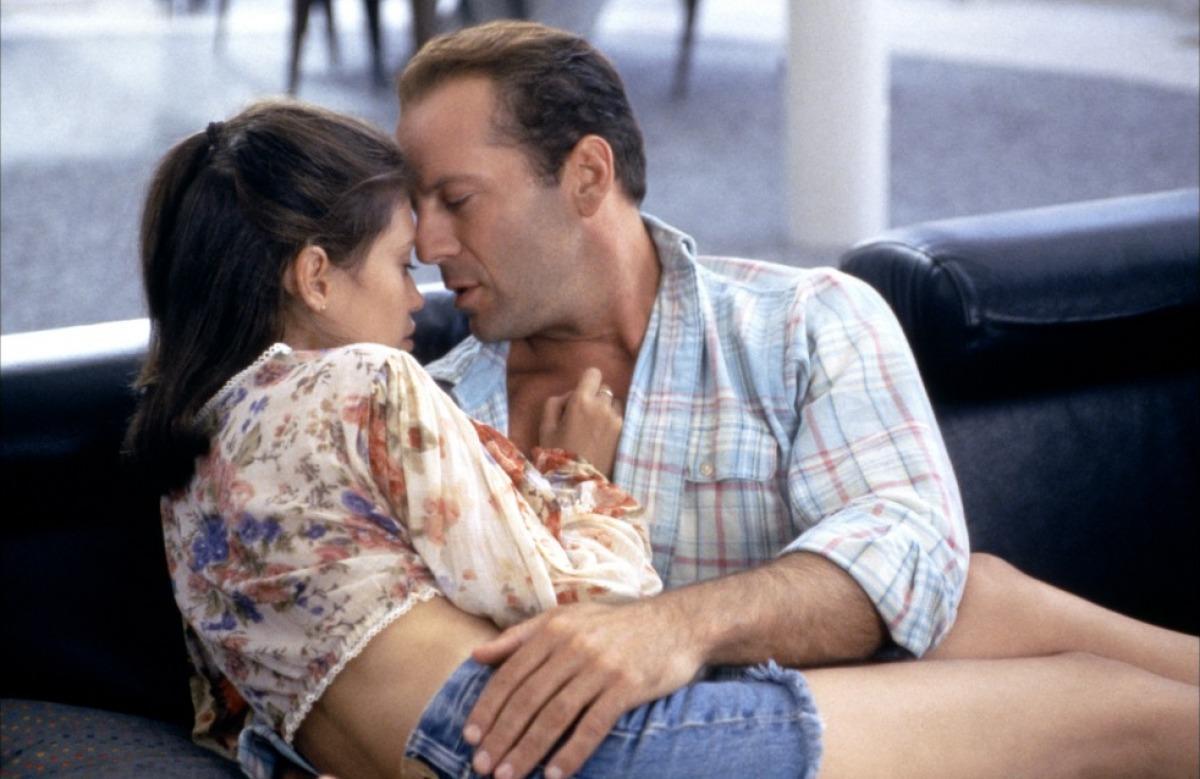 It later, however, became one of the 20 most-rented films in the United States home video market in 1995. Maxim magazine also singled the film out as having the best intimate scene in film history. In 2018, Kino Lorber (under license from Disney) released a special edition Blu-ray of the film; it contains an audio commentary by director Richard Rush.
In 1998, she played the role of Jane Porter in Tarzan and the Lost City alongside Casper Van Dien and Steven Waddington. The film received largely negative reviews and was a box office bomb. She also starred as Sook-Hee in the film Provocateur, which is about a North Korean agent who ingratiates herself into the household of Colonel Greg Finn (Stephen Mendel), stationed in South Korea, to access military secrets.
Her other film credits include as Freya in the 2005 movie Beauty and the Beast, Leda in The Stone Merchant released in 2006, and Olive in the 2009 British dark comedy My Last Five Girlfriends. The following year, she played a small part as Hestia in the action fantasy film Clash of the Titans. Additionally, she starred as Queen Gwendolyn in the 2012 fantasy movie Grimm's Snow White and as Serena in Jack the Giant Killer.
Meanwhile, in the TV space, Jane played Suzanne in an episode of Relic Hunter. Then, she was Lidia in the 2000 TV film Dark Prince: The True Story of Dracula. More recently, she played Lana in the 2013 TV film The Sweeter Side of Life.
Jane March Personal life
First marriage to Carmine Zozzora
Clearly, Jane March has not had much success in the entertainment industry. However, her career is not a total flop as well. As for her personal life, she tries to live under the radar as much as possible.
Her first marriage was to co-producer of Color of Night, Carmine Zozzora. They began dating while the film was in production and got married in 1993, with Bruce Willis serving as the best man and Demi Moore being the maid of honor. Zozzora was known for producing movies like Die Hard (1988), Hudson Hawk (1991) and Striking Distance (1993). Their marriage affected March's career as Carmine started to demand that studios hire him as a producer in any film that she would star in. Many studios rejected the terms and would pull their job offer to the actress.
Second marriage to Steven Waddington
They separated four years after their marriage and got divorced in 2001. Then, she married Steven Waddington, and they met on the set of Tarzan and the Lost City. Together, the couple has one child.
There has not been much information about Jane March recently. As mentioned already, the actress has chosen to step away from the limelight. However, at 49, she has definitely not retired, and we expect something new from her soon.
Did Jane March retire?
We are not sure as the actress has given no official word on her retirement. So, don't be surprised if she resurfaces in another role and ignite her career once again. She is just 49, there is so much that she can still do if she wants to and is able to.
Where is Jane March now?
There is no recent news on Jane March and the actress has really been lowkey, living off the radar. Anywhere se is, we hope that she is enjoying her life to the fullest.
RELATED ARTICLES:
– Vladislav Doronin Billionaire CEO OKO Group Biography And Fun Facts
– Tiffany Haddish Relationship Timeline | Why can't the comedian keep a man?
– Rise of Musical Biopics and Why We Can't Stop Watching
– Top 13 best dressed female musicians of 2022
– Best 10 young Black actresses under 25 to watch in 2022.