Wizkid has established himself as the undisputed Afrobeats superstar, and his exploits are not limited to his home country, Nigeria. In fact, there is an argument to be made for international collaborations being the springboard for his incredible career. However, it would be unfair to say that Wizkid international collaborations are one-sided. Several of the songs on this list would have been 'ordinary tracks' if Big Wiz had not graced it.
Here, we trace his career with 20 of his best international collaborations. These songs were handpicked and arranged in order of dates, so don't feel slighted if your favorite didn't make this list.
Top 20 Wizkid international collaborations
#1 – R2bees "Slow Down" ft. Wizkid (2013)
It's absolutely crazy that when this song was dropped in April 2013, Wizkid was referred to as the 'rave of the moment.' This is nine years later, and he is still the rave! The collabo was squeezed between his debut album Superstar (2011) and sophomore project Ayo (2013). He had just finished his 2012 London tour, and just to understand how good "Slow Down" was, it came just a month before Big Wiz dropped "Jaiye Jaiye," which is now considered his second-best song after "Ojuelegba." It is a wonder that the single was not swallowed up.
#2 – Wizkid "Roll It (Remix)" ft. Akon & Banky W (2014)
Understandably, this came during the unforgettable era of Akon-Nigerian-artists romance, yet it stands out because of how the two singers mixed their sounds. It is difficult to tell who was letting who shine here but after more frequent listens, Wizkid dominates the track. "Roll It (Remix)" is significant because it marked the end of his tutelage under his mentor Banky W and the beginning of his astronomical ascension.
#3 – Emtee "Roll Up (Re-Up)" ft. Wizkid & AKA (2015)
By this time, Ayo Balogun (Wizkid's real name) was finally striking out on his own and trying to expand. Already, he was a mainstream name across Africa, especially in the West and Nigeria's neighboring countries. However, in South Africa, the game was rigged in favor of rappers and the unique sound that would later be christened Amanpiano. Thus, it only made sense for Wizkid to jump on a track with Emtee, who was still trying to establish himself, and AKA, who was already a superstar. Besides the background info, "Roll Up (Re-Up)," which is a remix, is the song to listen to. It showcases three artists trying to outdo one another, and the flow just puts you right in the mood.
#4 – Major Lazer "Boom" ft. Ty Dolla $ign, Wizkid, & Kranium (2015)
Major Lazer, a trio made up of record producer Diplo, and DJs Walshy Fire and Ape Drums, brought so many party anthems that this track could be lost in the sea of club bangers. Yet, Nigeria's biggest superstar must mean something, right? "Boom" was more focused on the featured artists, and Big Wiz impressively made himself heard amongst the rapping of Ty Dolla $ign and the entrancing vibe that Kranium brings.
#5 – DJ Maphorisa "Soweto Baby" ft. Wizkid & Dj Buckz (2016)
Returning to South Africa, amid the integration of Afrobeats with other African sounds, Wizkid partnered with DJ Maphorisa and DJ Buckz. No story does justice to the power that this song has to move your hips and feet. Wizkid had mastered the art of blending his sonorous voice with whatever rhythm he was handed. If his freestyle were making him respected, "Soweto Baby" sounds like the best freestyle ever.
#6 – Drake "One Dance" ft. Wizkid & Kyla (2016)
Likely, when the discussion is Wizkid international collaborations, your first thought is this single. And that is understandable. It remains the most successful collaboration that the Afrobeats singer has had to date. "One Dance" reached number one in 15 countries and became Drake's first song to do such numbers. It is impressive when you consider that it was around the same time that Rihanna dropped "Work." It earned Wizkid his first Guinness World Record Book mention and is one of the best-selling singles of all time.
#7 – Tinie Tempah "Mamacita" ft. Wizkid (2016)
Coming off sizzling hot from the Drake feature just mentioned above, Wizkid somehow still brought his best to Tinie Tempah's "Mamacita." If you ask any music critic, they will likely name 2016 as the year that all doubts about Balogun's prowess dropped off. It was clear that he was 'no one's mate.' The sheer fact that this song even got any playtime is impressive, if you are in doubt, check this list of the best songs of 2016 and just see the songs on the list to understand what the competition was like.
#8 – Justine Skye "U Don't Know" ft. Wizkid (2016)
In-between the craziness of "Mamacita" and "One Dance," he tried to expand his portfolio with a partnership with Justine Skye. However, the song did not take off but it is important that it makes this list to show that not all of Wizkid international collaborations were hits. In fact, relentlessly (or was it a contract he had to see through?), Big Wiz went all in with Zara Larsson next.
#9 – Zara Larsson "Sundown" ft. Wizkid (2017)
Another of the few misses on this list is "Sundown" in which Zara Larsson made accommodation for Big Wiz by not characteristically using her full range vocals. Yet, this is not a bad song in itself, in fact, I have listened to this song a few times and its failure is down to marketing. It came out the same month that Drake and Wizkid came back to make another monster hit. If Larsson had been counting on Wiz's fame to sell her song, "Come Closer" swallowed it up entirely.
#10 – Wizkid "Come Closer" ft. Drake (2017)
No other duo, so distinctly different in their artistry, can replicate what Wizkid and Drake did in the same period. In fact, Wizkid said that "Come Closer" was recorded immediately after "One Dance." They had also made a remix of "Ojuelebga" together, but that didn't withstand the test of time. While "One Dance" was the third single from his Sound from the Other Side album, it quickly became the lead single. The song was voted Song of the Year at the All Africa Music Awards and got a nomination at the 2017 Soul Train Awards.
#11 – Kranium "Can't Believe" ft. Ty Dolla $ign & Wizkid (2017)
"Can't Believe" quickly became an earworm thanks to its hooks and, of course, Wizkid's verse. Released just before his SFTOS album, the Kranium-owned jam enjoyed social media prominence with several dance videos from music lovers and content creators. Once again, Nigeria's Starboy was shining brightly.
#12 – Wizkid "African Bad Gyal" ft. Chris Brown (2017)
To coincide with the announcement of his third album, Wizkid officially released his single with American pop star, Chris Brown, titled "African Bad Gyal." The song may have sounded quite old to core fans of the singer because he and Brown (now known as Breezy) had performed it during the latter's 2015 tour. Clinging to Brown's fame, Big Wiz tied the preorder announcement to the single's release.
#13 – Skepta "Energy (Stay Far Away)" ft. Wizkid (2018)
Somehow, Wizkid has found himself on some of the biggest international songs every year since the 2010s. This time, his collaboration with Skepta produced something magical. The single has remained one of the most chill songs in Nigeria, and it is not unusual to find heads bobbling when you play "Energy (Stay Far Away)." Even on the international scene, the song enjoys some sort of veneration.
#14 – Normani X Calvin Harris "Checklist" ft. Wizkid (2018)
Of all the songs on this list, this is the one that seems to be the most underrated. Although it peaked at number one on the Billboard World Digital Song Sales chart, it still deserves so much more. Calvin Harris' perfect mix and instrumentals were just the perfect fuel for Normani and Wizkid to set things ablaze, and they did just that. With their vocals exchanging hands like batons in a relay race, you sometimes forget who is singing what. You need to give this song another listen to understand why it is underrated.
#15 – Metro Boomin "Borrowed Love" ft. Swae Lee & Wizkid (2018)
It took just five years from the 2013 R2bees feature, but by the concluding part of 2018, Big Wiz was already comfortable with international features. In "Borrowed Love," he is so self-assured, that it sounds like he is not overly exerting himself. It is the same Wizkid that we heard in SFTOS; laid back and confident.
#16 – Beyonce "Brown Skin Girl" ft. Wizkid, Saint JHN, & Blue IVY (2019)
Amidst working on what will be his most successful album yet, Wizkid international collaborations journey led him to a Beyonce feature. While it is impossible to dominate Queen Bey on a track, Wizkid's verse holds its own and is quite memorable. This collabo earned him his first Grammy Awards and several other international recognitions, including an NAACP Image Award and a BET Awards, among others.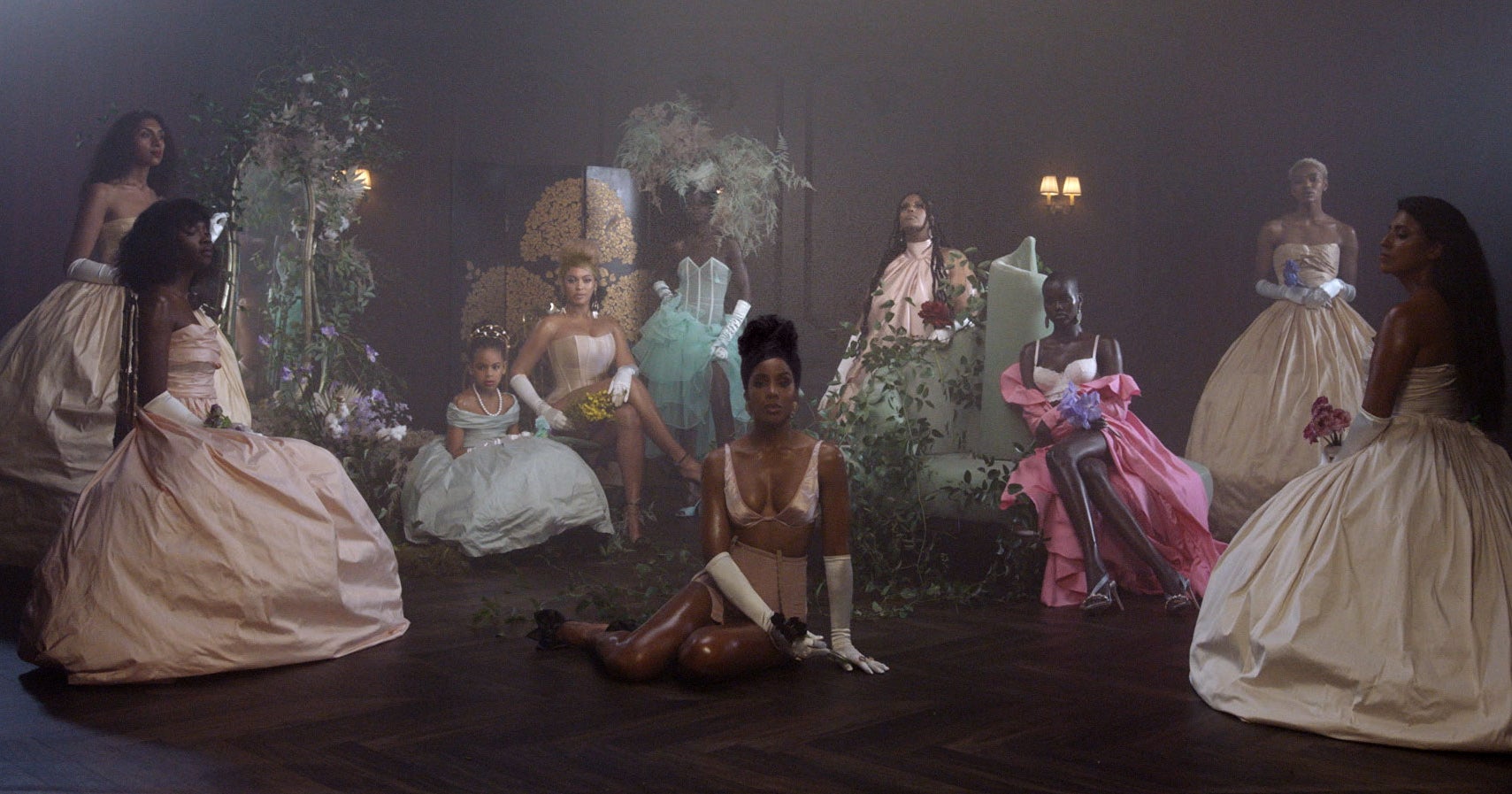 #17 – Wizkid "Smile" ft. H.E.R (2020)
It is important to remember that while chasing his career, Big Wiz was also running a record label with several artists looking up to him. This led to the release of the Starboy Entertainment EP Soundman Vol. 1. Then, he released the first single from his Made In Lagos (MIL) album, titled "Smile." His American colleague from RCA Records, H.E.R, was on the single, and it quickly caught on. The album itself brought on more features.
#18 – Wizkid "Blessed" ft. Darmian Marley (2020)
"Blessed" is one of the tracks that MIL brought, and it is one song that deserves to be re-released as a single. However, the artist seems to know better. While other songs are getting more publicity, Darmian Marley's input on this track breathed something more into the album, and it goes a long way in showing that Wizkid does know how to pick his collaborators.
#19 – Wizkid "Essence (Remix)" ft. Tems & Justin Bieber (2021)
Following the far reach of the original version, Justin Bieber was invited to lend his vocals to a remix of "Essence," and he did justice to it. The remix became the highest-charting single on the Billboard Hot 100 by an African singer, peaking at number eleven. It was added to Made In Lagos (Deluxe), and the album became one that truly promotes both the Nigerian spirit and globalization.
#20 – Chris Brown "Call Me Every Day" ft. Wizkid (2022)
Currently, "Call Me Every Day" is the latest example of Wizkid working with international acts. With Chris Brown's pop sounds and the now global Afrobeats thumping, this is the song of the moment.
This chronological list of Wizkid international collaborations shows his smart work and how he has been able to adapt to ensure his sound is not limited to his home country.
RELATED ARTICLE:
– Top 5 Highest Paying Jobs In The World
– 7 Celebrities who have been under conservatorship like Britney Spears
– 17 Best Black TV Series To Start Watching in 2022
– 15 Most Expensive African Cities To Live In 2022.