See Dua Lipa dating timeline as news of her and Trevor Noah being in a relationship sparks interest into all her past boyfriends; both confirmed and unconfirmed.
Singer Dua Lipa and comedian and TV host Trevor Noah sparked dating rumors after they were spotted kissing. The pictures, which leaked on Thursday, appear to have been taken on Wednesday night.
— v (@ViralMaterialz) September 29, 2022
According to a report by Daily Mail, the suspected couple had a dinner at Miss Lily's, a Jamaican restaurant in the East Village. They emerged together and then shared a moment of intimacy. One onlooker told the media outfit:
"They were quietly sat away from everyone else at restaurant. It was clear they were into each other and sat close together throughout the meal. They left together and walked, stopping for long embraces and on the second kiss with hugs."
The Dua Lipa dating rumors came out shortly before reports that Trevor Noah was leaving The Daily Show, a TV program he had hosted for seven years.
Despite the gossip mill turning, neither have confirmed the news that they are dating. Noah had been dating Minka Kelly, an actress who had appeared in had featured in the drama series Friday Night Lights, Parenthood, Charlie's Angels, Almost Human, and Titans.
Dua Lipa dating history
Isaac Carew (2013 – 2019)
Dua Lipa dated former model Isaac Carew from 2013 to 2017. They briefly split in 2017 but reconciled in January 2018 and were spotted together again. However, in 2019, they decided to call the relationship quits and move on.
Carew was Lipa's first official relationship during her rise to stardom and sources claimed that her busy schedule made it hard for them to eventually hold on to the love they once had.
Paul Klein (2017)
During her brief split from Isaac Carew, Lipa was involved with musician Paul Klein of the rock band LANY. They had met after performing at the same event together and their romance took shape. The couple had not held back with the details of their relationship, posting pictures of themselves in cozy poses as much as possible. They spent about two holidays together but somehow, Carew won her heart back.
Jake Whitehall (2018)
In 2018, there were rumors that Dua Lipa and comedian Jake Whitehall were dating. The rumor started after he was spotted kissing her at an after-party of the Brits award. Friends of the comedian confirmed that he had always liked the "New Rules" singer but up to that time, they had only come across each other due to work. However, after the event, there is no confirmation that anything came out of it.
Chris Martin (2019)
In 2019, there were rumors that Coldplay member Chris Martin was in a relationship with Dua Lipa. The rumor began after the pair were spotted kissing in the backstage area of the festival at Glastonbury, according to Capital FM. However, as the stories began gaining popularity, Martin's rep stepped in to quell the fires and insisted that they were just friends.
"Contrary to reports in some press today, we would like to confirm that Chris and Dua did not kiss at Glastonbury and are just friends. They were both in the same area of the festival with a larger group of friends," the rep had said.
The clarification was important because Martin was in a relationship with Fifty Shades of Grey actress Dakota Johnson at the time.
Anwar Hadid (2019 – 2021)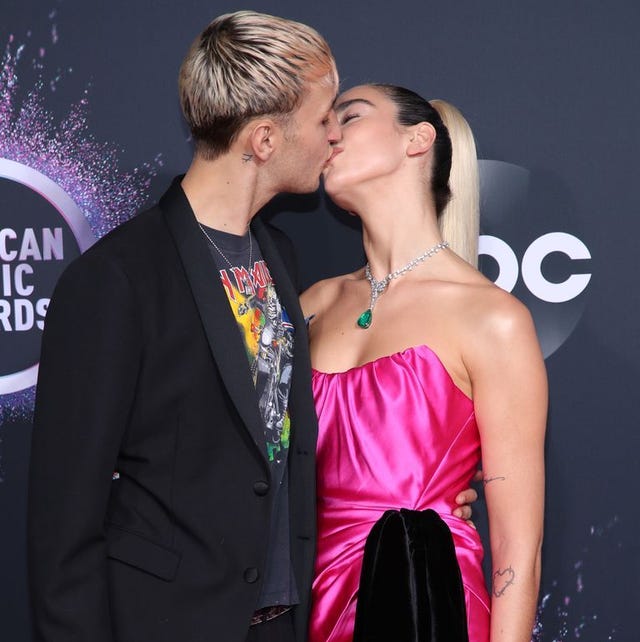 After many rumors about Dua Lipa dating life and finally cutting ties with Carew, she and Anwar Hadid started dating in 2019. They had met through Gigi, Anwar's sister, who was a close friend of Dua Lipa. Then, she was spotted in the model's birthday video on Instagram.
Together, they attended several events and were spotted embracing and kissing at the 2019 British Summer Time Hyde Park music festival in London. Later that year, they were reportedly living together and Dua Lipa attended the burial of Anwar Hadid's grandmother, along with other members of the Hadid clan.
In July 2020, they celebrated their one year dating anniversary. Later, they adopted a puppy together and Anwar appeared in Lipa's "Levitating" (featuring Madonna and Missy Elliott) [The Blessed Madonna Remix] music video. However, after they celebrated Valentine together in 2021, it appears that their relationship began experiencing difficulty. A source close to them, revealed in December 2021 that Dua Lipa and Anwar Hadid were breaking up, after trying to fix their relationship several times and failing.
LATEST ARTICLES:
– Dustin Milligan Bio | Alan J. Corbett in Supernatural actor
– Henry Thomas Bio | Elliott in ET Extra-Terrestrial actor
– All You Need To Know About Laceless Shoes!
– Yaya DaCosta Bio | 10 facts about Chicago Med actress and ex-ANTM model
– Rihanna Super Bowl Halftime Show 2023 & Most Watched Super Bowl Halftime Shows Ever.