Elizabeth Huberdeau is known for being John Cena former wife. She is an American lady from West Newbury, Massachusetts, born on 28 September 1979. Also known as Liz Cena, she used to be married to the famous WWE wrestler and actor. The couple's beautiful love story began from their high school days, but sadly, their marriage lasted only three years.
She has been in the news mostly for her marriage and divorce. The primary reason behind their divorce was John Cena's infidelity. However, a couple of other factors, too, were responsible, although they did not get much media attention.
Elizabeth's popularity is completely based on her relationship with Cena. Other than that, she leads a quiet life like everyone else and would not have been of much public interest, one of those cases of fame by association. Just as they got separated, she became less and less of interest to the public. As the years piled, she has almost completely become "dead" to the public eye.
Of course, some remain curious about Elizabeth and wish to know where she is now and what her life has been like after John Cena. Because of such people, we have gone all out to put together an article about her. Please keep reading to learn more about Elizabeth's life and what she has been up to lately. To kick things off, here are ten facts about her.
10 interesting Elizabeth Huberdeau facts
Liz and John Cena were high school sweethearts, but since Cena hardly ever talked about their relationship, it is unclear what high school it was. This is because Cena is known to have attended two different high schools in his days.

Her wedding with Cena was announced in the strangest way; the wrestler offhandedly mentioned it while promoting his 2009 film, "12 Rounds", saying, 

"I'm gonna get married this year." 

Liz married John Cena on 11 July 2009, and three years later, in May 2012, he filed for divorce, and it was finalised in July of that year.

As reported by TMZ, Huberdeau was blindsided when Cena "unexpectedly filed to end their 3-year marriage."

Liz seems to be with a new partner, Eli Ayoub. Photos of them have been seen on the internet, and they look happy together.

Elizabeth's ex-husband John Cena started dating WWE colleague Nikki Bella just a few months after their divorce. They were together for six years before parting ways too.

Though not much is known about her life after the John Cena phase, many sources report Elizabeth is into real estate.

It is usually asked if Liz and Cena had children. The answer is no! The couple didn't procreate throughout their long relationship.

Liz's divorce from the wrestler was worked into his WWE storyline, with him claiming that it was the reason for his loss to The Rock at Wrestlemania that year.

Elizabeth Huberdeau's current net worth is estimated to be $10 million. This is believed to be largely resultant of the divorce settlement she received from her ex-husband.
Related article: Olivia Munn is pregnant! John Mulaney says he is going to be a dad.
Early life and education
Liz was born in West Newbury, Massachusetts. As already established, she is only famous because of her involvement with John Cena, and as a result of this, there is not much known about her background or family. She attended high school in her hometown, and since she and her future husband met in high school, she must have attended either Central Catholic High School in Lawrence or the Cushing Academy in Ashburnham, as those were the two schools John Cena attended in his days.
Elizabeth had her tertiary education at Springfield College in preparation for a career in real estate. However, her first and biggest dream was to become a model. Before getting married, she had a few modelling projects, but she didn't receive much recognition.
As John Cena wife
It is fascinating how despite having been together since high school, Liz was never mentioned or known to the public till Cena announced their engagement in 2009. John subtly hinted of his imminent wedding to her during the promotion of his 2009 film, "12 Rounds". "I'm gonna get married this year," the pro wrestler said casually, and it became a big news item. Fans and the general public started scurrying around for information about who the lady was.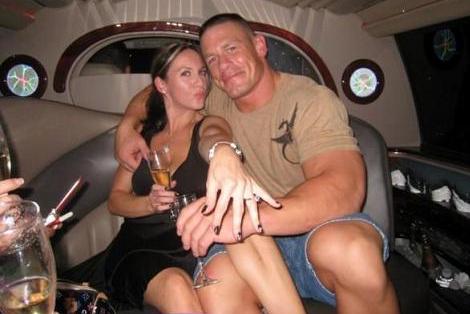 On 11 July 2009, they exchanged vows in Boston, Massachusetts, at a private wedding ceremony. She gave up her modelling dreams and supported John in his wrestling and acting career.
Divorce from John Cena
In May 2012, three years after getting married, John Cena initiated procedures for divorce. When asked about the reasons for the separation, he revealed that they were no longer getting along well. There was unending strife, and the atmosphere in the house was tense. Other sources add that a disagreement about some redecorating options was the last nail in the coffin.
Later, rumours about John's infidelity surfaced. It is believed that the WWE superstar was seeing someone else while still married to Liz. In fact, many suggest the extramarital affair is part of why John wanted a divorce. While it is unclear if these rumours are true or who the lady in question is, it is noteworthy that John's relationship with WWE colleague Nikki Bella was made public just a few months after the divorce.
The legal procedure was done swiftly, and Liz ended up with a settlement that considerably boosted her net worth.
John Cena
Born 23 April 1977, John Felix Anthony Cena is an American professional wrestler, actor, television presenter, and former rapper currently signed to WWE. Widely regarded as one of the greatest professional wrestlers of all time, he is tied with Ric Flair for the most world championship reigns in professional wrestling history. 
Cena became interested in professional wrestling after being encouraged by a gym employee at Gold's Gym in Venice Beach. He garnered a sizeable fan following his appearance on the UPN reality TV show "Manhunt" and later became a part of the WWE main roster. He rose to fame after beating JBL to win his first WWE Championship. Cena went on to win 25 championships throughout his career to become one of the greatest WWE stars of all time. 
He swayed his fans by donning various personas, including the semi-robotic The Prototype and the rapper Doctor of Thuganomics. Cena has also achieved success as an actor, with films like "The Marine", "12 Rounds", "The Reunion", "Trainwreck", "Sisters", and more recently, "The Suicide Squad 2".
Also read: American crime story: Impeachment, Monica Lewinsky speaks about sex scandal with Bill Clinton.
Cena got married to his first wife, Elizabeth Huberdeau, in 2009 and got divorced in 2012. Later that year, he began dating fellow wrestler Nikki Bella. He proposed to her at WrestleMania 33 on 2 April 2017, but they ended their relationship in April 2018. They had been scheduled to marry on 5 May 2018.
Who is John Cena married to
Two years after parting ways with ex-lover Nikky Bella, Cena got married for the second time. On 12 October 2020, in a private ceremony in Tampa, Florida, he married girlfriend Shay Shariatzadeh, whom he had been dating since early 2019. The two met during the production of Cena's 2019 film "Playing with Fire", which was filmed in Vancouver, where Shariatzadeh works.
John Cena net worth
According to several sources, Cena currently has a net worth of $60 million. Per Forbes, he was the WWE's highest-paid Superstar in 2016, raking in $9.5 million in a combination of his salary and merchandise sales. The following year, his earnings dropped to $8 million due to his other engagements in Hollywood. He has made a handsome income from his acting career and from commercials too.
Cena has also endorsed such big-name brands as Hefty, Fruity Pebbles, Subway, Gillette, Honda and Wonderful Pistachios. According to MoneyNation.com, he's now earning about $1.5 million yearly on endorsements alone.
Where is John Cena wife, Elizabeth Huberdeau now?
Liz's life has been quiet for the most part since the divorce saga blew over in 2012. She has stayed away from the spotlight and keeps her personal life private. She has pitched her tent in Florida and is focused on her career as a real estate broker and manager of her own company. It is believed that things are going quite well for her on that front.
Relationship wise, things seem to be going well for Liz also. Photos of her and her boyfriend, Eli Ayoub, have appeared on the Internet, and they both look happy.
Elizabeth Huberdeau net worth
As previously stated, Elizabeth Huberdeau's current net worth is estimated to be $10 million. Her main source of income is her real-estate business which reportedly is going well. She also made a good amount of money from the divorce settlement in 2012.
Conclusion
Forging a totally new life cannot be an easy feat. Liz had to find a new path after having known Cena for over a decade, and so far, she has done well for herself. With a thriving business and a stable relationship already, she seems to be completely over the past and ready for the future. She has proven to be a strong, resourceful, and independent woman. We wish her continued success and a fulfilled life.
You may also like to read our recent article, Who is The Big Show wife Bess Katramados and how tall is she? – See facts here.