Sha'Carri Richardson and 20 Black athletes sanctioned for illegal substance
Sha'Carri Richardson allegedly failed a drug test this week that could see her sanctioned and miss the 2020 Olympic Games, see 20 other Black athletes that have been sanctioned for illegal substances.
21-year-old US sprint sensation Sha'Carri Richardson may miss out on the imminent Tokyo 2020 Olympic Games after failing a drug test this week. The sprinter tested positive to Marijuana at the US Olympic trials.
Born 25 March 2020, Sha'Carri is an American track and field sprinter who competes in the 100 meters and 200 meters. She rose to stardom in 2019 as a freshman at Louisiana State University when she ran 10.75 seconds to break the 100m record at the National Collegiate Athletic Association (NCAA) Championships, a winning time that made her one of the ten fastest women in history at 19 years old. Richardson ran a new personal best of 10.72 seconds in April 2021, becoming the sixth fastest woman of all time and the fourth fastest American woman in history. Call her a generational talent and you won't be wrong. 
Talent alone doesn't get anyone to the peak in any life's endeavour, this much we know. One can make a long list of other important qualities that must be added to talent in order to attain the best possible height in a field, and among them is discipline. The ability to stick to the plan, and stay in line. The ability to deny oneself of small pleasures that can get in the way of one's pursuit. It is this discipline that appears to be lacking in many professional athletes world over, as yet another athlete fails a doping test and could miss the Olympics.
Sha'Carri Richardson is facing a 30-day suspension for testing positive for marijuana, and this will force her out of the 100 meters. While the suspension would end prior to the start of competition in the 4×100-meter relay, which she was expected to run, it is yet to be seen whether she will be qualified for the event. As things stand, Jenna Prandini who finished fourth in the 100 meters at the US Olympic Trials would replace Richardson in the 100 meters.
Sha'Carri is not the first athlete to appear in the news for such reasons as this. There is a long list of professionals who have at one point or the other. It is sad for the black community to see one of them miss out of a stage as big as the Olympic in a sport dominated by blacks. Here is a list of 20 black athletes who have been suspended for similar offences.
20 Black athletes sanctioned for illegal substance
1. Folashade Abugan
Born Folashade Abigeal Abugan on 17 December 1990, she is a Nigerian 400 meters sprinter who has won Bronze and Silver medals at the All-African games and the African Championship respectively among other laurels. She appeared at the 2010 Commonwealth Games in Delhi and won two silver medals for Nigeria in the 400 m and in 4×400 m relay Abugan was disqualified and banned for 2 years after failing a drugs test and testing positive for testosterone prohormone.
2. Esther Akinsulie
Born 22 April 1984 in Winnipeg, Manitoba, Esther is a Canadian athlete who specializes in the 400-metre sprint. She graduated from Carleton University with a degree in psychology. Esther won two medals at the 2009 Universiade held in Belgrade: the silver in the 400-metre sprint, with 51.70 seconds, and gold in the 4 × 400-metre relay. She tested positive in 2013 in an anti-doping test on a diuretic and was suspended for six months.
3. Anthony Alozie
Alozie is a Nigerian-born Australian track and field sprinter. He was a member of the Australian 4 × 100 m relay team that equaled the Australian record when they qualified for the finals at the 2012 London Olympics. He got banned for 20 months in 2014 for missing a drug test and for whereabouts failures.
Also read: Bill Cosby released from prison: timeline of arrest, trial, and conviction
4. Marvin Anderson
Marvin is a Jamaican sprinter born 12 May 1992. He won a silver medal in the 4×100 m relay team for Jamaica at the 2007 World Championships in Osaka. He also represented Jamaica at the 2008 Summer Olympics in Beijing. He tested positive for the stimulant 4-Methyl-2-hexanamine in June 2009 and was banned for 3 months.
5. Ndiss Kaba Badji
Ndiss is a Senegalese long and triple jump athlete. He is the Senegalese record holder for triple jump, with 17.07 metres achieved when he won the 2008 African Championships. In an IAAF out-of-competition test conducted in March 2005, Badji tested positive for the illegal substance androstenedione, and was banned for 2 years.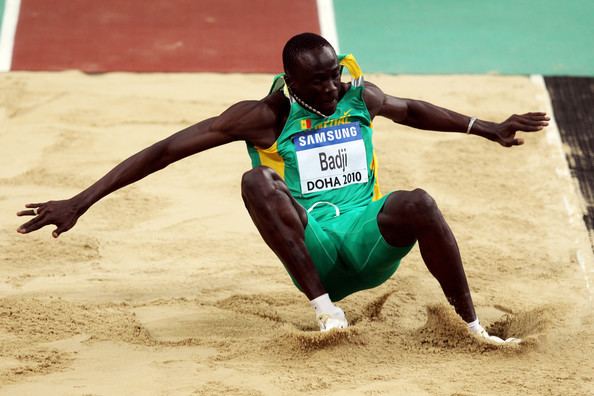 6. James Beckford
He is a Jamaican track and field athlete competing in the long jump. He represented Jamaica at the Olympic level in 1996, 2000 and 2004. He was the silver medallist in the long jump at the 1996 Olympics and also has two silvers from the World Championships in Athletics (from 1995 and 2003). He was banned from competition for three months in 1997 after he failed a drug test for ephedrine.
7.  Kenta Bell
Bell is an American track and field athlete who competes mainly in the triple jump. He won this event at the 2001 Universiade and the 2003 national championship. Bell has also finished third in two IAAF World Athletics Finals. He received a lifetime ban for engaging in and orchestrating prohibited doping conduct from USADA on November 7, 2017.
8. Gwen Berry
Gwen is an American track and field athlete who specializes in the hammer throw. She holds the world record in the weight throw with a mark of 25.60 m (83 ft 11+3?4 in) set in March 2017. She is a three-time national champion in the weight throw at the USA Indoor Track and Field Championship. She got a 3-month suspension in 2016 for using a prohibited substance (Vilanterol Trifenatate).
9. Michael Berry
Michael is an American sprinter, who specializes in the 400 meters. Berry was part of the USA team that won the gold medal in the 4 × 400 m relay at the 2011 World Championships in Athletics. In 2010 he received a three-month ban after testing positive for cannabis.
10. Kipyegon Bett
Kipyegon is a Kenyan middle-distance runner specializing in the 800 metres. He won the 800 metres at the 2016 World U20 Championships in Poland, and came second in the 800 metres at the 2015 World Youth Championships in Cali, Colombia. He also won the bronze medal in the 800 metres at the 2017 World Championships held in London. Bett received a four-year ban in November 2018 after testing positive for
EPO.
11. Alemayehu Bezabeh Desta
Desta is an Ethiopian-born athlete who represents Spain internationally. He competes in middle- and long-distance running on the track, and also in cross country. He confessed to his involvement in an alleged doping ring and was banned for 2 years.
Read more: 10 fun facts about Anime | Where to watch anime movies | How to draw an anime girl
12. Yohan Blake
Blake is a Jamaican sprinter of the 100-metre and 200-metre sprint races. He won gold at the 100 m at the 2011 World Championships as the youngest 100 m world champion ever, and a silver medal in the 2012 Olympic Games in London in the 100 m and 200 m races for the Jamaican team. In 2009, Blake and three others received a 3-month ban for testing positive for the stimulant
4-methyl-2-hexanamine
.
13. Ato Boldon
Boldon is a former Trinidadian track and field athlete and four-time Olympic medal winner. He holds the Trinidad and Tobago national record in the 50, 60 and 200 metres events with times of 5.64, 6.49 and 19.77 seconds respectively, and also the Commonwealth Games record in the 100 m. In 2001, Boldon tested positive at an early-season relay meet for the stimulant 
ephedrine
, but was lucky to get only a public warning.
14. Berenger Aymard Bosse
Bosse is a Central African sprinter who specializes in the 100 metres. In Beijing he finished in sixth place in his first round heat in a time of 10.51 seconds. In January 2016 he tested positive for an illegal substance, 
prednisolone
, and was banned from competition for three years.
15. Tyson Gay
Tyson is an American track and field sprinter who competes in the 100 and 200 meters dash. His 100 m personal best of 9.69 seconds is the American record and makes him tied for the second fastest athlete ever, along with Yohan Blake. He is a four-time U.S. champion in the 100 m. Gay tested positive for a banned substance in 2013 and got a one year ban.
16. Sandra Farmer-Patrick
Sandra  is a Jamaican-born American former athlete who competed mainly in the 400 metres hurdles. She won silver medals in that event at the 1992 Olympic Games in Barcelona, and at the 1993 World Championships in Stuttgart. In 1996 she tested positive to high testosterone-epitestosterone and her final game at the Olympics was disqualified.
17. Shitaye Gemechu
Shitaye is an Ethiopian long-distance runner, who specializes in marathon races. Shitaye was the women's winner of the Rock 'n' Roll Arizona Marathon for the years 2004 – 2006. She won the 2007 edition of the Treviso Marathon. She was banned for two years in 2009 after failing a test for Erythropoietin (EPO) at a race in Luxembourg.
18. Mickey Grimes
Grimes is a former American sprinter who specialized over 100 and 200 metres. He won the 100 metres at the 2003 Pan American Games, but was later stripped of his title for testing positive for ephedrine. On May 25, 2004, he tested positive for norandrosterone and was ruled ineligible for two years (2004–2006). 
19. Regina Jacobs
Regina is an American former middle-distance runner from Los Angeles. She had an extended career that included two IAAF World Championships in Athletics silver medals and an indoor world championship at the age of 39. She earned a 4 year ban in 2003 for doping related to the BALCO scandal.
20. Rita Jeptoo
Rita is a Kenyan marathon runner. She won the Boston Marathon three times. Rita also won marathons in Chicago, Stockholm, and Milan, and represented Kenya in the event at the 2007 World Championships in Athletics. She was the bronze medalist at the 2006 IAAF World Road Running Championships. Jeptoo tested positive for EPO in an out-of-competition test 25 September 2014 and got a four year ban in a judgement by the court of arbitration for sport.
Conclusion
As you must have realized by now, the list is inexhaustible. For some, greatness had been achieved before the doping scandal, and for others, the case couldn't be any more different. Whatever the case though, one can't deny the dent it does to the image of a professional athlete. Discipline should be a watchword for athletes because, it is only with it that cases like this can be eliminated.
You may also like to read our latest article, Bill Cosby released from prison: timeline of arrest, trial, and conviction.