Lil Nas X (real name Montero Lamar Hill) has dropped his debut album Montero on 17 September 2021, listen, download and stream it here.
The trend-setting 21-year-old American rapper has consistently stayed in the news since his breakout. From the viral success of his first single "Old Town Road" to his coming out as gay; Montero Lamar Hill has always been relevant.
His self-titled debut studio album comes on the back of heavy publicity. From his March 2021 Satan Shoes fiasco, which involved sportswear brand Nike dragging his collaborators to court, to his most recent divisive pregnancy jokes, Montero was certainly not dropping in secret.
The pregnancy promotional started after Drake's revealed the Certified Lover Boy cover art featuring several pregnant women emojis. However, Lil Nas X posted his as pregnant men emojis.
It appears that his promotional creative was not a mockery of the Canadian rapper's CLB project. Instead, likely a case of coincidence as he told PEOPLE in an interview, "I was like, 'There's no way the universe is lining up this perfect for this to happen."
He further explained that the pregnancy concept came to him after he heard Megan Thee Stallion's verse on his new song "Dolla Sign Slime" for the first time.
See also: Nike wins 'Satan shoe lawsuit' and the Lil Nas X inspired footwear won't see the light of day.
"I was like, 'Oh my God, this is amazing,' so I immediately called my stylist," Lil Nas X said. "She was like, 'Wow, this all comes together. Your album. Your baby.' I was like, 'Yeah, this is my baby, huh?' As a joke, she was like, 'Yeah, you should do a pregnancy shoot.'"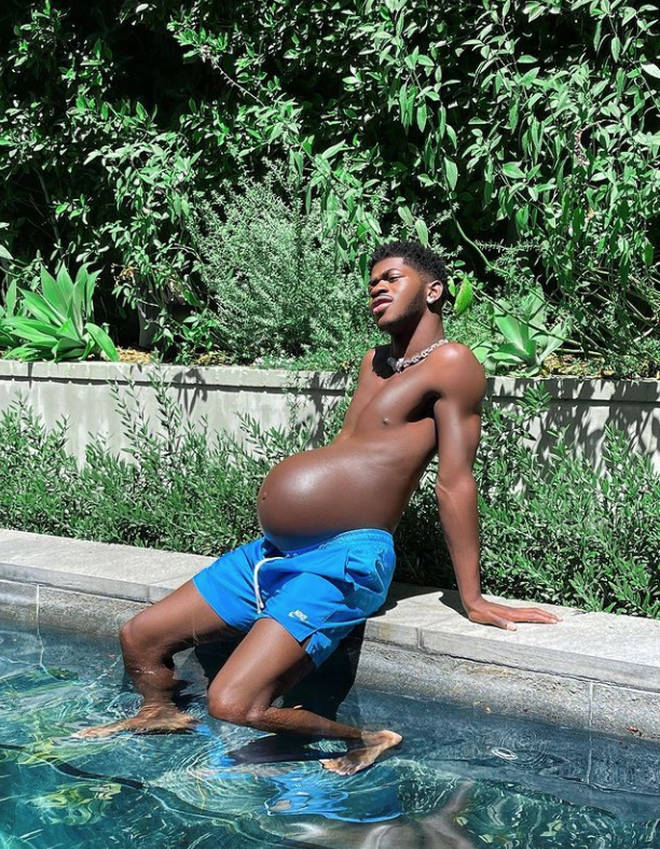 "I feel like with this album, I know what I wanted,"
the singer said about the body of work. And to prepare listeners for what to expect, he dropped singles like "Montero (Call Me by Your Name)", "Sun Goes Down" and "Industry Baby" (with Jack Harlow).
The 15-track album features names like Miley Cyrus, Elton John, Doja Cat, and Megan Thee Stallion.
You can download, stream and listen to Montero by Lil Nas X here. You may also like to read our latest article, Cry Macho, Sex Education, Copshop and other new films & TV shows debuting this weekend.