Kanye West "DONDA" album is expected to break records and set them, for now, we have compiled 10 of the most astonishing milestones he has reached courtesy of the body of work.
Just over a week ago, Kanye West released his tenth studio album titled "DONDA". The anticipation for the project has been building for months prior to its release. Undoubtedly, this contributed to the fervour with which music fans consumed it.
Here, we have gathered 10 of the most astonishing milestones that "DONDA" has helped the artist reach within a week.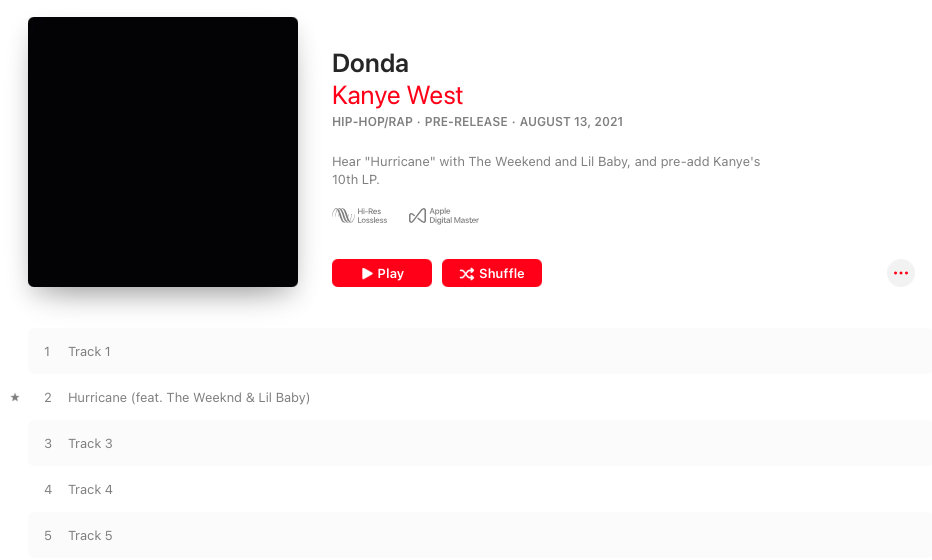 Kanye West becomes the artist with the fifth most charting songs in Hot 100 history (133), surpassing Nicki Minaj and Future. Drake notably holds the record with over 240 entries.
He simultaneously charts 23 songs on one week's Hot 100, joining Drake as the only artist to ever achieve this.
Mr West became the third artist to simultaneously debut three songs in the top 10 on the Billboard Global 200 singles chart, joining the exclusive club of Drake and J. Cole.
Also, the billionaire rapper reached twenty top 10 hits on the Hot 100 with the album.
DONDA sold 309,000 units (357.39 million on-demand streams and 37,000 pure sales) to become the biggest US album debuts of 2021. It surpassed Olivia Rodrigo "SOUR" to achieve this.
It helped Kanye West become one of the Only artists in history with at least ten #1 albums on the Billboard 200. Others who have earned this before are The Beatles, Jay-Z, Eminem, Elvis Presley, Barbra Streisand, and Bruce Springsteen.
Additionally, with his tenth album, West ties Eminem as the artist with the most consecutive #1 albums in Billboard 200 history (10 each).
Meanwhile, Kanye is the first artist debuting this century (from 2001) to earn ten #1 albums on the Billboard 200.
He also joins the few artists to earn over 100 million streams in a single day in Spotify history. Drake, XXXTENTACION, and Bad Bunny are the three artists to achieve this feat before him.
DONDA breaks the record as the album to hit #1 in the most countries in Apple Music history.
More to come from the rapper and his latest project and we will be on hand to deliver the news as they come. You may also like to read our latest article, Michael K. Williams was more than "The Wire" actor; see five facts from his personal life.