WiseKid, this is not a typo, allegedly made N30 million in one month off Wizkid by gaming streaming platforms' algorithm and deceiving fans. Here, we document how the scam worked and reactions when it came to light.
Who is WiseKid?
Wise Kid, or WiseKid, is an upcoming Nigerian singer whose real name is Hosea Yohanna. He is an Afrobeats songwriter and a performance artist as well with singles like "Lost", "Connect Me", and "Only One". Wisekid was under Indie record label for some time.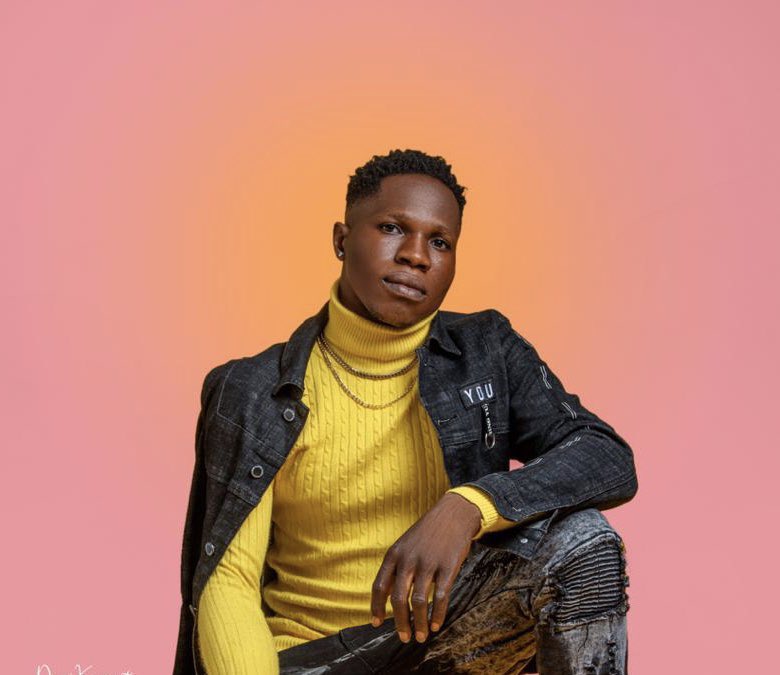 If you have never heard of him until now, you are not alone. He is one of the lesser-known rising stars in the Nigerian music industry. Not many know about Wisekid, and we had to dig deep to pull up the few details about him we could find before his scandal.
His earlier Twitter feed is filled with tweets where he professes his undying love for Joeboy's music, appeals to Don Jazzy to grant him a studio session, a request for a remix with Omah Lay and so on. Technically, he has been trying to break into the music industry and has not been successful.
That is until he (or whoever cooked the plan) came up with the idea of releasing an album titled "Lasgidi Made". Yes, that sense of Deja Vu you feel is not a mistake.
Lasgidi Made vs Made In Lagos
From the title, it is clear that "Lasgidi Made" is another way of saying "Made In Lagos". Why will WiseKid release an album titled "Lasgidi Made" immediately after Wizkid's record-setting project of a similar name was dropped?
Perhaps it was a forgivable coincidence as we saw in the past where The Weeknd released "Starboy" when Wizkid used the same term as his other moniker. Is Ayo Balogun just so unfortunate that other singers will always copy something from him, and maybe he should just take it as his lot in life?
I mean, he dropped a song named "Joro" in 2019, and his archrival Davido released "Jowo" in 2020. Both songs are different of course, but you start to get the sense of it.
However, unlike The Weeknd's "Starboy" having nothing to do with Nigeria's number one Starboy and "Joro" being as different from "Jowo" as the pen is different from the pencil; Wisekid's "Lasgidi Made" does not get far from "Made In Lagos" by Wizkid.
The "Lasgidi Made" tracklist looks like the "Made In Lagos" tracks lost their way and took random positions instead.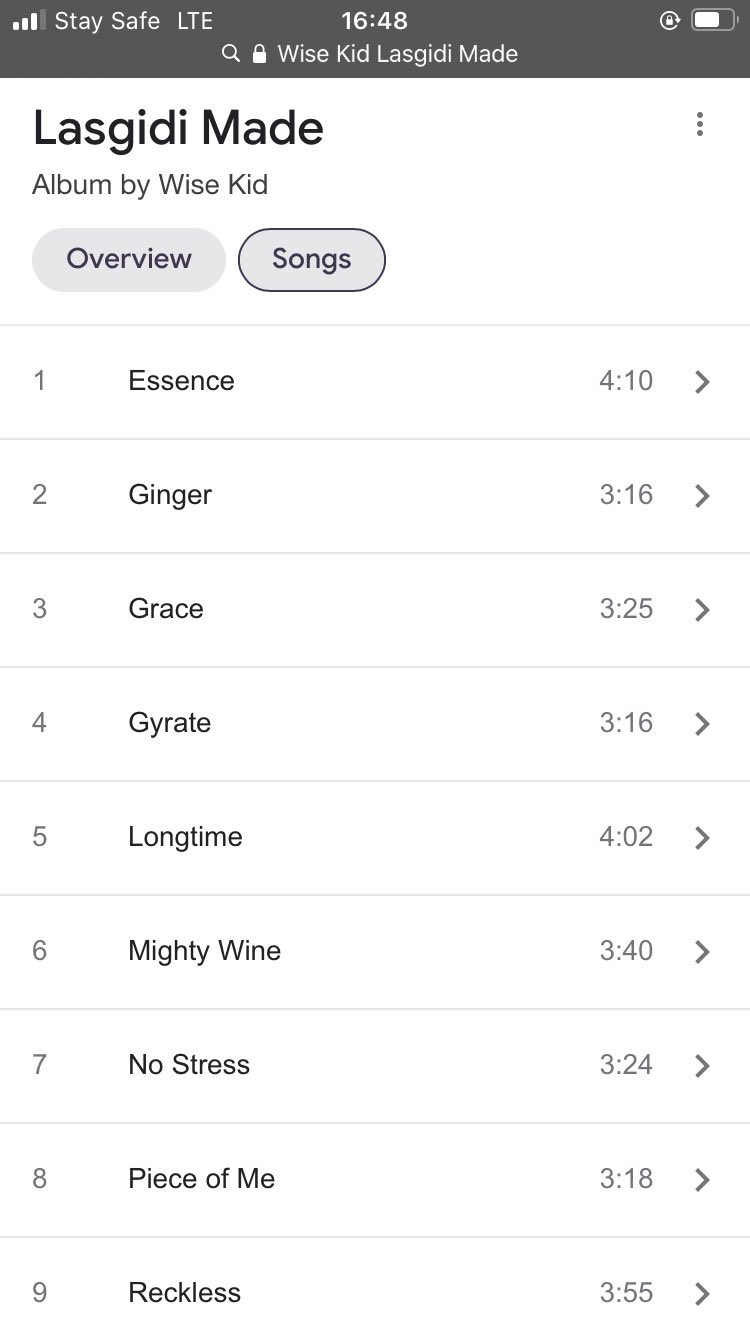 Despite randomly appearing on some streamers playlist, Wise Kid considerably stayed below the radar until he decided to share his 'good news'. Although, before his announcement, a Twitter thread of complaints about him already surfaced. The rationale behind a scammer posting his gains online beats the imagination, likely only an overjoyed 'puppy' can understand this.
Anyway, he posted a now-deleted tweet boasting about his streaming numbers. He was averaging 133.6K listeners daily and had gotten 1.2K song purchases.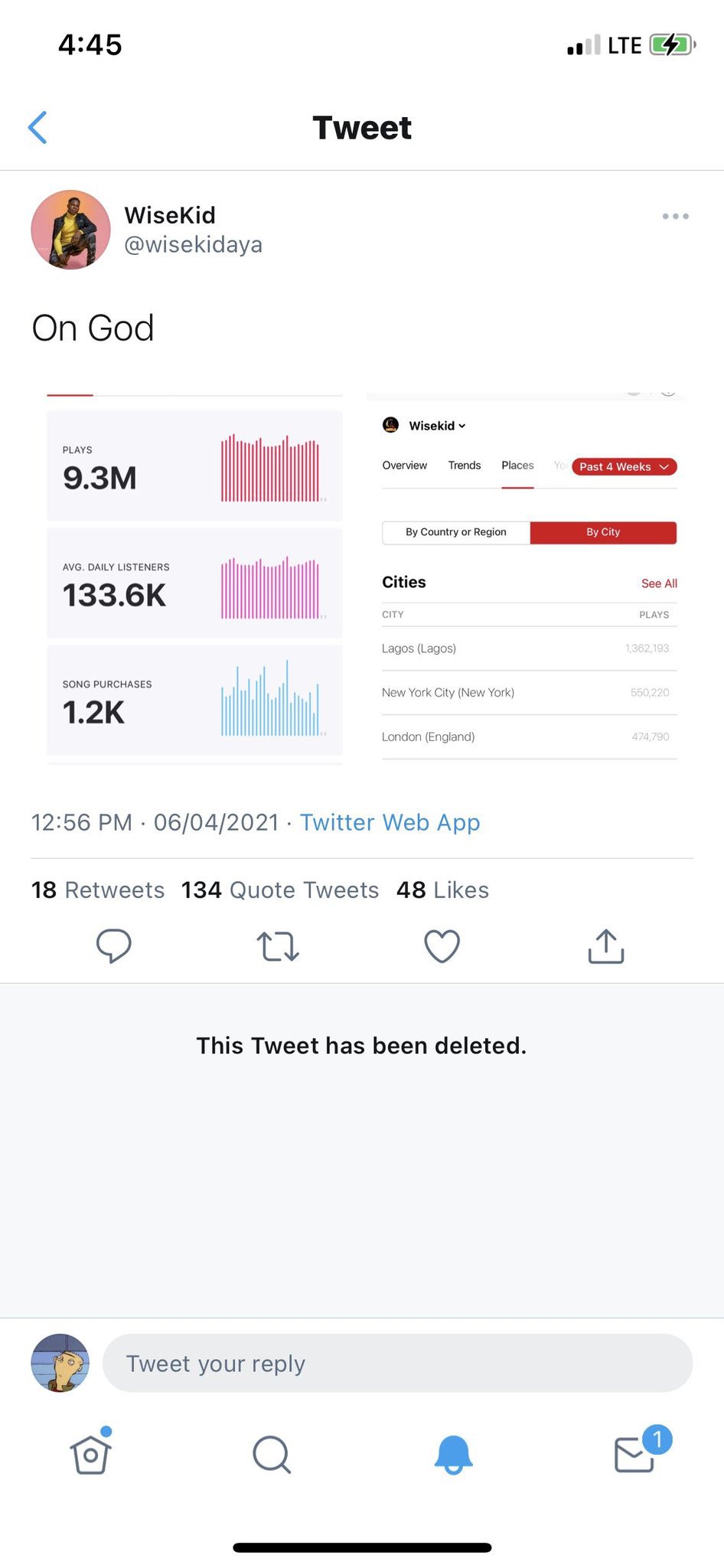 According to African Facts Zone, Wisekid has grossed an estimated N30 million since October 2020.
An Artist named Wisekid has been making N30 million monthly since October 2020 by copying Wizkid's music on Apple Music & Amazon.

He released an album and named it Lasgidi Made, then copied the names of Wizkid's songs & albums. Now he is getting a huge chunk of Wizkid's streams. pic.twitter.com/0KqgDe1oq6

— Africa Facts Zone (@AfricaFactsZone) April 6, 2021
Additionally, he mimicked the way Wizkid named his Instagram and Twitter accounts, coining "Wisekidaya" to look like "Wizkidayo".
Pointing fingers and reactions
Wisekid's initial reaction when the scam was uncovered was to deny any foul play, "I didn't share wizkid streams oo [sic]," he tweeted. Then, he claimed not to be aware of how the Apple Music streams came about in the first place.
"I don't know who do that oo," the singer said. "I just access my apple artist name I saw streams I just wanted to get people check me out nothing more oo." 
Then, things started heating up as more fans called for Wizkid's management to sue Wisekid over the obvious scam. In a bid to absolve himself from blame, he said he was not the one that distributes his music.
"Pls I don't want wahala oo .. I'm just an upcoming artist I know nothing about this and please am not the one distributing wizkid album on apple music . I have my company that distributes my music for me so I know nothing about this news spreading all over the internet 
Thank u [sic]," WiseKid said. He added that Freeme Digital, a record label and digital distributor, handled his songs distributions.
In defence, Freeme Digital denied ever distributing the fraudulent "Lasgidi Made" album for WiseKid. They, however, acknowledged that they distributed his earlier songs but will be deleting them in light of the recent developments.
"Freeme Digital as an organization strongly stands against copyright infringement, illegal use of content and digital piracy," the company said.
A screenshot of Freeme Digital's initial response shows that they might be guilty of foul play as well. Although they deleted the tweet, fast-fingered tweeps caught it. They seem to be hinting that the album was a cover.
The notorious Wizkid FC fandom was out in full force to drag the living daylight out of Wisekid and Freeme Digital. Their wrath even extended to Apple Music and Amazon for allowing such an obvious scam to go on for so long.
That Wisekid guy is evil. What he is doing is very stupid and cruel. How could he be stealing N30 million monthly off Wizkid's music by copying his lyrics and names of his albums & songs.

He has made N30 million monthly by copying Wizkid's music since October.

E dey craze!

— World Publicist (@IsimaOdeh) April 6, 2021
Wisekid uplaoded Made In Lagos album with rearranged tracklist and another title to deceive streaming platforms algorithms.

The crimes committed by Wisekid

Fraud
Copyright infringement
Impersonation

— BASITO (@itzbasito) April 6, 2021
.@SonyMusicAfrica @freemedigital @iam_magicmike you have some serious explanation to make for the fake distribution of Wizkid's Made In Lagos as Wise Kid's Lasgidi Made.

The GM of Sony Music Africa is the owner of Free Me Digital who is responsible for distributing Fake MIL. pic.twitter.com/euEO6dAev9

— Sakpo, THE LUCIFER ?? (@sakpo0007_) April 7, 2021
The saga is definitely not over yet as Wizkid and his management are yet to make any public comments. If the superstar's antecedents are anything to go by, we'll probably be waiting till a blue moon before he reacts. We will wait and see, however.