When James Cameron and Patty Jenkins engaged in a war of words last week over Jenkins's Wonder Woman, the ground-breaking film-makers were engaging in a time-honored tradition: the director feud.
Sure, their spat had higher stakes. Instead of quibbling over artistic, financial or personal differences, theirs was a political disagreement over who gets to define feminism. Spoiler alert: the man lost, at least on social media.
Still, feuds between directors are nothing new, and it's easy to see why as the round-up below from the Guardian shows. Film-making is a highly competitive business engaged in by artists who are accustomed to having total control over their final products. Some sniping between artists is inevitable, but in some cases, the early warning shots can escalate into all-out war.
Kevin Smith v Tim Burton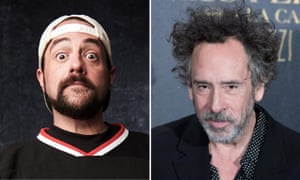 The feud between Smith and Burton started when Smith noticed that an image at the end of Burton's 2001 remake of "Planet of the Apes" – a statue of Abraham Lincoln but with the head of an ape – looked like it was ripped from a comic book written by Smith. The Clerks director made a public statement that he was contemplating legal action. He claims he was joking, but Burton was not in a laughing mood, responding: "Anyone who knows me knows I would never read a comic book." Smith retorted, "Which explains 'Batman'." Despite the swift escalation, the feud did no lasting damage. Burton has become Disney's go-to guy for live-action blockbusters, with "Alice in Wonderland" and the upcoming "Dumbo", while Smith has been dining out on the story for years, telling it first on an episode of IFC's "Dinner for Five" and then regularly on his speaking tours.
Jean-Luc Godard v Francois Truffaut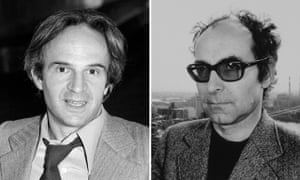 The seminal French New Wave filmmakers were once close friends – they were critics at the influential Cahiers du Cinema together before they started making movies – but as their careers progressed, their paths diverged. In the 1970s, Godard's films became more political, while Truffaut explored commercialism. After his Oscar-winning film "Day for Night", in which Truffaut essentially plays himself making a film within the film, was released in 1973, tensions finally boiled over. Godard sent Truffaut a letter, chastising him for misrepresenting the film-making process. Truffaut wrote back to tell Godard that he had been "acting like a s--t" for years. The two never reconciled, but after Truffaut's death in 1984, Godard wrote candidly about their feud: "If we tore each other apart little by little, it was for fear of being the first to be eaten alive."
Werner Herzog v Abel Ferrara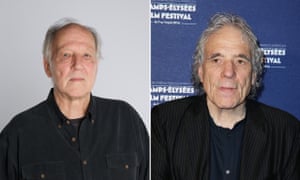 Director/internet meme Werner Herzog is no stranger to feuds. His friendship with actor and frequent collaborator Klaus Kinski devolved into murderous rage, with Herzog once literally trying to burn the actor's house down while he slept. His feud with director Abel Ferrara is prosaic by comparison. When Ferrara learned that Herzog was making a sequel to his 1992 film "Bad Lieutenant", and, most importantly, that Herzog would be taking home a heftier paycheck than he did, Ferrara became enraged. In an interview with Filmmaker Magazine, he said of Herzog and the film's producers, "They can die in hell." Typically, Herzog replied with bizarro elegance: "I have no idea who Abel Ferrara is. But let him fight the windmills, like Don Quixote." While Herzog and Kinski never reconciled, he and Ferrara crossed paths at the 2013 Locarno Film Festival and patched things up within earshot of several reporters.
Rian Johnson v Jason Reitman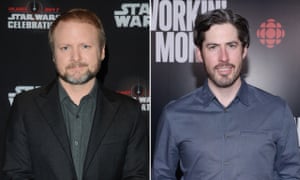 One of the benefits of a director feud is that it can result in extra publicity for both parties. Rian Johnson, director of this year's Star Wars sequel "The Last Jedi," had a little fun with this idea back in 2011, when he announced on Twitter he was looking to start a feud in "a calculated effort to simultaneously increase my brand awareness and avoid writing". He settled on "Juno and Up in the Air" director Jason Reitman, whose qualifications, according to Johnson, were that he was a nice guy and more talented than him. Johnson unleashed his fury in the form of some lame dad jokes – "Reitman? More like WRONG man," read one – and Reitman reciprocated with a link to the Notorious BIG song, Warning. Days later, Johnson announced that they had reconciled their differences over a long, alcohol-fueled adventure in Mexico. It wouldn't make a bad movie.
Lars von Trier v Nicolas Winding Refn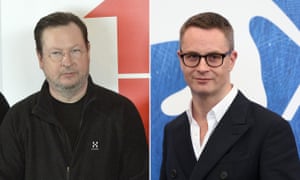 The two Danish directors have known each other since Refn was a child – his father edited several of von Trier's films. In recent years, their friendship has had to overcome some significant hurdles. It was during a Cannes press conference in 2011 that von Trier noted that his recent discovery that he was related to Nazis "gave [him] some pleasure" and joked that his next film would be "The Final Solution." Refn, along with a chorus of others, publicly criticized him, causing von Trier to reply, "F--k him!" and later complain that Refn should have come to his defense. Still, that wasn't enough to quash their friendship. The two remained cordial until last year, when Refn revealed that the "over the hill" director tried to sleep with his wife, which apparently, is worse than being a N--i.
Spike Lee v Quentin Tarantino, Clint Eastwood, Tyler Perry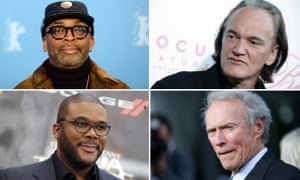 In recent years, Hollywood's structural racism has been heavily scrutinized, and it's long overdue. Spike Lee was always ahead of the curve, using his filmmaking acumen to skew Hollywood in Bamboozled and his public platform to call out other film-makers for their racial transgressions. He has famously criticized Quentin Tarantino for his perceived obsession with black culture and, more specifically, frequent use of the N-word in his films. As "Django Unchained" was about to hit theaters, he announced he would be skipping the movie, and followed up with a tweet explaining why: "American Slavery Was Not a Sergio Leone Spaghetti Western." He has similarly taken issue with Clint Eastwood, complaining that "Flags of Our Fathers" omitted the contributions of black soldiers, and Tyler Perry, whose Madea films he has called out for being the equivalent of modern-day minstrels. Lee certainly knows how to get under their skin. In response, Tarantino called him a "son of a b---h," Eastwood told him to "shut his face," and Perry, taking a page from Abel Ferrara's playbook, reportedly stated, "Spike Lee can go straight to hell." If that's where the perpetrators of director feuds go, at least he will have a lot of company.
The Guardian UK