Louise Minchin is leaving BBC Breakfast after 20 years of waking as early as 3.40 am for work, every day.
She has spoken about her reasons for wanting to leave the show in an published by Mirror. The news reporter said her choice to leave the show has been "a long time coming" and that she is excited about doing all the fun things she had missed out on with her daughters – Mia and Scarlett.
She is looking forward to taking her daughters to school, hitting the gym and going on a very long lunch with a close friend.
According to her, she is sad about her decision to move on, but that it's the right time. She said: "This has been a decision a long time in coming. It involved lots of in-depth discussion with friends and family. My children are pleased for us as a family, I think, because I always used to say to them, 'Oh, do you remember before I did BBC Breakfast?'
"And they'd say, 'Not really.' And then I realized that, actually, my daughters are 20 and 17, so of course they don't remember life before BBC Breakfast. I've not taken my daughters to school every single day for their schooling life, so I am looking forward to school runs.
"And I'm really looking forward to things like those Sunday night dramas, which I'd love to be watching but haven't been because I need to go to bed. So there's a shared experience that I'm really looking forward to being able to have with them.
Also read: Met Gala 2021: See fashion moments from the biggest fashion night ever.
"Plus I've got no excuses now. I'm really looking forward to being a super taxi for the kids, which is great. And I am actually genuinely really looking forward to being able to do that!"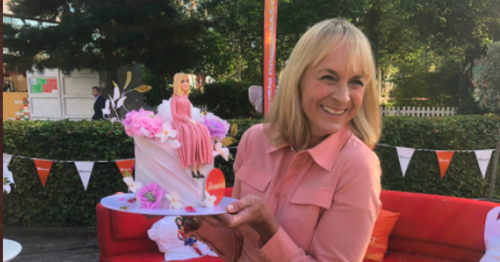 The 52-year-old newsreader hosted her final show on BBC Breakfast alongside Dan Walker on Wednesday, 15 September 2021. She was presented with a stunning cake with a miniature Louise sitting on top by colleagues.
She was also presented with flowers and was given a heartwarming send-off from Dan and Breakfast stars – old and new, including Naga Munchetty and Bill Turnbull. They sent her messages in a special tribute video and her husband, Dave, also joined the programme.
Louise Minchin started presenting for the BBC One morning programme in 2001 and later became one of its lead presenters in 2012 when the production moved to Salford. During her stay at BBC, she covered major global news stories, including the last three general elections, Brexit and the Covid-19 pandemic.
You may also like our recent articles, Shamima Begum: ISIS bride begs for forgiveness to return home and Tems new EP: If Orange Was A Place (download, stream, & listen).