Who is Jeff Wahlberg? He is a popular actor and model who began his career as a teenager and has since gone on to acquire fame in the film industry. Jeff was born into the popular Wahlberg family that includes actor Mark Wahlberg (uncle), filmmaker Jim Wahlberg (father), singer Donnie Wahlberg (uncle) and others.
While this article is about the young actor, we will also consider details about Jeff Wahlberg uncles, who are popularly called the Wahlberg siblings. Before we go any further, we summarise the top fact about Jeff in the next section.
Top ten Jeff Wahlberg facts
Jeff Wahlberg was born on 17 July 1996 in Boston, Massachusetts, USA and his full name is Jeffrey Wahlberg. He will be 25 years old in July, 2021.
Jeff was born into a famous Hollywood family and his father Jim Wahlberg is a producer and writer known for many films as you will see in the course of this article.
Jeff Wahlberg is the nephew of Mark Wahlberg, a film superstar that received a star on the Hollywood Walk of Fame in 2010.
His other uncles include Donnie, Robert and Paul Wahlberg while he has two living aunts named Tracey and Michelle.
He made his debut in the 2012 film A Feeling From Within, as James Scully and he got to play a part in the first season of Ballers in 2015.
Wahlberg has since then acted in many films such as Don't Come Back from the Moon, Future World, Dora and the Lost City of Gold, and Cherry.
He is a model and has worked with CALVIN KLEIN JEANS and has also been on the cover of Interview Magazine and At Large Magazine.
The actor does not have a college degree after he dropped school for acting even though he graduated from high school.
Jeff Wahlberg is said to be worth an estimated $1 million from his acting and modelling jobs, read more about this in the article.
The young actor is single and appears not to have any past relationship that made headlines.
Also see: Holly Anna Ramsay biography: age, education, career, relationship, and personal life
Early life and family background
The actor was born Jeffrey Wahlberg on 17 July 1996 in Boston, Massachusetts, USA. His first name earned him the popular nickname 'Jeff' among his friends and family. Jeff Wahlberg will turn 25 years old in 2021, and he comes from a large family.
First, his immediate family is made up of his father who is of Irish and Swedish descent while his mother, Bennie, is Dominican. He also has a younger sister named Kyra.
His father Jim Wahlberg is one of the most popular Wahlberg siblings. His full name is actually James M. Wahlberg and he is a producer and writer. Some of his well-known works include; The Circle of Addiction: A Different Kind of Tears (2018), If Only (2015) and What About the Kids? (2020).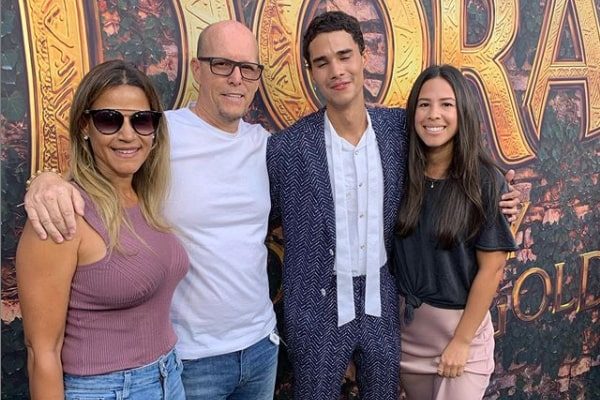 This is not where it ends. Jeff's father has eight siblings and they make up what the media prefers to call the Wahlberg siblings. As a result, the young actor has 12 cousins and counting. Some of his cousins are; Xavier and Elijah Wahlberg (Donnie's children), Ella Rae, Michael, Brandon, and Grace Margaret Wahlberg (Mark's children), Oscar and Charlie Wahlberg (Robert's children), Adam (Debbie's son), Brendan (Michelle's son), and Madison and Ethan Wahlberg (Paul's children).
No doubt, the number of Jeff Wahlberg cousins may even increase in future. Now, let us look at other facts about his family like the Wahlberg siblings ages and more.
Mark Wahlberg Wiki facts
There is already a lot online about this popular actor who had actually started out as a rapper with the group Marky Mark and the Funky Bunch, with whom he released two albums. Mark began acting officially in 1994 and by 2017, he was already the world's highest-paid actor.
He is best known for his roles in Planet of the Apes (2001), The Italian Job (2003), The Departed (2006), The Fighter (2010), The Other Guys (2010), Ted (2012 and 2015), and Daddy's Home (2015 and 2017). Additionally, he has produced five HBO series namely Entourage (2004–2011), Boardwalk Empire (2010–2014), How to Make It in America (2010–2011), Ballers (2015–2019), and McMillions (2020).
Mark Wahlberg received a star on the Hollywood Walk of Fame in 2010.
Donnie Wahlberg
Another popular person from the Wahlberg family is Donnie, an American singer, songwriter, rapper, actor, record producer, and film producer. He is a founding member of the boy band "New Kids on the Block" and has had several film roles.
Donnie appeared in Bullet (1996), Ransom (1996), The Sixth Sense (1999), Southie (1999) with his brother Robert, Dreamcatcher (2003), the Saw films (2006 – 2008), Righteous Kill (2008), and Zookeeper (2011). He also has recurring roles in Band of Brothers as Carwood Lipton and Blue Bloods as Danny Reagan since 2010.
Robert Wahlberg
Robert George Wahlberg is also another family member that is famous in the entertainment industry. As an actor, he has appeared in films like Southie (1999), Mystic River (2003) and The Departed (2006) with his brother Mark.
Paul Wahlberg
Paul is an American chef, actor and reality TV star. Along with his brothers Mark and Donnie, he runs the dining burger restaurant and bar Wahlburgers and also stars in the reality television show also titled Wahlburgers.
Jeff Wahlberg aunts
Jeff's aunt Debbie Wahlberg died in 2003 at 43 during a surgical procedure to remove suspected kidney stones. His other aunts are Tracey and Michelle Wahlberg.
Now, let us look at further details about Jeffrey Wahlberg.
Education
After starting his acting career at an early age, Jeff Wahlberg was given the option to continue acting or go back to school. He opted to keep acting and thus, never went to college. His career became his main passion just after high school and he has never looked back since then. He moved to Los Angeles after school to get more acting opportunities.
You may also like: Allison Stokke – famous high school photo that nearly ruined her career
For the sake of contrast, his sister went on to college and graduated in December 2018. No doubt, Jeff does not have any regrets for choosing acting over a college degree.
Career
Acting
The actor had early influences from childhood as is evident from the brief background we have detailed about his family. Thus, it is not surprising that he made his acting debut early in life. Jeff Wahlberg made his debut in the 2012 film A Feeling From Within, as James Scully.
Then he got to play a part in the first season of Ballers, a series that stars Dwayne 'The Rock' Johnson and which his uncle Mark Wahlberg is credited on as an executive producer. He also acted as Peter in the 2015 short film Instant Gratification.
The next year, he played Carlos in another short film titled Toyed. At the time, Jeff was still 20 and was getting popular. While many may attribute his growth to the influence of his uncle and his family as a whole, it is undeniable that Jeff has taken big strides as well on his own. He once commented on what it was like growing up in a family made up of film stars including Mark Wahlberg.
"My uncle has the coolest job in the world," Jeff says in an interview with Vibe. "But on my own I've always been deeply in love with making movies. Even if I couldn't understand the concept of movies, I would watch them over and over again. I think that just happened on its own."
Don't Come Back from the Moon (2017)
In 2017, the young Wahlberg starred in the drama titled Don't Come Back from the Moon. He played the character of Mickey Smalley, who the film is centred around. James Franco and Rashida Jones also starred in the film.
The film got an overwhelmingly positive reception and it has an 88% rating on Rotten Tomatoes.
Future World (2018)
Jeff starred in an action, adventure, Sci-Fi film titled Future World in 2018. The film was directed by James Franco (who also acted in it) and Bruce Thierry Cheung.
Wahlberg plays the role of a young protagonist in search of a future world wasteland for a rumoured cure for his dying mother. Suki Waterhouse, Snoop Dogg, Method Man, Lucy Liu, Margarita Levieva, Twin Shadow, and Milla Jovovich were also part of the film's cast.
Dora and the Lost City of Gold (2019)
In 2019, Jeffrey Wahlberg played Diego in the American adventure comedy film Dora and the Lost City of Gold. The film is a live-action adaptation of the Nick Jr. animated television series Dora the Explorer.
The film was a success hitting an 85% rating on Rotten Tomatoes based on 149 reviews and a weighted average score of 63 out of 100, based on 23 critics on Metacritic. It grossed $119 million worldwide.
Jeff Wahlberg latest films
According to the latest news on Jeff Wahlberg, he is part of the cast of a new film Cherry that was released in February 2021. Cherry was directed by the Russo brothers – Anthony Russo and Joe Russo – and it also starred Tom Holland, Ciara Bravo, and Jack Raynor.
The IMDB description for the film reads; "An Army medic suffering from post-traumatic stress disorder becomes a serial bank robber after an addiction to drugs puts him in debt." Cherry will be available for streaming on Apple TV+ on 12 March 2021.
Modelling
Acting is not all there is about Jeff Wahlberg as he also a model with lots of gigs and deals under his belt. He mentioned that he had initially started acting before he went into the modelling industry, however, it is something he loves doing.
"I love fashion. I have tremendous respect for models and what they do. It's not an easy job," he said in an interview with Interview Magazine. "That sh*t is scary. I think I'm a much better actor than I am a model because [modelling] is very scary. I got discovered on Instagram [and] I needed money, so I was like, 'absolutely'. I'd love to try it. Plus, it was just something I was into. You get to travel. You get to meet all these other really interesting people."
According to his Models website profile, Wahlberg is signed under Next Model Management an agency that operates in New York as Next New York and in Paris and Next Paris. In 2018, he modelled for CALVIN KLEIN JEANS and was photographed by Willy Vanderperre. The same year, he covered At Large Magazine Fall/Winter magazine and also its Extended Play issue as well with Randall Mesdon photographing him.
Jeffrey was on the cover of Extra Credits (Interview Magazine March 2019 issue) with his photographs taken by Bruno Staub.
He stands at 5 feet 11 inches and wears his hair either cut low close to his scalp or a bit fuller. His skin is slightly tan and he is not fully Caucasian, likely because of his mother's Dominican heritage. The mixed ethnicity he comes from gives him a sort of exotic glow that catches the eye and is likely giving him an advantage in the modelling world.
Net worth
More than a few people have asked questions like, "Who is the richest Wahlberg?" and the answer is easily Mark Wahlberg with an estimated net worth of over $300 million. However, it is not so easy to answer what Jeff Wahlberg net worth is.
Many local blogs claim that Jeff Wahlberg is worth about $500,000 to $1 million. However, there is no verified information from Forbes on this. No doubt, he is definitely not the richest Wahlberg but he likely has some minor fortune in his bank account.
See also: Millie Brady Biography: Age, career, nude, Aethelflaed The Last Kingdom and more
His work as an actor and a model could earn him up to a million dollars annually. However, until we have a trusted source that verifies this, we refrain from guessing just how much Jeff Wahlberg net worth is.
Personal life
He loves the outdoors and has photos on his Instagram where he goes on hikes and even one where he visited the Sahara Desert.
 

View this post on Instagram

 
Besides these, Jeff rarely posts pictures where he is living like the son of a millionaire that he is. Additionally, he is believed to be a Roman Catholic just like his uncle Mark or at least a Christian. We have no way of verifying this as the actor has never mentioned his religious conviction (or lack of one) publicly.
However, notably, in December 2020, Jeff posted a video on his Instagram page that hints at a belief in the Darwinian evolution process.
 

View this post on Instagram

 
Jeff Wahlberg is not currently in any relationship and he has not been spotted in public going out on a date with a member of the opposite sex. We will update this section when we have new information available.
Jeff Wahlberg on social media
The actor is verified on Instagram as @jeffwahlbrg but he does not have a Twitter account yet.
Conclusion
Jeff Wahlberg is on course to becoming one of the film industry's biggest stars if he continues on this path and keeps pursuing greatness. He is young and has time and real influence on his side. Also, he appears to be someone who doesn't crave publicity so much and he rarely even posts on his Instagram account.
We wish him the best in his future endeavours as he continues to bring praise to his family's name.