If you missed most of the biggest news as they broke last week, we are here to help you catch up.
This week, we lead with happy news from the Etomi-Wellington family. Nigerian celebrity couple Adesua and Banky W, who got married in 2017, took to social media to announce the birth of their baby boy while celebrating Adesua's birthday on 22 February 2021. The news was a pleasant surprise as they mentioned that the baby had arrived four weeks earlier.
Fans reacted excitedly to the news while also praising their close friends and family members for keeping the information under wrap until the couple was ready to make the announcement.
Meanwhile, they have not revealed the name of their son but there are speculations that his name is Isaiah given that Banky W had called Adesua "Mama Zaiah" in his birthday wish.
Tiger Woods survives ghastly car crash
The world held its breath after Golf legend and superstar Tiger Woods was reported to have been in a ghastly car accident. He suffered compound fractures of his tibia and fibula and was trapped in the SUV he had been driving before emergency responders rescued him.
However, reports claimed that he was still conscious during the rescue. Woods then underwent surgery and two days later, he was moved to another hospital to continue his recovery.
Duncan Mighty and wife's drama continues …
The drama between Nigerian musician Duncan Mighty and his estranged wife Vivian continues this week as the singer recently released an alleged audio recording of his wife, Vivian, confessing to visiting a herbalist, albeit it was to save her marriage.
In the audio that he released on his official YouTube page, a woman can be heard narrating her visit to a herbalist. We have the complete story here.
Joeboy has a sugar mummy?
Joseph Akinwale Akinfenwa, popularly known as Joeboy has raised eyebrows with his explanation of why he is single and not searching. In an interview with Beat 99.9 FM, the singer said he has a sugar mummy and that while he cannot say her name, he promises that he is truly a 'sugar baby'.
His massive contribution to DJ Neptune's viral hit single "Nobody" got rewarded after it was named the Best Pop Single and the Song of The Year at the 14th Headies award show.
Lady Gaga offers $500,000 for missing Pitbulls
American pop singer Lady Gaga has reportedly offered to pay $500,000 to anyone who can help find her stolen dogs. Several reports confirmed that her dog walker had been shot four times in the chest while walking her Pitbulls before they went missing.
The dog walker, Ryan Fischer, was ambushed close to his home as he walked Gaga's dogs Koji, Miss Asia, and Gustavo at around 10 pm on Wednesday, 24 February 2021.
Fischer made a decent recovery and was in a stable condition soon after the incident.
On Friday, two days later, a woman returned the dogs unharmed. There is no further information on whether the singer paid her the half-a-million dollars reward or not.
Omah Lay robbed at airport … wins Headies award
Nigeria's Omah Lay was a victim of a crime recently after he announced that his laptop, microphone and audio interface were stolen from his box at the airport. He, however, did not mention which country he was robbed in.
The singer had some reason to celebrate last week as well after he emerged as the winner of the Next Rated award at the recent 14th Headies award show. It was Fireboy DML, however, who stole the shine of the night after he grabbed five Headies awards including; Album of the Year for Apollo, Best R&B Album for Laughter, Tears and Goosebumps, Best Pop Album for Apollo, Best R&B Single for Tattoo and Headies Revelation award.
To read more about all the winners at the 14th Headies award see this page or watch the video we recently posted dedicated to highlighting everything that happened at the event.
Bobby Shmurda regains 'conditional' freedom
American rapper Ackquille Jean Pollard who goes by the stage name Bobby Shmurda has been released from prison after six years. He was officially released on 23 February 2021 but will remain under community supervision in Kings County until he completes his sentence on 23 February 2026, according to the New York State Department of Corrections and Community Supervision.
The rapper was originally set for release in December 2021 but was set free on parole earlier than that for good behaviour. The rapper has rejoined some of his industry counterparts and is reportedly looking to change his rap moniker to "Biggy Shmurda."
Emilia Clarke to displace Amber Heard … or something like that
A Forbes report has reported that Emilia Clarke is set to replace Amber Heard as Mera in the coming Aquaman 2 film. Warner Bros. has not released any official statement on this development but some fans are greeting this news with a bit of glee.
Recall that Amber Heard had been married to actor Johnny Depp until 2016 when their marriage crashed. Things went from bad after their divorce case became public to worse when details of alleged verbal and physical abuse emerged.
Both Heard and Depp did not hold back in pointing fingers but it appeared that Johnny Depp received more punishment from his employers. This became apparent after he lost a libel case against The Sun and then got booted off the Fantastic Beasts franchise in which he played the role of the wizard Grindelwald. Additionally, Disney reportedly took him off future parts in the Pirates of the Caribbean franchise.
Now, if this news turns out to be true, it will not only serve to satisfy some fans' craving for 'justice' but also reunite Jason Mamoa and Emilia Clarke after they played Khal Drogo and Daenerys Targaryen respectively in the Game of Thrones series.
Bruno Mars and Anderson Paak announce new joint project
Bruno Mars and Anderson Paak have announced a new collaborative album called Silk Sonic which will include an appearance from Parliament Funkadelic bassist and funk star Bootsy Collins as a "special guest host." The first single from the album will drop on 5 March 2021 while the rest of the record do not have an expected date yet.
Now, for some sports news
Sports updates
Champions League Roundup
Manchester City, Chelsea, Bayern Munich and Real Madrid all won on Tuesday and Wednesday respectively to put themselves in a favourable position for qualifying as the second leg approaches.
Pep Guardiola's side impressive run of games continues as they ousted Monchengladbach 2-0. Chelsea shocked Atletico Madrid after French striker Giroud scored an impressive overhead kick. Bayern Munich dominated Lazio putting four past them and conceding just once. Mendy's late curling strike helped Madrid see off a stubborn 10-man Atalanta.
Europa League last-16 Draw
Arsenal will travel to Greece to seek revenge on Olympiakos who ousted them from the tournament last season in the round of 32 while Manchester United is set to face Italian giants AC Milan in the last 16 of the Europa League after the draw was announced on Friday.
Other last-16 fixtures includes:
Ajax – Young Boys
Dynamo Kiev – Villarreal
Roma – Shakhtar Donetsk
Dinamo Zagreb – Tottenham
Slavia Prague – Rangers
Granada – Molde
Liverpool's goalie Alisson losses father
Liverpool's goalie Alisson Becker lost his dad to a drowning accident in a lake near his holiday home in southern Brazil on Wednesday, according to local police.
Jose Becker, who was only 57 years, was said to have been swimming at a dam on his property when the accident happened on Wednesday afternoon.
Coronavirus updates in numbers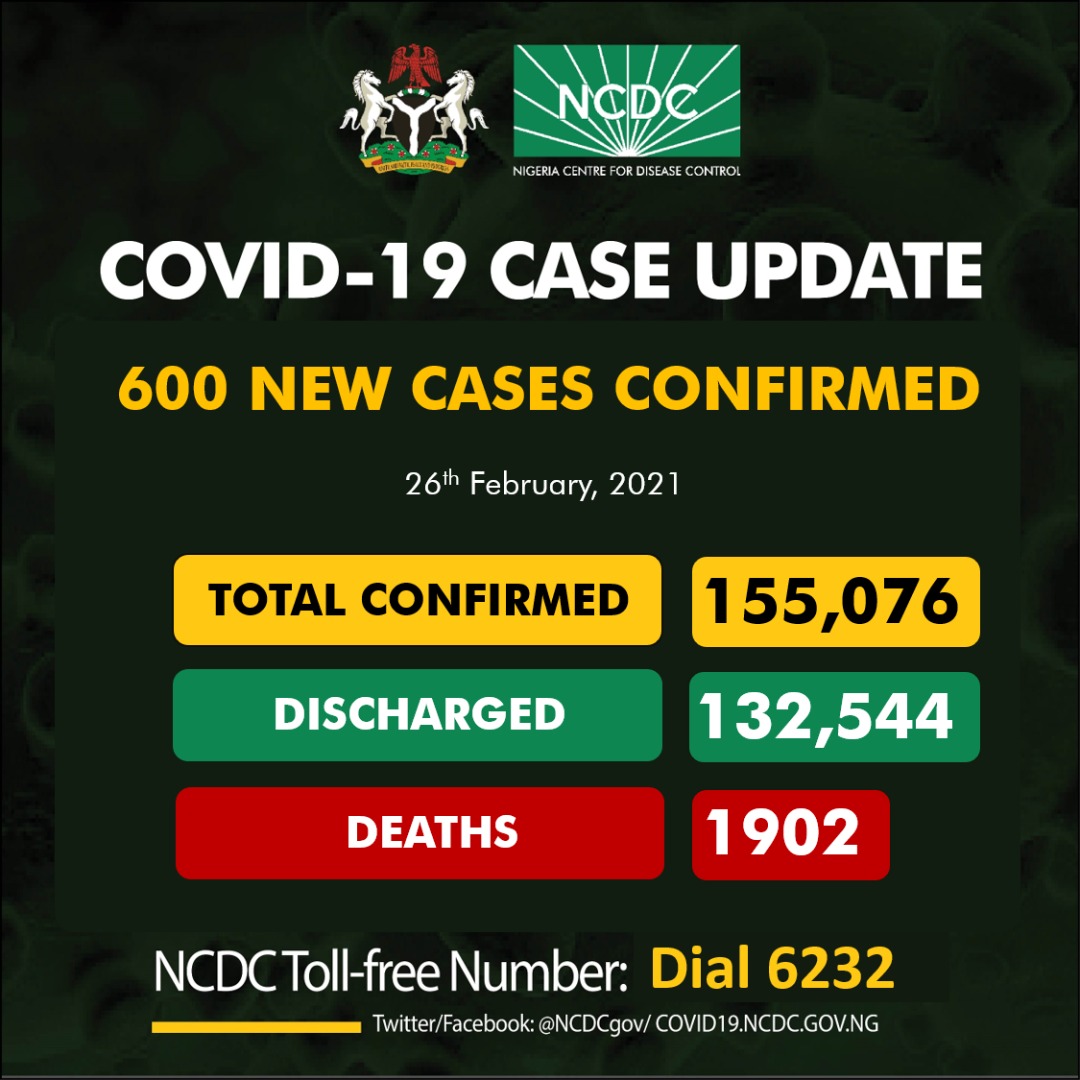 As of Friday, 26 January 2021, the total number of confirmed coronavirus infections in Nigeria was 155,076. 1,902 deaths have been reported while 132,544 patients have recovered and been discharged from isolation facilities across the country. This means that the number of active cases was 20,630.